movie reviews
Lust Stories 2 Review: A Reminder That Konkona Sen Sharma Knows The Game and Kajol Can Still Captivate; The Rest Is More Misses Than Hits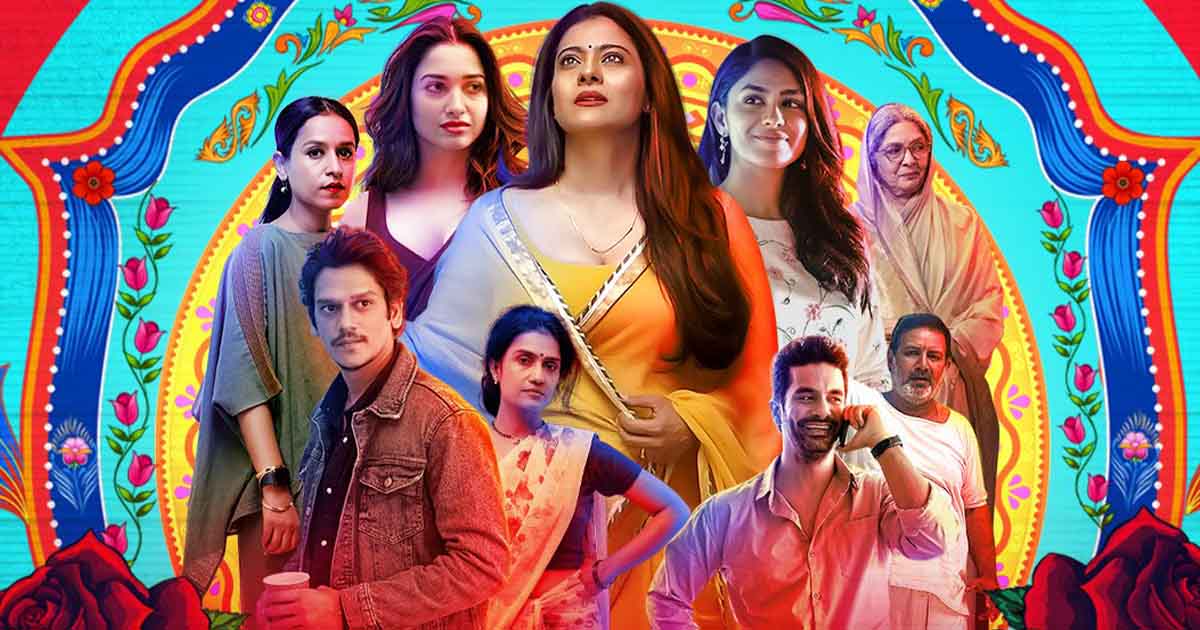 Lust Stories 2 Movie Review (Picture Credit: IMDB)
Lust Stories 2 Movie Review Rating:
The advent of the OTT space and its bloom have made it possible for filmmakers to deliver topics the big screen doesn't give a free hand in. Lust Stories, an anthology concept that both Netflix and Amazon have been ardently juicing out, enters into its second part, this time with filmmakers who don't seem like the obvious choices. With R. Balki, Sujoy Ghosh, Konkona Sen Sharma, and Amit Ravindernath Sharma, we are back marvelling at some and finding the chinks in others. But this time one of the four feels pointless. Read on to know which one. Reviews are listed in the order of preference.
Konkona Sen Sharma 
Lust Stories 2 Movie Review (Picture Credit: Instagram)
Cast: Tillotama Shome, Amruta Subhash, and ensemble.
As a voice, Konkona Sen Sharma, the filmmaker, is pretty niche and unique. She builds her own world, of course, not a fantasy one, but one where the taboos and problems linger and are not in your face. When an upper-middle-class working woman sees her maid having s*x with a stranger on her bed, her first reaction is not to revolt, but to make a phone call and cringe about the fact that her bed is being used by a maid. One sequence and you are made to walk through classism, the urge of the have-nots to have the life of the haves, and the helplessness of the elite, who are fast adapting to a lonely life.
But the dynamics are blurred, and the lines are forgotten when lust enters the room. The elite lady Isheeta now enjoys watching her housekeeper Seema have s*x with her husband on her bed. The tale of voyeurism continues and shatters in two key moments when Seema realizes Isheeta is watching and when they both accidentally come face to face at the moment. This is where Konkana Sen Sharma tells you that she is a director who knows what she is saying. These are two worlds. One where the landlord and maid have a class divide, and the other where they enjoy their little secret. But when the bubble bursts and the real world enters the room, that's when it all shatters. Because now morality is suddenly a word, and that certainly isn't what any of the characters thought of. All of this is beaded with a thread of haunting and peppy music.
Tillotama Shome is one of my favourite performers, and the scene where she has now saved her image can only be performed by a seasoned actor. Amruta Subhash needs to teach people how to act chaotic and still be balanced in the same frame. What a stellar performer. Talking of frames, Anand Bansal's tight shots, where he wants you to see reactions more than the dialogue, are impeccable. He gives very little space to breathe on screen until the end because even the characters aren't breathing that freely. This has to be the best part of this slot.
4 Stars
Amit Ravindernath Sharma 
Lust Stories 2 Movie Review (Picture Credit: Instagram)
Cast: Kajol, Kumud Mishra, Anushka Kaushik, and ensemble.
A human either lusts for money, power, or bodies. What if he lusts for all of them together and feels he is entitled to get them on the same plate? Kumud Mishra plays a king of a palace ridden in debt who still cannot let go of his bossy attitude. In his first scene, he demeans the collector of his region because his mother once upon a time cleaned cow dung in his palace. He has kept a former s*x worker as his queen and expects her to act like one and raise his son, who dreams of flying away from the havoc of his father. Amit Sharma knows how to create a world that feels three-dimensional. It is about a mother who wants a good life for her son, a man who has tortured her all her life. She felt safer in a brothel than in a palace, says it all.
While it is the most traumatising of the shorts that starts making all the sense in the climax scene, its nature isn't one that will be easily digested by the audience. The biggest question is why will a torturous King bring in a s*x worker as his queen? The camera work is brilliant even in this one, and so is the score. Kumud Mishra is getting to show his shades, and it is such a good time for the actor. Kajol finally trying to experiment in the OTT space is exactly what she needs to do.
3.5 Stars
Sujoy Ghosh
Lust Stories 2 Movie Review (Picture Credit: IMDB)
Cast: Vijay Varma, Tamannaah Bhatia, and ensemble.
Sujoy Ghosh has used haphazard editing as his superpower for multiple projects. Kahaani, for example, used the technique where the editing was as clueless as the lead part and the audience. But does this short really need that? For a short story, it leaves a whole lot of things for the end. A lustful married man is watching another girl strip on a video call while driving (a very cringe scene). He meets with an accident and reaches a place that is far from reality. Here he meets his lover, who died a decade ago.
Now, you know, a story written by Ghosh can never be entirely a letdown. You see his attempt to shift genres and keep surprising his audience with thrills, but he ends up branching out the story so much, that they need an exploration that needs much more than the 30 minutes he is expected to tell the story in. Performing the loudest of the love-making scenes in the anthology, Vijay and Tamannaah perform the parts well, but it is the writing that allows them to do only a bit. The CGI is another villain that makes it clear that the film was shot in front of a green screen, even in the scenes where he is in the real world.
Also, what lust are we exactly supposed to emphasize here? The lust for money or the lust for the body? The climax is good, but the journey is incomplete.
2.5 Stars
R. Balki
Lust Stories 2 Movie Review (Picture Credit: Instagram)
Cast: Neena Gupta, Mrunal Thakur, Angad Bedi, and Ensemble.
Never thought R. Balki could make the weakest short film in this anthology, one that doesn't even make sense when it ends. This could have been an advertisement for a condom brand and could be wrapped up in 30 seconds because the pitch is that small. If not for Neena Gupta playing the grandmother so brilliantly, nothing in Balki's almost 30-minute shot makes sense. A couple is about to marry, but the grandmother asks them whether they are compatible in bed. They set out to check it and discover nothing really. There is no dilemma or discussion between them as to why they are doing what they are doing.
Yes, Neena's character does explain, but then what about the people involved in the act? Why are they not discussing this? What is the moral of this story? Because every single time someone makes a progressive statement, it feels more like a spoof than a commentary and makes your product look even more dated. Mrunal, Angad, and others play their parts, but they are mostly one-tone with no world beyond the task of having good s*x given to them by the matriarch of their family. The climax is so abrupt that it only adds to the cluelessness of this product.
Lust Stories 2 Review: Last Words:
The first Lust Stories was a more nuanced take that walked across genres but had more mettle. The second try too hard to be edgy, with only two films understanding the assignment and two struggling to make a point.
1.5 Stars
Lust Stories 2 Trailer
Lust Stories 2 releases on 29 June, 2023.
Share with us your experience of watching Lust Stories 2.
For more recommendations, read our Asur Season 2 Review here.
Must Read: Scoop Review: It Would Be A Scam To Not Watch This Hansal Mehta Show Backed By A Flawless Karishma Tanna & Writing That Makes Crime Journalism Entertaining Like Never Before!
Follow Us: Facebook | Instagram | Twitter | Youtube | Google News
The post Lust Stories 2 Review: A Reminder That Konkona Sen Sharma Knows The Game and Kajol Can Still Captivate; The Rest Is More Misses Than Hits appeared first on Koimoi.