movie reviews
Neeyat Movie Review: Cunning Moves & Clichés Go Hand In Hand Here, But In Vidya Balan We All Must Trust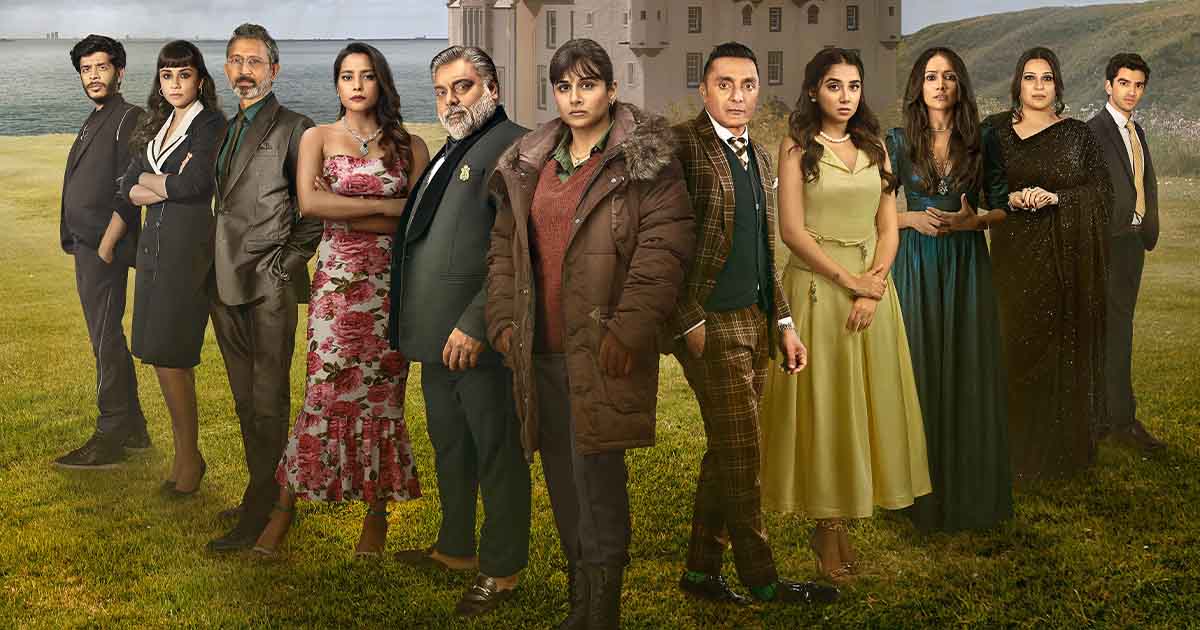 Neeyat Movie Review Rating:
Star Cast: Vidya Balan, Ram Kapoor, Amrita Puri, Rahul Bose, Shahana Goswami, Neeraj Kabi, Shashank Arora, Prajakta Koli, Niki Walia, Danesh Razvi, Dipannita Sharma and ensemble.
Director: Anu Menon
Neeyat Movie Review (Picture Credit: IMDB)
What's Good: The clever technique of telling a story through a seasoned actor making her underplay herself only to tell you that the tables are going to turn quite wildly.
What's Bad: Some directorial choices and dialogues are too convenient and end up giving away things too. Also, the over dramatic acting performances gets too much.
Loo Break: While there is a testing chunk, it isn't big enough to give you ample time to take that break. Use the interval.
Watch or Not?: If whodunits are your vibe, you shouldn't miss it. But also don't go in with too many expectations.
Language: Hindi.
Available On: In Theatres Near You.
Runtime: 132 Minutes.
User Rating:
A rich businessman invites his close friends and family to a lavish Scottish castle in London for his birthday celebrations. Things turn wild when he decided to announce that he is surrendering, and gets killed in the very next moment. A CBI officer gets on to the job to find his killer over the night only to realise the mess is much beyond one murder.
Neeyat Movie Review (Picture Credit: Youtube)
Neeyat Movie Review: Script Analysis
A whodunit is never just a film but essentially a conversation between the viewer and the characters that are busy defending themselves. So even the audience is now so involved in the process that the fourth wall kind of starts fading at some point. But in this universe of thrillers and whodunits there is also a sub genre where the movie ties the viewer right to their seat and makes them live the mystery. Neeyat, which stars Vidya Balan in the lead does the latter and even succeeds in it until it choses to mess things with the dialogues.
To clear the very first question every single person had, no, Neeyat is not a remake of Knives Out. Written by Anu Menon with Girvani Dhyani, Advaita Kala, and Piya Venkatraman, it borrows the blueprint of the Chris Evans-Ana de Armas starrer but writes a new story, not entirely fresh, but not a rip off of the Rian Johnson directorial. The merit in Neeyat belongs to the fact that it decides to make its lead mostly work in the background while the absurdity of the suspects takes the centre stage. They stay in an immaculate castle, but it is their borderline dumbness that shines. They are levels of bad people who think they are saviours.
It is not hell bent on taking you to the finale where the entire crux belongs, but the team wants you to see the journey. It takes an entire 30 minutes in just establishing the characters and showing you how moral-less, and delusional these people are. Menon's idea is to kill the exploring absurd rich with their absurdity and make one of the have-nots rule over them and bust the real culprit. It even lands well because a the weightage is distributed well among the characters and the hook for the most part of it, is an event manager and a CBI officer, both outsiders.
The twists and turns in Neeyat work also because of the organic humour that comes out of the script without sacrificing on the seriousness of the subject. But where it dips is when in the interrogation, it kind of takes a clichéd turn where a suspect conveniently elopes by hatching a plan which seems impossible. Equally disappointing are some dialogues that seem like they were written on the sets, and Kausar Munir is credited for them which is shocking. The exchange between Ram and Vidya in the final act leads to a lucrative climax, but the exchange is so bizarre and convenient that it feels like a short cut was needed and taken.
The climax as well at a point, enters the zone where it almost over explains things on the verge of killing the magic and mystery, but a brilliant cameo and a post-credit scenes sorts it all.
Neeyat Movie Review: Star Performance
The art of being a player, even from the background, is something that Vidya Balan knows too well. For an actor of her stature, underplaying herself doesn't come easy to get and she does that so well. For some this might seem like a dull act, but it works so well in the situation. She is as clueless as the audience, so she is out eyes in this situation. But even she doesn't tell you the whole truth only to turn the tables to hard.
Ram Kapoor, is a businessman who has eloped from India by carrying out a Rs 2000 Crore scam and is now being extradited. If this is planned resemblance to a certain guy whose beer this country is fond of, we get us guys. If not, Ram, please get rid of that beard ASAP. But the actor is fun in being the over-the-top Mr Kapoor that he is suppose to be. Clichéd but fun.
Danesh Razvi is a surprise package here. The confidence with which he enters the frame and keeps his mystery intact is pretty fun to watch. For someone who entered the Indian scene majorly with a BBC period drama, this is his attempt to show the range and is pretty good.
Everyone else are one tone caricatures of characters you have seen over the years. The performances many times crosses the the boundary and becomes over dramatic only to be revived by Vidya. The biggest crime is how one tone inconsequential character is given to an actor  of Shanana Goswami's calibre.
Neeyat Movie Review (Picture Credit: Youtube)
Neeyat Movie Review: Direction, Music
Anu Menon's humour is something that always lands nicely without taking away anything from the moment. Neeyat is no exception. While she attempts to layer her script by adding a commentary of sorts on the exploitation of the have-nots at the hands of the wealthy, but it never blooms into a conversation. The mystery is fun to watch, and some twists even work nicely. You can expect a seasoned movie if she attempts to make another whodunit.
The music is used in a very accurate proportion. The silences are given their space, and they do the job they are supposed to.
Neeyat Movie Review: The Last Word
Neeyat is a glass-half-full situation but not something that you will give a pass. It is Vidya Balan captivating yet again.
Neeyat Trailer
Neeyat releases on 07 July, 2023.
Share with us your experience of watching Neeyat.
For more recommendations, read our Tiku Weds Sheru Movie Review here.
Must Read: SatyaPrem Ki Katha Movie Review: Yes, Kartik Aaryan Startles But It's A Kiara Advani Film All The Way!
Follow Us: Facebook | Instagram | Twitter | Youtube | Google News
The post Neeyat Movie Review: Cunning Moves & Clichés Go Hand In Hand Here, But In Vidya Balan We All Must Trust appeared first on Koimoi.