movie reviews
Blind Movie Review: Sonam Kapoor Tries Too Hard To Sell A Film That Is Nothing More Than An Another Soulless Remake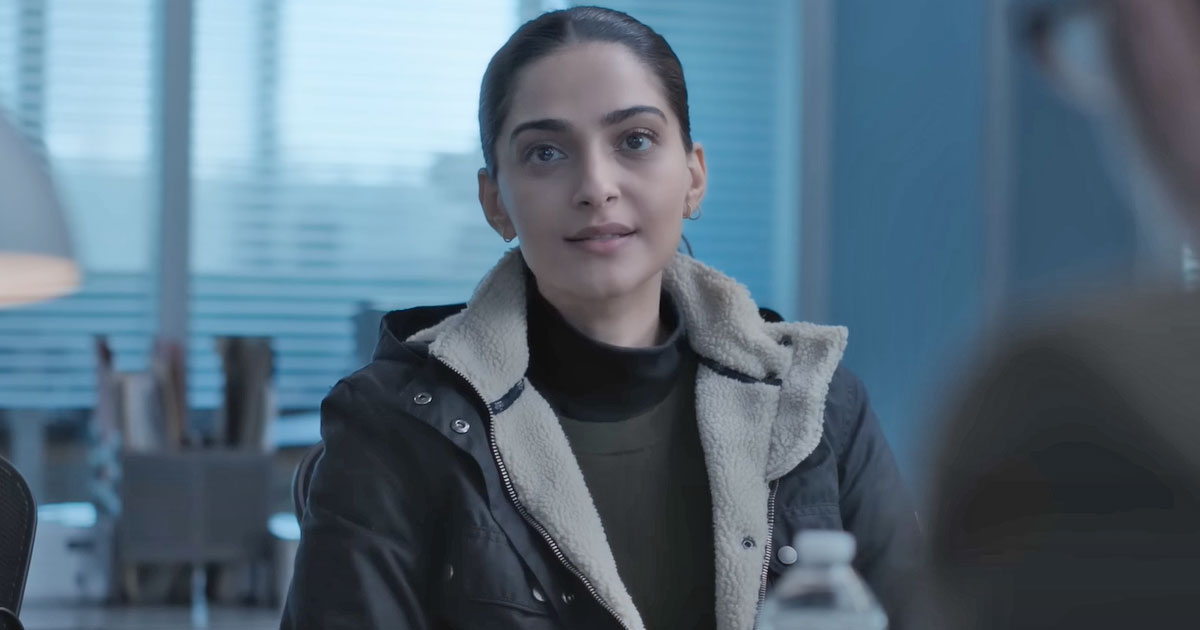 Blind Movie Review Rating:
Star Cast: Sonam Kapoor, Purab Kohli, Vinay Pathak, and Shubham Saraf.
Director: Shome Makhija.
Blind Movie Review Blind Movie Review ( Photo Credit – Youtube )
What's Good: Sonam Kapoor is trying to make a comeback, and you can see she even wants to do justice. But there is only much she can do.
What's Bad: There is only much she can do. And the movie ends up under using the best asset they had, Purab Kohli.
Loo Break: Almost every twist is predictable enough for you to not keep that nature's call waiting.
Watch or Not?: If you don't have better options, please go ahead.
Language: Hindi (with subtitles).
Available On: Jio Cinemas.
Runtime: 124 Minutes.
User Rating:
Tragedy ends up leaving Gia (Sonam), a police officer blind following an accident that also claims the life of her brother. A couple of years later, Gia brushes shoulders with a serial killer who tries to make her his next victim but she somehow escapes. But the cop in her wants to bust this case as she gets on it.
Blind Movie Review ( Photo Credit – Youtube )
Blind Movie Review: Script Analysis
Blind characters leading films is a troop only a season director and actor duo can pull off. The challenge is not just about telling a story of their ordeal, but making the world believe that they are actually sightless. Remember Andhadhun and Ayushmann Khurrana's impeccable act laced by Sriram Raghavan's masterclass of a direction? Not every product can attain that mastery, but is it a wise decision to remake a movie forgetting its soul and trying to make a point that lands no where? Well.
Blind, a remake of a 2011 Korean movie by the same name, is at the core a woman's quest for redemption and her gest to stop a killer from harming more people. But when a film never peaks enough for a viewer to feel those emotions, are we really ready to invest two hours? The instant answer is, of course, no. When the character at the centre of your subject is blind, half of the audience's empathy is already with you, if you cannot see that and use it in your favour, who is to be blamed?
Adapted in Hindi by Shome Makhija, Blind ends up being a replication job more than anything else. In the quest to translate the Korean product into Hindi without really blending it in any milieu, the movie evokes nothing, because even the characters aren't feeling it as much as they should. For a film that opens to a tragedy, goes so bland and mute in the very next scene that there is no effect of the said doomed night. A woman has lost her eyesight and brother both; her quest for redemption cannot be taken like it's a 'just by the way' thing.
That quest never shines. Mainly, because an hour is spent in just establishing the story the next is spent in a paced up screenplay that only wants to wrap all of this up. There is so much potential between the opening and the end, but sadly no one sees it. Adaptations give you room to enhance the original story and give your perspective to it. But Blind only blindly rehashes. There is a villain that I creepy and ruthless. The movie never takes any extra effort to establish him well, give him a back story, and explore his motives. He just tortures, scares, and kills people walking behind them like a shadow.
Even Gia doesn't get her redemption the way she should. For a woman who has lost her brother, she gets an opportunity to save the life of a boy who is around the same age as her late brother. This gives so much room for adding the emotions and a cathartic storyline. The film rather rushes through it to reach a half-baked end without really indulging into anything else.
Blind Movie Review: Star Performance
Sonam Kapoor tries hard to do justice to a difficult part, but there is only much she can do. Of course, she puts a lot of efforts in getting the mannerism of a blind person right. But as an audience, you are aware she can see, so the process of making us believe that she cannot gets difficult. Like I said, emotions never become the strong point of a movie whose core is about people seeking redemption, and same is with Sonam's character. It is so one tone that you can place her in any movie in the background and she will get lost. The script never offers her the padding to make things work.
Purab Kohli tries his level best to make his killer look as tempting as possible. But what can even he do if the foundation itself is weak in his department. He ends up looking like a caricature and nothing more. Vinay Pathak plays a police officer and is impressive. Shubham Saraf gets to play a one-tone part.
Blind Movie Review ( Photo Credit – Youtube )
Blind Movie Review: Direction, Music
Shome Makhija has mostly delved with thrillers as an assistant director (Kahaani 2, Badla, Te3n, Yudh). So when he decides to be the director, he, of course, chooses another thriller. But he forgets to add a unique soul that belongs to his version of the same story. Making remakes isn't a crime, but just rehashing them is. Glasgow, where the movie is set in, never becomes a character to serve anything visually. It could be the alley behind your building, and nothing could have changed.
The cinematography is average, the music is forgettable, and this all adds up to the dismay the movie brings.
Blind Movie Review: The Last Word
Blind could have been shaped into a nuanced thriller that is more than killing and chasing people, but rehashing was the one motto and never questioned.
Blind Trailer
Blind releases on 07 July, 2023.
Share with us your experience of watching Blind.
For more recommendations, read our Bloody Daddy Movie Review here.
Must Read: Tiku Weds Sheru Movie Review: A 10-Minute Movie & 102 Minutes Of Random Chaos Pretending Hard To Make A Point; Avneet Kaur Is A Surprise Package Though
Follow Us: Facebook | Instagram | Twitter | Youtube | Google News
The post Blind Movie Review: Sonam Kapoor Tries Too Hard To Sell A Film That Is Nothing More Than An Another Soulless Remake appeared first on Koimoi.