movie reviews
Goldfish Movie Review: A Delicately Tender Look At The Melancholy Of Age & Living With A Person Slowly Walking Towards Darkness Ft. The Stellar Deepti Naval & Kalki Koechlin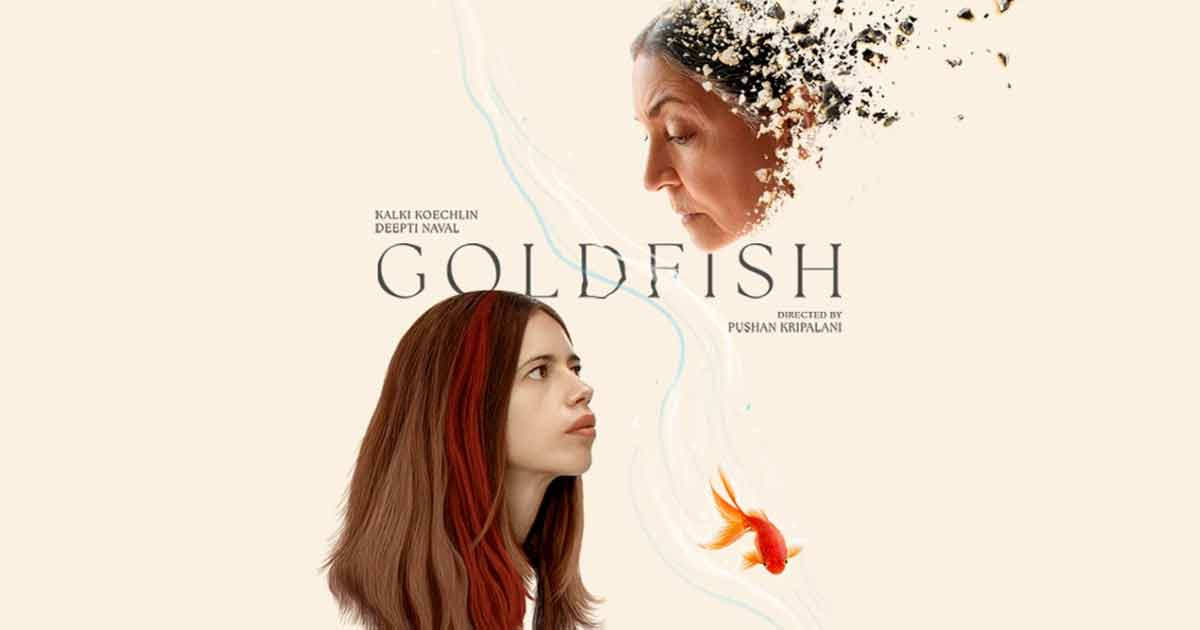 Goldfish Movie Review Rating:
Star Cast: Kalki Koechlin, Deepti Naval, Rajit Kapur, Bharti Patel, and ensemble.
Director: Pushan Kripalani
Goldfish Movie Review Out(Photo Credit: Facebook)
What's Good: The curse of old age and the acceptance of the past for the one younger are balanced with a heart that beats profoundly in a movie with two women at their very best calibre moving you.
What's Bad: The movie tries to branch out but only gives those branches very limited attention, leaving a void of sorts.
Loo Break: It's a cathartic experience and one that is also unsettling to watch if you have lived even a single episode of what's happening on screen. Don't move; you might miss something.
Watch or Not?: If you have lost someone to an illness and saw them succumb to their illness, Goldfish will shatter but also comfort you. Go for it prepared.
Language: English (with subtitles).
Available On: In Theatres Near You!
Runtime: 100 Minutes.
User Rating:
Ana, aka Anamika, aka Miku (Kalki), returns to her mother Sadhana Tripathi's (Deepti) home when she is informed about her mother's slow descent into darkness due to dementia. Soon, she realizes that even though she is broken and bruised, and the ailment is with her mother, who gave her those bruises in the first place. Begins a conversation between a mother and daughter as they bridge the gap and make peace with the condition that's not going to give them easy days.
Goldfish Movie Review Out(Photo Credit: Facebook)
Goldfish Movie Review: Script Analysis
Have you ever seen someone slowly succumbing to a terminal illness? Did that shatter you or gathered you? Did you fight it the way you should have? Pushan Kripalani, in his second directorial after the moving Threshold, decides to tell a story about a mother and daughter who have been angry and away from each other for years only to be united by an illness that is not just eating the ill but also pinching the one who has to be with them. What does the melancholy sound for the one who is fighting alongside while the world emphatically looks at the patient, let Kripalani show you.
Written by Arghya Lahiri with Pushan, Goldfish is more than a relationship drama; it is about the conditioning, the immigration, people falling out of love, the fading memories, making peace with the past, and finally doing what is needed, forgetting the bruises that refuse to heal. It taps into every aforementioned section but stays true to its central conflict. About a mother and daughter discussing the trauma they once made each other go through. The conditioning that made the daughter hate everything about her childhood that the house still preserved and she kept running away from is now what she has to face with no padding to fall.
Goldfish doesn't want the meltdowns to be dramatic; they are instead in the silences. Once, a very upright, prideful woman now needs someone to take care of her, but will she accept that she is unwell? A young woman who was taught things the hard way by the same prideful woman now has to decide whether she spends the last few days of her mother's life or abandon her in a foster home. The aching heart of Goldfish shines through these very conflicts that make us go through the troublesome dynamic that the two central characters have gone through and now have to bridge that same gap. But sadly, it is going to be a one-way process; the second person cannot be questioned.
The script very beautifully captures the void between the two, where it subtly tells you that Ana has forgotten her mother tongue. Every time Sadhana says a Hindi word, and Ana is clueless what it means; you see the wide gap. But as soon as she starts grasping those, you see it mending, too. Pushan is a master of making slow-burning scenes that are not vocally loud, but ideologically clear enough to pierce through your heart.
The only place Goldfish seems incomplete is when it establishes an entire Indian neighborhood in a foreign land, but it never really takes us into the houses, witnessing Sadhana and Ana always from a distance, ready to run to their help whenever called.
Goldfish Movie Review: Star Performance
Kalki Koechlin knows what silences can do, and the eyes need to do most of the talking when words are metaphorically and literally fading. Only an actor par her excellence can bring out the nuances of a character that deals with most of the trauma with a gulp and silence. Her initial hesitation in being around her mother to finally holding her hand to navigate the coffee mug is a journey that Kalki makes you feel without really putting words to it.
Deepti Naval balances the prideful lady and a helpless patient forgetting things with so much nuance that you feel for her from the first frame. You know she has been a bad parent, but also a lady who has seen a past where she fell in love with a white guy who was on his backpacking tour in India and migrated to the west, only to be left midway with a daughter whom she raised the tough way. The tough parenting bruises Ana for life, but Sadhana never regretted it.
Bharti Patel as Laxmi is another brilliant performance. The only character that gets a defined back story other than the leads, and she makes it worthwhile. The actor brings a lot of third-person perspective to this movie. So does Rajit Kapur, who is as poetic as he can be in his extended cameo.
Goldfish Movie Review Out(Photo Credit: Facebook)
Goldfish Movie Review: Direction, Music
Pushan Kripalani, as a director, has a distinct poetic voice that loves playing with the melancholy of the complex relationships. He knows what generational trauma and conditioning can do to a person and creates some very interesting frames after what seems like a very researched decision. For someone who is a cinematographer turned filmmaker, he wants the visuals to speak and not really put words to the emotions. He sets the camera mid-frame for the most part of it to make you feel what's going on in their minds. You are supposed to read their faces, and he gives you enough time to do so. The details of Sadhana's deteriorating handwriting, her lighting a ciggerate to invite a fox that she now pets while remembering her husband, recalling incense being the first word he taught her, may look inconsequential but serve a big deal in the larger scheme.
The acknowledgement of resentment but also the love that was is what makes Goldfish a very intimate and detailed affair. When Ana storms in the house in the first scene she says, "Let's just get through with this, shall we?" and it is not even a highlighted dialogue but it resonates. The editing uses blank screen between episodes with Ana talking to her dead father in a voice over. It almost feels like you are witnessing this story unfold from a balcony right across the street and imagining what the person marinated in their silences must be thinking in their head.
When he goes the wide angle, he manages to capture a house that has seen the rise and fall of a woman who has stitched it together while also being unjust at several phases. But none of us are white, and it is the grey that he wants us to embrace. Add to this that Tapas Relia composes some of the most achingly beautiful songs that describe the situation. I wrote this entire review while Taiy Nahi Kiya Abhi, sung by Papon, kept on playing in a loop in the background.
The background score is unique; it is the classical music for the most part of it, and silent when the characters are thinking loud enough that the audience can hear their thoughts. The constant Hindustani classical music playing in the living room and the dead silence in Ana's bedroom, joined by the blank white walls, are at war. A single disturbance and you know something has happened.
Shout out to Anurag Kashyap for backing stories like these in whatever way he can. Goldfish deserves an audience and word of mouth.
Goldfish Movie Review: The Last Word
Cinema sometimes mends things that you didn't know were broken. Goldfish does that and makes you reflect on your relationships and where you stand as a person. It is an experience that will move you and comfort you at the same time.
Goldfish Trailer
Goldfish releases on 01 September, 2023.
Share with us your experience of watching Goldfish.
For more recommendations, read our Rocky Aur Rani Kii Prem Kahaani Movie Review here.
Must Read: Gadar 2 Movie Review: Not A Sunny Deol Film & It's Only 2 Decades Late With The Release, Should've Released In The Next Week Of Part 1 With The Kind Of Efforts It Has Got From The Filmmaker
Follow Us: Facebook | Instagram | Twitter | Youtube | Google News
The post Goldfish Movie Review: A Delicately Tender Look At The Melancholy Of Age & Living With A Person Slowly Walking Towards Darkness Ft. The Stellar Deepti Naval & Kalki Koechlin appeared first on Koimoi.