movie reviews
Friday Night Plan Movie Review: A Decent Reminder Of The Times When Films Weren't Only About Scale Or Message But Also Young People Coming Of Age In A Simple Feel-Good Setup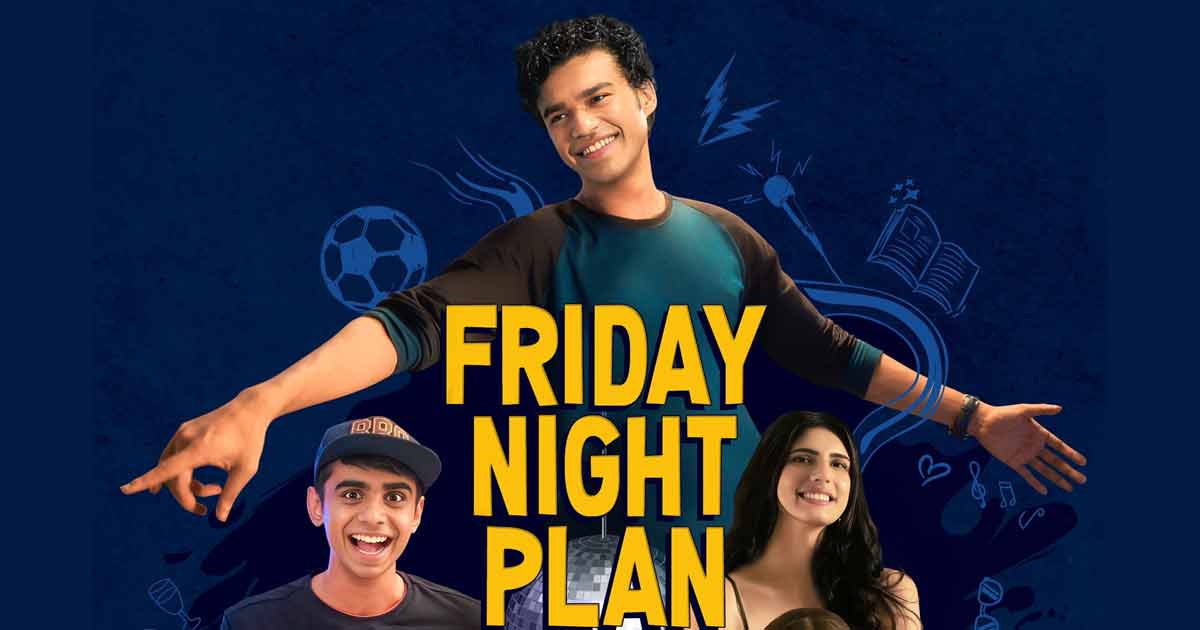 Friday Night Plan Movie Review Rating:
Star Cast: Babil Khan, Amrith Jayan, Aadhya Anand, Juhi Chawla Mehta, Ninad Kamat, and ensemble.
Director: Vatsal Neelakantan
Friday Night Plan (Photo Credit: Imdb)
What's Good: It's a syntax that takes you over a decade back back when not all filmmakers were hell-bent on having a message; some just wanted to tell simple stories that resonated.
What's Bad: That the movie does take things for too granted at points and doesn't explore its own subject much.
Loo Break: It's a breezy watch that you would choose in your leisure. No stress, be comfortable, and tune in.
Watch or Not?: Not every movie has to be hard-hitting, some can just bring a smile without really proving anything, and that is their victory. Watch it.
Language: Hindi & English (with subtitles).
Available On: Netflix
Runtime: 108 Minutes.
User Rating:
Siddharth (Babil) is an introverted, nerdy boy who suddenly gets all the attention when he makes a goal in the very first football match he gets to play. He is now the star boy, and the day he gets famous is when the most significant drama unfolds.
Friday Night Plan (Photo Credit: YouTube)
Friday Night Plan Movie Review: Script Analysis
The post Dil Chahta Hain world and the era of Imran Khan till Karan Johar pinched it with his Student Of The Year franchise in the Hindi cinema, was not about the big scale messaging or saving the world; it was about college going or young people just figuring out lives and tackling problems that seemed big for them in their age. We were just supposed to be the audience who saw them fall in love, suffer with things, make mess, clear it, and our moral compass wasn't theirs. We weren't influencing them but it was the opposite. Let's be serious, Jaane Tu… Ya Jaane Na was a cultural shift.
So when Vatsal Neelakantan, after working on projects like Dahaad, Mirzapur, Sharmaji Namkeen, Phone Bhoot, and more, decides to take you back in time in his directorial debut and simply tell a story from a young boy's diary with raging hormones but a baggage of his existence, you have to give him a chance. We need these movies where the world isn't ending, lives are not at stake, politics is not in the vicinity, but just a bunch of college-going teenagers still living in their bubble looking at their rather minuscule problems like a disaster (look who's talking – I am that teenager, wish that my age agreed to that too).
Friday Night Plan is a page from Siddharth's diary, and probably the most dramatic of the days when he was 18. It isn't about the glamorous students from an Ivy League school, but that one nerd who was always used as a comic relief or a plot device. Vatsal finds this neglected character and makes him the hero of his story. So here is a boy who is an elder brother to a younger sibling who is probably more charming than him. Not that our hero is not charming. He sings and dances in the shower, (wants to) and plays football, but then he has a baggage. He has suddenly realised that he is the man of the family after he lost his father. The carefree nature was thrown out of the window, and the urge to replicate his father took over. There's no room for mistakes.
Every decision he now makes is calculated. So when one day life makes him do one thing that wasn't a part of his plan and that brings attention to him, he is awkward. Because he is happy being nobody. There is so much ease in how Vatsal gives voice to people who had to shed off their childhood at a very young age. The dilemma of growing up faster to support a family and also keeping in sync with their age is real and faced by many around us. Friday Night Plan is beautiful in translating that on screen.
What it forgets to do is emphasise on the mother it creates. A beautiful, optimistic woman who is strong enough to crack deals and drive back hours in the midnight. But we are never really allowed to be with her and feel what she is feeling while bringing up two boys on the rim of becoming men. Same with a very interesting police officer played by Ninad Kamat. He is angry when a kid throws an egg at him, but his anger is about the risks that the incident involved. Maybe more layering of this character could have done wonders.
Friday Night Plan Movie Review: Star Performance
Babil Khan is Siddharth. He is playing his real self; besides, we don't know if he looks at the responsibility of living up to his father's legacy like Sid does, but we know it is huge. The performance may not be one of the best, but it is heartfelt, lived, honest, and full of hope. The earnest approach and the ever-so-pure eyes make Babil stand out.
Amrith Jayan, as Adi, the younger brother, is a confident performer. The actor knows what he is supposed to do and stands out with his effortless act. Juhi Chawla, in a guest appearance, is warm, and I want her to play more of these parts with more screen time.
Friday Night Plan Movie Review (Photo Credit: YouTube)
Friday Night Plan Movie Review: Direction, Music
Vatsal Neelakantan's direction is very rooted in the cinema of the last decade. You will find similarities, and they all work well. You know what he is getting to when he chooses to call Mohabbatein a 'purana' movie. The way he opens the movie to tell you how this happy family lost its shine when the father passed away and regained it with time through photo frames on a wall is worth mentioning. Yes, he gets too predictable with some things, but that doesn't take away the feel-good nature of this movie.
The music is probably a slow burner. It will take some time to grow on me, but it certainly is interesting and not something one can ignore.
Friday Night Plan Movie Review: The Last Word
Friday Night Plan is a movie that is a reminder that we need such stories that are easy and make us feel comfortable between once that make us 'marvel' and move.
Friday Night Plan Trailer
Friday Night Plan releases on 01 September, 2023.
Share with us your experience of watching Friday Night Plan.
For more recommendations, read our Rocky Aur Rani Kii Prem Kahaani Movie Review here.
Must Read: Gadar 2 Movie Review: Not A Sunny Deol Film & It's Only 2 Decades Late With The Release, Should've Released In The Next Week Of Part 1 With The Kind Of Efforts It Has Got From The Filmmaker
Follow Us: Facebook | Instagram | Twitter | Youtube | Google News
The post Friday Night Plan Movie Review: A Decent Reminder Of The Times When Films Weren't Only About Scale Or Message But Also Young People Coming Of Age In A Simple Feel-Good Setup appeared first on Koimoi.