movie reviews
Khufiya Movie Review: Vishal Bhardwaj's Masterclass To Bollywood On How To Narrate An Espionage Thriller (Tip: Skip A Couple Of Chapters Though!)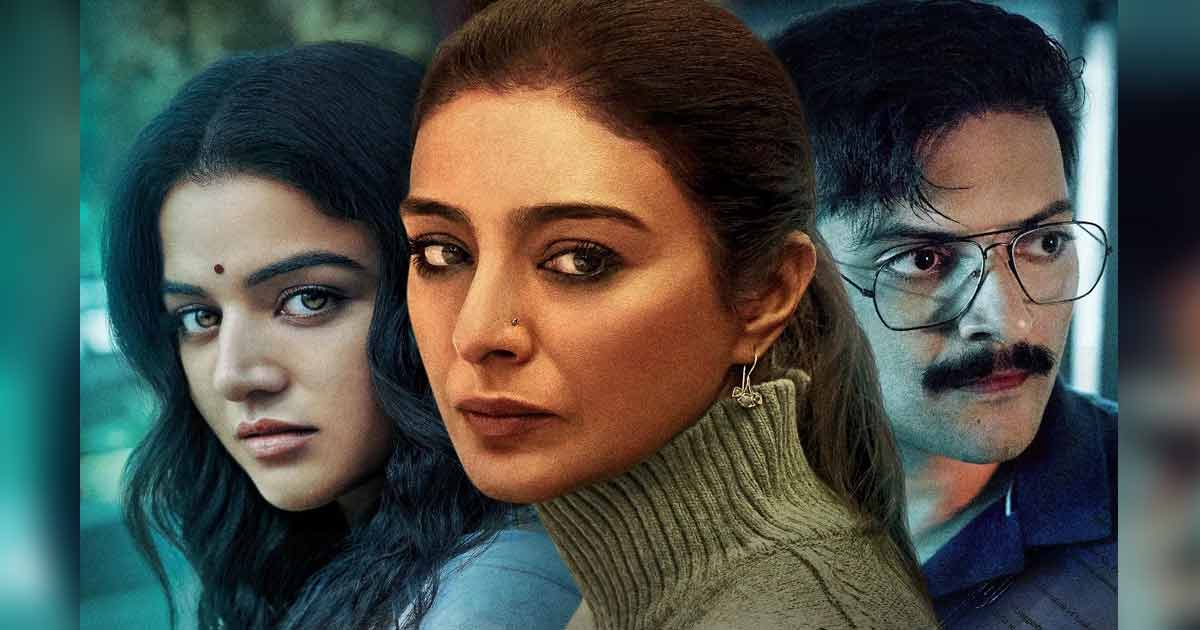 Khufiya Movie Review Rating:
Star Cast: Tabu, Ali Fazal, Wamiqa Gabbi, Azmeri Haque Badhon, Ashish Vidyarthi, Navnindra Behl
Director: Vishal Bhardwaj
Khufiya Movie Review(Photo Credit –Imdb)
What's Good: The masterclass of how you should actually treat a true-blue espionage subject without meandering around useless things
What's Bad: It goes by the book it is adapted from & the closure doesn't match the hype it creates to reach there
Loo Break: Yep, it's one longggggg film!
Watch or Not?: If you've loved any of Vishal Bhardwaj's films in the past, you'll like this
Available On: Netflix
Runtime: 2 Hours 37 Minutes
User Rating:
You know it's a Vishal Bhardwaj film when you enter with the frame colored almost like a watercolor painting, aided with Tabu reading lines which sound like straight out of Gulzar's book describing the intricate details of a woman like her habit of hiding her fingers under the knitted web of wool of her pullover. You know it's a Vishal Bhardwaj film when the characters just jump in with their unsolved emotional baggage, hoping to share it with you as the story around it progresses slowly and gradually.
One such character is Krishna Mehra urf KM (Tabu), an officer with the Research and Analysis Wing (RAW), living a 'Khufiya' life, leading to family disputes & losing a loved one to get her into the 'revenge mode' keeping at stakes the international relations between 3 countries. This mission involves an exhaustive investigation around the suspected mole in Ravi (Ali Fazal), his wife Charu (Wamiqa Gabbi) & an army man's wife, and his mother Lalita (Navnindra Behl). It's about how KM's love intersects with what the lawmakers want back at home & how she goes where her heart takes.
Khufiya Movie Review(Photo Credit –Youtube)
Khufiya Movie Review: Script Analysis
Vishal Bhardwaj collaborates with co-writer Rohan Narula to bring Amar Bhushan's novel Escape to Nowhere to life. The problem is that he relies on every last word of the book to go page-by-page adaption, cluttering things that could've easily been chopped off, things that don't really add anything substantial to the narrative. Lying somewhere between a Political and human Drama, this is the proper mix Vishal loves to keep in his projects.
The routine yet intriguing investigation gets a taut hug from Farhad Ahmed Dehlvi's atmospheric cinematography to create just the right amount of curiosity while watching some sequences. The brainy build-up begins to bedim the bespokely built belief in the bargain to bullsh*t in the third act. Things start to happen as per convenience & that's not the VB we have known about.
Retaining A. Sreekar Prasad (Talvar, Pataakha) for editing this one might not be one of the most thoughtful choices because the execution of the 'non-linear' tone isn't the smoothest one + the film could've lost a considerable few minutes.
Khufiya Movie Review: Star Performance
We all know how Vishal Bhardwaj adds that little bit of extra passion while writing women characters & this film is a prime example of the same. The crackerjack trio of Tabu, Wamiqa Gabbi & Azmeri Haque Badhon is the soul of this film. All three are significantly different from each other, sharing only one common thing – A boatload of talent.
Tabu, at her routine best, keeps Krishna Mehra alive through her 'khufiya' gaze. Gabbi, the most subtle of all three, has stepped up the game to be VB's favourite muse & this is just the start. The ability of Bangladeshi actress Azmeri Haque Badhon to create the s*xual tension amidst any scene is incomparable to anyone else. She holds a solid presence & I'd love to see more of her, especially in Vishal Bhardwaj films.
Ali Fazal gets a couple of redeeming scenes in an otherwise pretty monotonous performance. The range from going normal to maniac gets distorted owing to the uneven character sketch. Ashish Vidyarthi is Ashish Vidyarthi – nothing more, nothing less. Navnindra Behl plays Ravi's mother, hams, on multiple occasions & is unintentionally funny.
Khufiya Movie Review(Photo Credit –Youtube)
Khufiya Movie Review: Direction, Music
Vishal Bhardwaj does what he's best at – narrates a mysterious story with some Shakespeare (& his leading lady reading an Agatha Christie novel randomly in a scene) sprinkled on it, marrying all with incredibly intimate poetry.
Gulzar masterfully writes "Jab tera khayal aata hai mujhe, ashko se vazu karta hoon main" in 'Na Hosh Chale,' a song which was destined to be in Rangoon but was kept for something better. Yes, this is better than Rangoon, but I think Vishal should've held this further because the impact is just not as much as the haunting artwork this song is. A couple of Rahul Ram's songs seem forced here, but I'll still listen to them for the energy they possess.
Khufiya Movie Review: The Last Word
All said and done, yes, there are flaws, but they won't completely stop you from immersing yourself into this till the last moment, only if you don't really mind the VB-styled slow burners.
Three stars!
Khufiya Trailer
Khufiya releases on 05th October, 2023.
Share with us your experience of watching Khufiya.
Must Read: Jaane Jaan Movie Review: Give Jaideep Ahlawat Every Acting Award Out There (& Indian Remake Of Joaquin Phoenix's Joker), Kareena Kapoor Khan Surrenders To The Brilliance Of Sujoy Ghosh
Follow Us: Facebook | Instagram | Twitter | Youtube | Google News
The post Khufiya Movie Review: Vishal Bhardwaj's Masterclass To Bollywood On How To Narrate An Espionage Thriller (Tip: Skip A Couple Of Chapters Though!) appeared first on Koimoi.