movie reviews
Mission Raniganj Movie Review: Akshay Kumar's Disaster-Thriller Is More Of A Disaster & Less Of A Thriller, Couldn't Even Visually Match 1979's Kaala Patthar Led By Amitabh Bachchan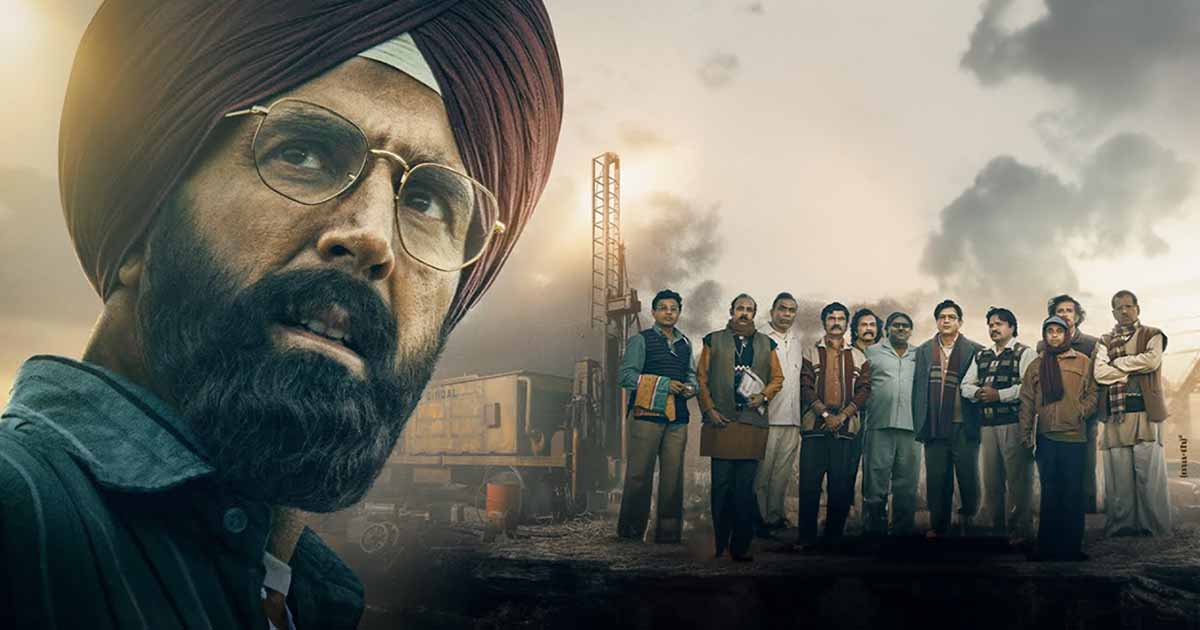 Mission Raniganj Movie Review Rating:
Star Cast: Akshay Kumar, Dibyendu Bhattacharya, Kumud Mishra, Jameel Khan, Ravi Kishan, Pavan Malhotra, Rajesh Sharma, Virendra Saxena, Sudhir Pandey, Shishir Sharma, Parineeti Chopra
Director: Tinu Suresh Desai
Mission Raniganj Movie Review Out! (Picture Credit: Youtube)
What's Good: The real-life story on which the film is based & the incidents that follow
What's Bad: Everything apart from the story
Loo Break: Y.E.S
Watch or Not?: Even if you're interested in Jaswant Singh Gill's story, read the articles around it & watch his old interviews rather than watching this lazy, lousy attempt
Available On: Theatrical Release
Runtime: 2 hours 14 minutes
User Rating:
It's 1989, the year when West Bengal's Raniganj dodged heavy rains. Still, the water stayed silent underground for months only to flood in, causing another disaster that's heroically averted by Jaswant Singh Gill (Akshay Kumar), who'd be known as 'Capsule Gill' in the future. This is the story of the disasters miners faced while mining for coal.
While blasting the walls below the surface, a watergate gets smashed, allowing the harsh inflow to risk the lives of 65 miners in the mine. While they hope for a new lease of life, Jaswant gets entangled in the politics of how to treat this mission so it could benefit the political parties. How he fought with the system, making the most of whatever was available, accomplishing a mission that would've been impossible even for Tom Cruise, is what the crux of the story is.
Mission Raniganj Movie Review Out! (Picture Credit: Youtube)
Mission Raniganj Movie Review: Script Analysis
Before people bash me for bashing the film, remember my criticism is for the execution: the story of Jaswant Singh Gill has always been a winner. My criticism is for Akshay Kumar's template of making 'limited efforts' because if you can't finish a film in 45 days, "laanat hai tum par!" The makers didn't even bother to match the style of the beard because it would have required some effort to grow it naturally instead of donning an artificial one.
The green screen screams louder than Ravi Kishan, who has done nothing but burst out loud at the top of his lungs. Every scene clearly distinguishes the difference between the background & the foreground, making the green screen more visible than ever. It also looks like Akshay has shot many scenes alone, with the director stitching his scenes with others' using some choppy editing tricks.
Yes, it's a low-budget film; no, that's not an excuse to serve such sh*tty VFX in the garb of narrating a 'real-life, heroic' tale! Remember 1979's classic Kaala Patthar? The Amitabh Bachchan starrer was better in every sense (visually, too) & that was 40 years ago.
Mission Raniganj Movie Review: Star Performance
We all respect Akshay Kumar's thought process behind doing multiple projects, and creating multiple job opportunities for people in the industry, but that's clearly been hampering the quality of his projects. After Ram Setu, this is yet another example of how makers are losing good stories at the cost of finishing up early. It's like a kid saying, "I'll finish up three hours of homework in 30 minutes because I can write fast," & not remembering a word when asked about anything from it.
You need a special talent to waste Dibyendu Bhattacharya, Kumud Mishra, Jameel Khan, Ravi Kishan, and Pavan Malhotra all at once, and that's what the director possesses the best.
Mission Raniganj Movie Review Out! (Picture Credit: Youtube)
Mission Raniganj Movie Review: Direction, Music
Tinu Suresh Desai surprised everyone with Rustom after the dud that was in 1920 London, but this one proves why the 2016 film could actually be either a fluke or ghost-directed by someone else because this one is a mess from the word go.
It says a lot about a music producer's thought process when you rope in a singer like Satinder Sartaaj & go to B Praak for the signature song of your film. Imagine Satinder crooning Kumar Vishwas' lines! They had all the resources but refused to use it wisely. None of the pieces click. Sandeep Shirodkar's BGM is too loud but fails to match the decibels of the green-screen scream.
Mission Raniganj Movie Review: The Last Word
All said and done, it's not the story of this Akshay Kumar starrer that falters; it's how the director has executed everything that is of poor quality. This deserved a better team, with Akshay Kumar leading the project.
Two stars!
Mission Raniganj Trailer
Mission Raniganj releases on 06th October, 2023.
Share with us your experience of watching Mission Raniganj.
For more recommendations, read our Fukrey 3 Movie Review here.
Must Read: The Vaccine War Movie Review: Nana Patekar Plays The Real Hero To Be The Reel Hero Catapulting Vivek Agnihotri's Vision
Follow Us: Facebook | Instagram | Twitter | Youtube | Google News
The post Mission Raniganj Movie Review: Akshay Kumar's Disaster-Thriller Is More Of A Disaster & Less Of A Thriller, Couldn't Even Visually Match 1979's Kaala Patthar Led By Amitabh Bachchan appeared first on Koimoi.