movie reviews
Mastaney Movie Review: An Entire Industry Finally Gets The Limelight As This Story Of Valour Spreads Across Languages, But…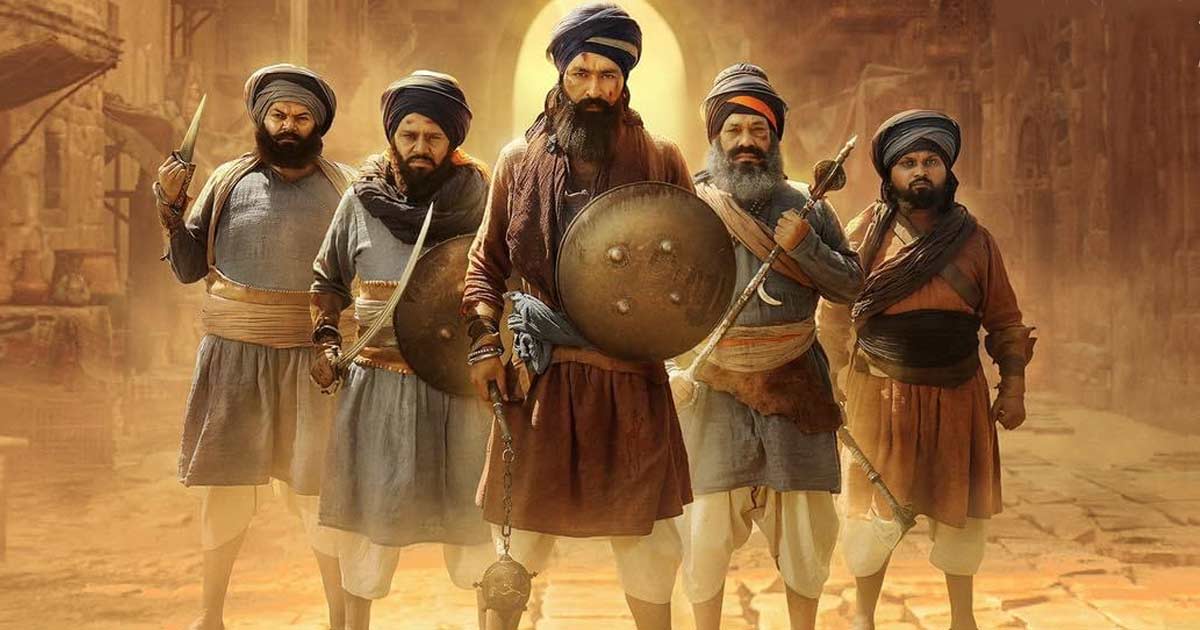 Mastaney Movie Review Rating:
Star Cast: Tarsem Jassar, Gurpreet Ghuggi, Karamjit Anmol, Simi Chahal, Rahul Dev, Arif Zakaria, and ensemble.
Director: Sharan Art.
Mastaney Movie Review ( Photo Credit – IMDb )
What's Good: That a Punjabi filmmaker is been given a big budget, and he gets to tell a story dear to him and the community to an audience across the country.
What's Bad: That the pressure of delivering to the audience spread far and wide makes the writer write the story in very broad strokes like a stage play with no room to dive deeper into the complexities of the people and the times.
Loo Break: There are dull moments, and you will know when to take one.
Watch or Not?: To support an industry that is also trying to cope up and get into the race like the others, you should. But don't go in with SS Rajamouli level expectations.
Language: Punjabi (with subtitles).
Available On: In Theatres Near You.
Runtime: 145 Minutes.
User Rating:
A deep dive into the Sikh culture, Mastaney set in 1739, is about the time when Nadar Shah was creating havoc in the country, and the Sikhs rebelled. To avenge his defeat, 5 commoners disguised as Sikhs are presented in from of the invader. The gang of 5 who play Sikhs, eventually learn what the community stands for and fight by their side.
Mastaney Movie Review ( Photo Credit – Youtube )
Mastaney Movie Review: Script Analysis
That filmmaker from across the country from niche industries are getting to tell their story and make it reach the audience pan India is a dream era for the folks making films. An RRR winning an Oscar, and creating history has only made producers to trust these niche voices and invest in them. But has SS Rajamouli also ruined us by giving us content that breaks every parameter of fantasy and makes us go crazy about it? Well, watching content in the same genre and not at par does make us feel that way.
Mastaney is definitely a victorious moment for an industry that has for years functioned as a parallel culture. While the cross-pollination of musicians has been evident for ages, them then becoming actors and teaching the Hindi mainstream about their world is exactly how awareness must be created. Enters a movie set up on a massive budget, with faces that are not the quintessential famous Punjabi men you know obsessed with their Guccis and Pradas, but actors who have a heartfelt film to sell.
Written by Sharan Art with Harnav But Singh on dialogues, Mastaney is a story that is shaped as a history lesson to teach the audience about Sikhism while entertaining them. You can sense the conviction and the earnest intent with which the story is chosen. It is going to travel across the country, and educate its viewers about a community that has been mostly seen as comic relief, or angry people destroying things, and also pulling out hand pumps in the pop culture cinema. The film wants to be your gateway into their culture, their roots, their ready to fight nature, but also the calmness in their demeanour.
But while there is all of that and more, Mastaney's script suffers the pressure of delivering something that is equivalent to its budget. You can see how the story is mostly written in broad strokes, like it is a stage play with a proper three-act structure with no lines blurring at all. These are individuals with no proper names; considering it is history, only Nadar Shah gets the proper name, but the rest all are addressed with their positions or just nicknames. Add to this that the first half, while setting up the Mastaneys, ends up giving a side eye to the Sikh rebel group, who are the most integral part of this story. We are never taken to their world for the entire first half, and that doesn't help.
There is so much material in this story because a 10-year-something boy fighting with a sword while his battalion of a handful kills 120 men in a go is all very fascinating. But the on-screen translation of it is where everything looks very half-baked.
Mastaney Movie Review: Star Performance
Why weren't the actors told to grow real beard? Everyone who wears a fake one looks like they have come for a fancy dress act, and the hair and beard is just another nylon extension bought on rent.
Tarsem Jassar is Johnny Depp's Jack Sparrow in Vicky Kaushal's body. He looks like Vicky; not even kidding. The actor has great charm, and one can see it when he walks in slow motion towards the camera. His screen presence is very interesting, but at times, his approach does enter the caricature zone.
Watching Gurpreet Ghuggi not be a comedy part but a serious and consequential one is in itself a victory for the actor. The Hindi-watching audience never got a chance to see him be a nuanced character on screen. This shift will be felt.
Rahul Dev and Arif Zakaria are caricatures for the most part of it and evoke nothing.
Mastaney Movie Review ( Photo Credit – Youtube )
Mastaney Movie Review: Direction, Music
Sharan Art's direction is all over the place. He shines in the moments of combat, but has little to offer when the vibe is calm. Jaype Singh's cinematography saves him most of the times as the DOP chases the sunlight and creates most of the frames with it in the key sequences.
The music is a glass half full because the recall value cannot be guessed in the first go.
Mastaney Movie Review: The Last Word
Mastaney should have been more nuanced to make its point even more potent than it already is.
Mastaney Movie Trailer
Mastaney Movie releases on 25 August, 2023.
Share with us your experience of watching Mastaney Movie.
For more recommendations, read our Rocky Aur Rani Kii Prem Kahaani Movie Review here.
Must Read: OMG 2 Movie Review: Giving This Pankaj Tripathi Film An Adult Certificate Might Be The Most Dumbest Thing Done By CBFC, Dumber Than What They Did To Oppenheimer!
Follow Us: Facebook | Instagram | Twitter | Youtube | Google News
The post Mastaney Movie Review: An Entire Industry Finally Gets The Limelight As This Story Of Valour Spreads Across Languages, But… appeared first on Koimoi.