movie reviews
Ghoomer Movie Review: If Deepika Padukone's Lafangey Parindey & Shreyas Talpade's Iqbal Had A Love Child No One Asked For!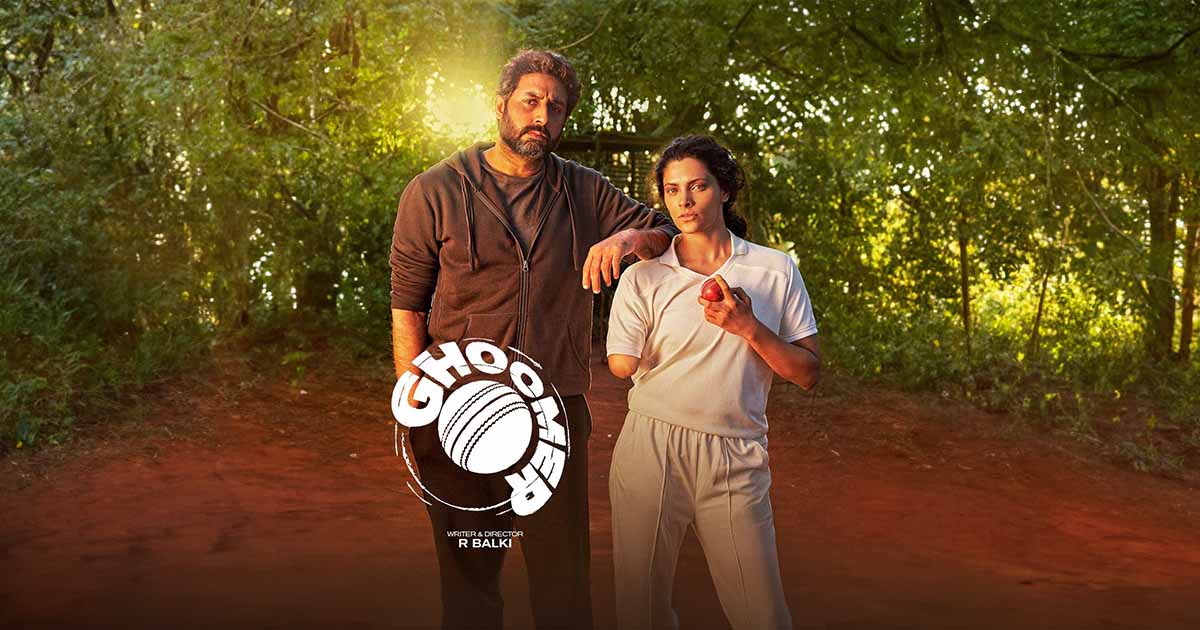 Ghoomer Movie Review Rating:
Star Cast: Saiyami Kher, Abhishek Bachchan, Shabana Azmi, Angad Bedi, Amitabh Bachchan (cameo)
Director: R Balki
Ghoomer Movie Review Out! (Picture Credit: IMDB)
What's Good: The conditional performances & the fact that it's not unnecessarily long
What's Bad: Has nothing special to say from what we've already heard before
Loo Break: I can't believe I'll say this some day but whenever there's no Abhishek Bachchan on your screen
Watch or Not?: Not in the theatres for sure, a timepass OTT flick & that too only if you've some time to kill
Available On: Theatrical Release
Runtime: 135 Minutes
User Rating:
Anina (Saiyami Kher), an aspiring cricketer, lives with the common dream of making it to the Indian Cricket Team one day and after a not-so-struggling first act, she makes it to the playing 16. While doing that, she beats up guys outside the stadium for eve-teasing female cricketers by saying gimmicky lines like "Line cross karega toh across the line maarna padega" & explaining how Physics is important in Cricket.
The generic stuff pauses when a drunkard one-test-wonder & a failed cricketer Padam Singh Sodhi aka Paddy (Abhishek Bachchan), enters Anina's life. He's c*cky and makes sure everyone around him gets a clear message about the same. Anina loses her hand in an accident before making her Cricket debut & Paddy takes up the duty of boosting her to play the sport, single-handedly bringing back the will to live in her life.
Ghoomer Movie Review Out! (Picture Credit: Youtube)
Ghoomer Movie Review: Script Analysis
R Balki has co-written the film with Rahul Sengupta and Rishi Virmani, taking the leaf out of the book of a late athlete who suffered a hand injury and went on to win two Olympic gold medals. The major problem of the script lies in focusing more on the journey of the drunkard player-turned-coach rather than the player herself. If you remember anything about Deepika Padukone's Lafangey Parindey & Shreyas Talpade's Iqbal, this one is their unofficial love child.
Balki focussing more on Abhishek's track gives the viewers something to look forward to, but it also diverts them from the original essence of the film. The cricket portions are the USP of the film, i.e. ultra-slow-paced and never really thrill you enough to care about what the score is. After a commendable job in Chup, cinematographer Vishal Sinha gets back to the extreme-level basics for this one. Not a single sequence you'd remember for its camera placement.
Ghoomer Movie Review: Star Performance
It's great to see Saiyami Kher choosing scripts that help her to flourish as a performer. She stays at the maximum level of acting throughout and delivers at most of the places. It's the times she needs to underplay herself and stay subtle; she often crosses the line. A great performance though.
Abhishek Bachchan is brilliant as well. Playing the typical "I know everything" c*cky R Balki's man, he stays true to the role bringing the primo supremo out of him. It's just he has wasted a good performance in an extremely mid-film. Shabana Azmi's character is pretty unidimensional or should I say pretty & unidimensional? She's good but doesn't add much to the narrative. Angad Bedi is wasted for a cliched childhood romantic track that goes nowhere in the film. Amitabh Bachchan's cameo is cringe, to say the least, allowing him to ham like there's no tomorrow.
Ghoomer Movie Review Out! (Picture Credit: Youtube)
Ghoomer Movie Review: Direction, Music
R Balki continues his average run post a decent Padman & the 'second-half-mess' Chup. In the disguise of a sports film based on true incidents, he goes formulaic with everything but Abhishek's character in the film. An aspiring handicapped sportsperson who gets groomed by another failed sportsperson for a comeback is a mishmash of stories we've already heard before; this offers nothing new.
Just like the film, Amit Trivedi's soundtrack is a humdrum affair. The hook of the title track is catchy but the cringey visuals take away its essence. Purnaviram (penned by Swanand Kirkire) is a solid situational track and apart from that, nothing clicks.
Ghoomer Movie Review: The Last Word
All said and done, Ghoomer spins off the routine tropes from an 'underdog to top dog' movies based on sportspersons and lacks that one standout point that sets it apart from what we've already seen before.
Two and a half stars!
Ghoomer Trailer
Ghoomer releases on 18th August, 2023.
Share with us your experience of watching Ghoomer.
For more recommendations, read our Rocky Aur Ki Rani Kii Prem Kahaani Movie Review here.
Must Read: Gadar 2 Movie Review: Not A Sunny Deol Film & It's Only 2 Decades Late With The Release, Should've Released In The Next Week Of Part 1 With The Kind Of Efforts It Has Got From The Filmmaker
Follow Us: Facebook | Instagram | Twitter | Youtube | Google News
The post Ghoomer Movie Review: If Deepika Padukone's Lafangey Parindey & Shreyas Talpade's Iqbal Had A Love Child No One Asked For! appeared first on Koimoi.