movie reviews
Tu Jhoothi Main Makkaar Movie Review: Luv Ranjan's Multiverse Welcomes Ranbir Kapoor & Shraddha Kapoor In Style But With Montages Of Never-Ending Monologues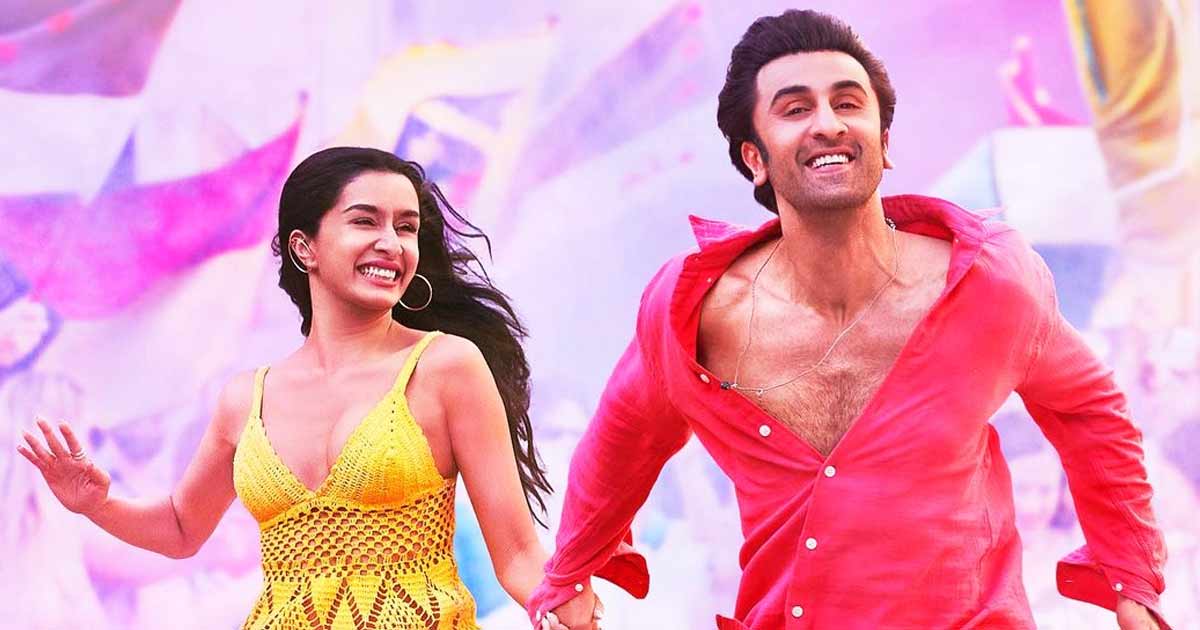 Tu Jhoothi Main Makkaar Movie Review Rating:
Star Cast: Ranbir Kapoor, Shraddha Kapoor, Anubhav Singh Bassi, Dimple Kapadia, Boney Kapoor, and ensemble.
Director: Luv Ranjan
( Photo Credit – Poster from Tu Jhoothi Main Makkaar )
What's Good:The post-interval chaos and the last 15 minutes where Dimple Kapadia decides to unleash her wildest self save this very dated concept.
What's Bad: The runtime and how everything in this world acts as per the convenience of its leads, making it all look made up, including their reactions to things happening. Also, the dialogues need to be forgotten, please.
Loo Break: Luv tries to pack a dated product with a newly designed packing, so the first half is entirely predictable. Even parts in the second half will give you the cue.
Watch or Not?: If you are a fan of either of its leading stars, they are ultimate thirst traps. If you are thinking of watching a no-brainer, Dimple Kapadia and Boney Kapoor will save you.
Language: Hindi.
Available On: Theatrical release
Runtime: 164.30 Minutes
User Rating:
Two people, Mikki (Ranbir) and Tinni (Shraddha), with raging hormones, meet on a bachelor's trip with their respective best friends and decide to date each other. Soon the girl falls out of love and hires a man to separate her from her boyfriend. Turns out the boyfriend runs a part-time break-up agency only to realise he is now assigned to break his own relationship. Unfolds the drama.
( Photo Credit – Still from Tu Jhoothi Main Makkaar )
Tu Jhoothi Main Makkaar Movie Review: Script Analysis
Luv Ranjan, over the years, has made a brand of cinema that is overtly commercial with little to no connection to the real world and characters that behave on 'Drama Level 101'. The filmmaker is least bothered about logic and maybe thinks of some magic that is relevant to him. He gets back on the director's chair with much bigger stars in front of his camera to make a film that has a concept at its core that is done already but packs it with a new wrapper, and that partially even works.
Written by Rahul Mody and Luv Ranjan, Tu Jhoothi Main Makkaar is about a man who has made helping people breaking up his profession. Remember
R Madhavan
and Bipasha Basu's Jodi Breakers? Yes, so one of the two is a very trendy version of the characters from the 2012 film and is busy breaking relationships. But one fine day, he falls in love with a woman who is equally bold in her opinions and dominating than him. Now, this isn't a dynamic that we haven't seen. And even Rajan and Mody know that. So they package it well.
Like, the way they introduce conflicts to this world is quite innovative. They don't introduce an antagonist, but they make the ambition of one of the two the real problem. Now, to do so, they do a great job at writing Mikki's family and his friend, played by Anubhav. This leads to making the setup and the background more exciting and colourful than what is actually the exhibit of this entire show. The actual humour and jokes come out of the people around Ranbir and Sharddha and a very few times from them.
The fact that Luv Ranjan has never really bothered about moral compass of his characters or himself makes one ignore the fact that he shows a little girl making a peg for herself with an apple drink, his lead woman is introduced dancing on a 'Mungda' type bad Hindi song in a foreign location wearing the smallest possible clothes, people making the most politically incorrect statements, and everybody only looking beautiful while sprinkling their glamour in everyway possible. But can we actually ignore it is a question.
That takes us to the fact of how convenient is every single thing in this world. Conflicts are never raised to stay, no one has any kind of problem in their lives except from how the lead couple should be married and how the woman is wearing a kurta while she is used to wearing a bikini 'all the time', because they are 'progressive people'. But when the only son of the house walks away from his own engagement, people are quite chill. Also, the reason why it happens is kind of problematic because it questions girls who chose their career and space over marrying into a joint family.
Tu Jhoothi Main Makkaar Movie Review: Star Performance
Ranbir Kapoor and Shraddha Kapoor are a very brave casting choice considering no one can imagine the two in a setup like this. For Ranbir, this is a cakewalk of a character because he has made a career out of playing Casanova. Not many can look as charming as Ranbir when the camera is super zoomed into his face; not many can make dancing in suits look so simple, and not many can act heart broken like him. But why do him dirty by given never ending monologues Luv Ranjan? We understand it is your USP but why to do it to death? Our guy is not even breathing while saying dialogues in full speed after a point. Also, he doesn't look 30 at all anymore.
Shraddha Kapoor
helps Ranbir feed more monologues to this tale while looking super glamourous. The actor does walk miles out of her comfort zone and there is so much comfort in how she does it. While there are so many Stereotypes attached to her part and that come with a Luv Ranjan movie, Shraddha definitely grows as an actor.
Dimple Kapadia has to be the best part about this movie. The finally 20 minutes are sheer chaos and it is her that makes them so much joyous. Her jokes land on point supported by Boney Kapoor surprisingly are so hilarious that they kind of compensate for everything that is a drawback about the film.
( Photo Credit – Still from Tu Jhoothi Main Makkaar )
Tu Jhoothi Main Makkaar Movie Review: Direction, Music
Luv Ranjan is creating his multiverse and manages to assemble a world. He knows what his audience and tries to deliver just that. The fact that he knows that his monologues have somewhere become his high point and add so many of them in his entire product that after a point it feels like an overdose. Add to that the montage style of filmmaking, where every scene is a disjointed episode and the continuity is lost in the speed.
Pritam makes a very peppy album with quite fun Arijit Singh tracks and an amazing Sunidhi Chauhan song. But what is Shraddha's introduction song exactly? So tacky, so bad and out of place. The camera is so obsessed with Ranbir that it objectifies the star to an extent where it has focused enough on his nipples in the first 30 minutes itself.
Tu Jhoothi Main Makkaar Movie Review: The Last Word
Tu Jhoothi Main Makkaar is Luv Ranjan trying to make a perfect movie for his audience but add too much of everything. It could be appropriate for many and even problematic for some and neither are wrong. Chose your poison wisely.
Tu Jhoothi Main Makkaar Trailer
Tu Jhoothi Main Makkaar releases on 08th March, 2023.
Share with us your experience of watching Tu Jhoothi Main Makkaar.
For more recommendations, read our Joyland Movie Review here.
Must Read: Shehzada Movie Review: Kartik Aaryan's Remake Nails The Worst & Screws With The Best Parts Of Allu Arjun's Ala Vaikunthapurramuloo
Follow Us: Facebook | Instagram | Twitter | Youtube | Google News
The post Tu Jhoothi Main Makkaar Movie Review: Luv Ranjan's Multiverse Welcomes Ranbir Kapoor & Shraddha Kapoor In Style But With Montages Of Never-Ending Monologues appeared first on Koimoi.