movie reviews
Gulmohar Movie Review: Manoj Bajpayee & Sharmila Tagore Lead A Tender Film That Explores The Definition Of Family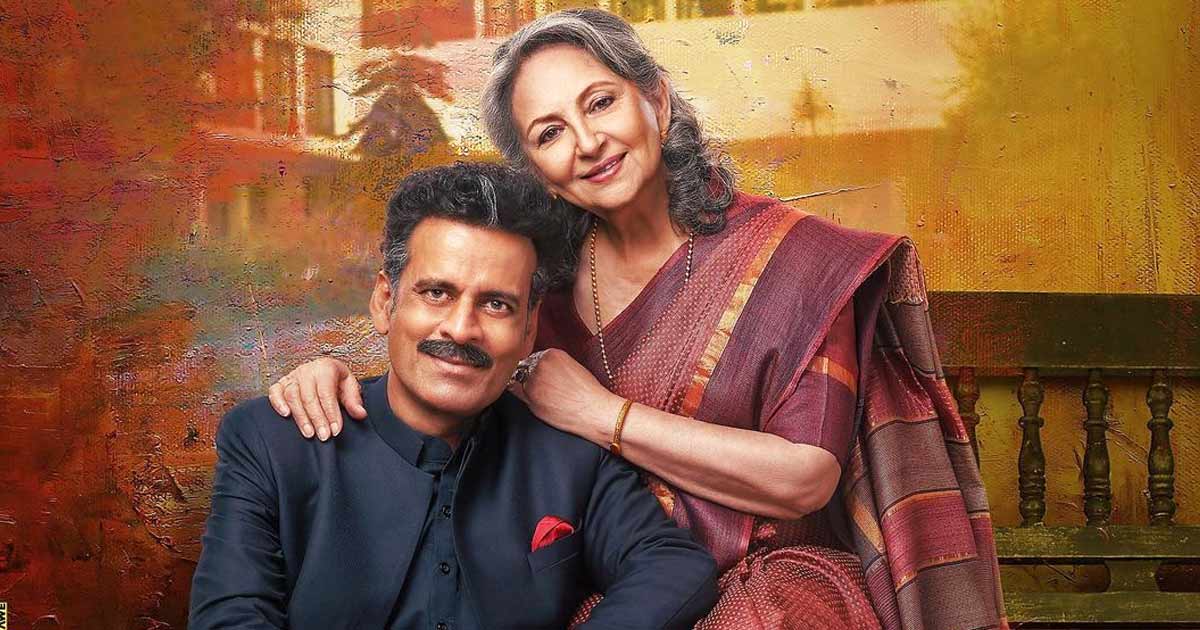 Gulmohar Movie Review Rating:
Star Cast: Manoj Bajpayee, Sharmila Tagore, Simran, Amol Palekar, Suraj Sharma, Kaveri Seth, Utsavi Jha, Chandan Roy, Jatin Goswami, Gandharv Dewan, and ensemble.
Director: Rahul Chittella.
( Photo Credit – Poster from Gulmohar )
What's Good: A moving story and an amazing Manoj Bajpayee with a very able cast unite to make a movie that is about the complexities of a family.
What's Bad: Some loose ends but that won't hamper your experience much.
Loo Break: If you cannot shed that tear in front of everyone.
Watch or Not?: Please do. It's a film made with a lot of heart and love.
Language: Hindi (with subtitles).
Available On: Disney+ Hotstar.
Runtime: 132 Minutes.
User Rating:
The Batras after living in Gulmohar, in the heart of Delhi, for 34 years are all set to move into a penthouse in the urbanised Gurgaon aka Gurugram. The matriarch Kusum (Sharmila) requests her family to spend four more days in the now-sold family bungalow to celebrate Holi one last time. The packing and moving out brings out a neatly buried secret that shakes the core of this tree.
( Photo Credit – Still from Gulmohar )
Gulmohar Movie Review: Script Analysis
The grammar of a family anywhere on the planet is similar. People bonded with each other by staying under one roof with some rifts and problems that they conquer together. But is a family always one that is bonded by blood? Or there is more to the concept than just being born to the same lineage? Filmmakers since the yore are trying their hands at this complex narrative and have even been successful. Br it the most recent Kapoor & Sons by Shakun Batra or Cake, an achingly beautiful Pakistani film created by Asim Abbasi.
Enters a new name on the list, Gulmohar. It is a metaphor for a bungalow that has branched out just like the members living in it. The presence of stairs in the house is the parameter of success, the father in his young days told his son who is now the head of the family. 34 years in the house now they decide to move and embrace a change. Written by Rahul with Arpita Mukherjee, Gulmohar is more personal than anything else. It is a loved in experience of almost every Indian household that was once held intact together but has now split into nuclear homes. There is representation of every voice in a joint structure, one that holds the power, one that witnesses silently, one that is vocal, and one that is oppressed.
There is so much heart in the minute details added to the writing. Arun, the father of the family played by the ethereal Manoj Bajpayee is stubborn and connected to the house he is about to leave. While he wants to walk with the world and embrace change there is still resistance. He is man who is yet to accept Gurgaon as Gurugram, so the change in homes is much bigger for him. Through that, we see Delhi's urbanisation, the cost of living in a posh locality, and how it burns pockets.
There is a big twist that might ruin your experience if revealed but the handling of it is so delicate in itself that it lands right in the centre of the emotional core. To support it from all sides, the makers create a world will multiple parallel stories. The house helps have their separate eco-system and they are as important a family member as anyone else. But they are also reminded of their status often. There is a dig at the class divide, class divide, and even orthodox thinking that is still evident in some.
While Gulmohar is delicate and moving, it does somewhere end up wrapping up some storylines quite abruptly. Like there is a character who is homos*xual and the way she finds her redemption and the way her entire arc is treated feels very rushed and convenient.
Gulmohar Movie Review: Star Performance
Sharmila Tagore returns to our screens post more than a decade and it is such a bliss to see her spread her regal magic all over again. There is still so much each in how she performs the most complex of the scenes and you can see the experience she walks in with.
Talking of experience, there can never be a bad Manoj Bajpayee performance ever. The actor only continues to surprise with Gulmohar where he has got the most complex part to play. He is a man dealing with anxiety watching his entire existence falling in a moment. The way he handles this character is art that only actors of his calibre possess.
Simran plays Bajpayee's wife and is brilliant. Her character is written right in the centre of preserving old values and urbanisation. You see a bit of both in her. While she at the service of this entire family, she also rebels in her murmurs. The actor plays this part with so much each and a subtle face.
Special mention for Jatin Goswami, who makes the silences around him speak. Such a controlled performance!
( Photo Credit – Still from Gulmohar )
Gulmohar Movie Review: Direction, Music
Rahul Chittella gets all the right people to do the jobs on his project. Everyone knows what they are expected to do and make this product a beautiful watch. As a filmmaker, he is true to his story and never deviates from it to tell anything more or less. Yes, there is a room for much more catharsis and deep diving into these complex stories but that doesn't make this experience any bitter.
The most interesting choice here is the choice of music composers. Siddhartha Khosla, widely known for his impeccable work in the precious gift of God of a show This Is Us with Alan Demoss compose a soundtrack so unique and perfect that it adds much more to the entire product.
Gulmohar Movie Review: The Last Word
Gulmohar is a personal movie that speaks of families and what makes them. Maybe put aside your judgemental gaze and give this one a try, it will only move you.
Gulmohar Trailer
Gulmohar releases on 03rd March, 2023.
Share with us your experience of watching Gulmohar.
For more recommendations, read our Joyland Movie Review here.
Must Read: Lost Movie Review: A Dedicated Yami Gautam Dhar Tries To Kick Start A Conversation With A Film That Is Too Sanitised For Its Subject
Follow Us: Facebook | Instagram | Twitter | Youtube | Google News
The post Gulmohar Movie Review: Manoj Bajpayee & Sharmila Tagore Lead A Tender Film That Explores The Definition Of Family appeared first on Koimoi.