movie reviews
Mrs Chatterjee Vs Norway Movie Review: Rani Mukerji Is As Natural A Natural Can Get In Displaying The Pain Of A Helpless Mother!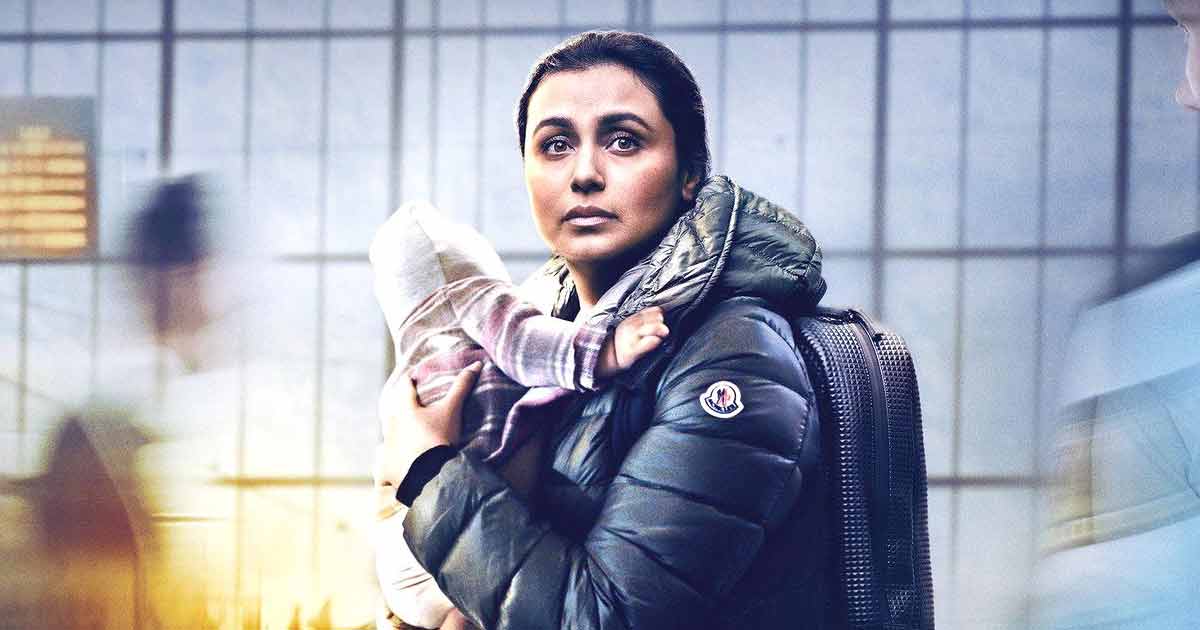 Mrs Chatterjee Vs Norway Movie Review Rating:
Star Cast: Rani Mukerji, Anirban Bhattacharya, Jim Sarbh, Balaji Gauri
Director: Ashima Chibber
Mrs Chatterjee Vs Norway Movie Review Out! (Photo Credit –Poster From Movie)
What's Good: You're immediately tormented by an agony-filled episode of an Indian family living abroad whose mother is a brilliant emotion-portrayer in Rani Mukerji
What's Bad: Things start to echo after a point of time, but thankfully, finding the right balance at the right time
Loo Break: Not even during the songs
Watch or Not?: If you're in the market looking for a courtroom drama involving a helpless mother fighting against a country to get her kids back, you're at the right place. Watch it!
Available On: Theatrical Release
Runtime: 133 Minutes
User Rating:
Post taking us through the opening montage of the colourful aura of Norway, we're immediately dropped amidst a tension-filled scene of Debika Chatterjee (Rani Mukerji) running for her life to save her toddlers from the Norwegian Child Welfare Services (Barnevernet, referred in the film as Velfred). On the other hand, her husband, Anirudh Chatterjee (Anirban Bhattacharya), struggles to obtain citizenship in the country.
Velfred obtains her kids because Debika is not a fit mother to them because she makes them eat food with their hands, apply kohl to their face & other things primarily based on the 'cultural difference'. Debika, without any support from anyone, tries to do everything possible to get her children back, unravelling things that one might rule out, calling it 'gossip'.
Mrs Chatterjee Vs Norway Review(Photo Credit –Still From Movie)
Mrs Chatterjee Vs Norway Movie Review: Script Analysis
Director Ashima Chibber, along with Sameer Satija & Rahul Handa writes, adapts the story from the book The Journey Of A Mother, which is an autobiography of Sagarika Chakraborty, on whose life the story is based. The task of emoting a mother's pain is beautifully carried out by the script, relying heavily on an astounding performance by Rani Mukerji. Yes, it does get monotonous by the early second half, but that's exactly where the tables are turned, infusing a well-drafted courtroom drama.
Cinematographer Alvar Kõue, who has been in (fun fact!) the camera and electrical department of Christopher Nolan's Tenet, handles the gloomy camerawork. Keeping things cloudy builds up the right mood for the narrative to display the number of emotions it does. The delightful balance of how a high-voltage dramatic scene could end on a joke showcases Chibber's skills in treating such a sensitive subject.
Editor Namrata Rao, who has applied scissors on films like Oye Lucky! Lucky Oye!, Ishqiya, Band Baaja Baaraat & Kahaani remains salient hero of the film. Because the film tends to drop at more than one place, but it's edited and presented in a way that it's hard to get bored of what you're watching.
Mrs Chatterjee Vs Norway Movie Review: Star Performance
Hichki, Mardaani 2 and now this, can we all take a moment and appreciate how amazing Rani Mukerji has been off-late in not only mixing & choosing different scripts but also nailing each one of them. Yes, there have been big breaks in between, but if those can give you this, I'd request every actor to take such pauses before signing their next film. She's as natural a natural can get; even when loud, Rani doesn't cross the set decibel limit of excruciating your emotional self.
Anirban Bhattacharya delivers an all-controlled performance understanding the assignment of being a shady husband to a loving wife. As it's adapted from a real-life story, one can't complain about being gender-neutral. Jim Sarbh's character as an Indian Norwegian lawyer builds intrigue retaining the viewers' attention. The perfect way of showcasing subtlety helps him to be on both sides of the fence, evoking curiosity throughout the film.
A special mention for Balaji Gauri, who plays the Bengali Lawyer in the second half; her performance turns the table, saving the story from getting repetitive. Less screen space, more effective.
Review Of Mrs Chatterjee Vs Norway (Photo Credit –Still From Movie)
Mrs Chatterjee Vs Norway Movie Review: Direction, Music
Ashima Chibber does everything to depict the pain of a mother as she narrates the story from her perspective. I'm not exactly aware of the actual case, but the book's tagline reads 'the diplomatic war between India & Norway', where the film starts to weaken. That side of the story (if any) remains completely unexplored, and I would've loved to see that. Yes, the courtroom drama depicts a specific portion of the diplomatic war between the two countries, but I somewhat expected it to be more detailed.
Amit Trivedi composes three superlative situational tracks, which don't feel like extending the screen time but help develop the emotional quotient with the characters. Hitesh Sonik's background score glues together everything else perfectly to shape the narrative.
Mrs Chatterjee Vs Norway Movie Review: The Last Word
All said and done, in the spectrum of displaying mothers' pain in cinema, this one would continue to ache for a long time owing to Rani Mukerji's earnest presence in the film.
Three and a half stars!
Mrs Chatterjee Vs Norway Trailer
Mrs Chatterjee Vs Norway releases on 17th March, 2023.
Share with us your experience of watching Mrs Chatterjee Vs Norway!
Must Read: Salman Khan's Prem Ki Shaadi Remains The Favourite Contender In The 'Maha Diwali 2024' Clash Against Singham Again & One More Biggie!
Follow Us: Facebook | Instagram | Twitter | Youtube | Google News
The post Mrs Chatterjee Vs Norway Movie Review: Rani Mukerji Is As Natural A Natural Can Get In Displaying The Pain Of A Helpless Mother! appeared first on Koimoi.