movie reviews
Zara Hatke Zara Bachke Movie Review: Vicky Kaushal & Sara Ali Khan Romance Through A Relatable & Quirky Tale Of Aspirations But It Is Laxman Utekar's USP That Flutters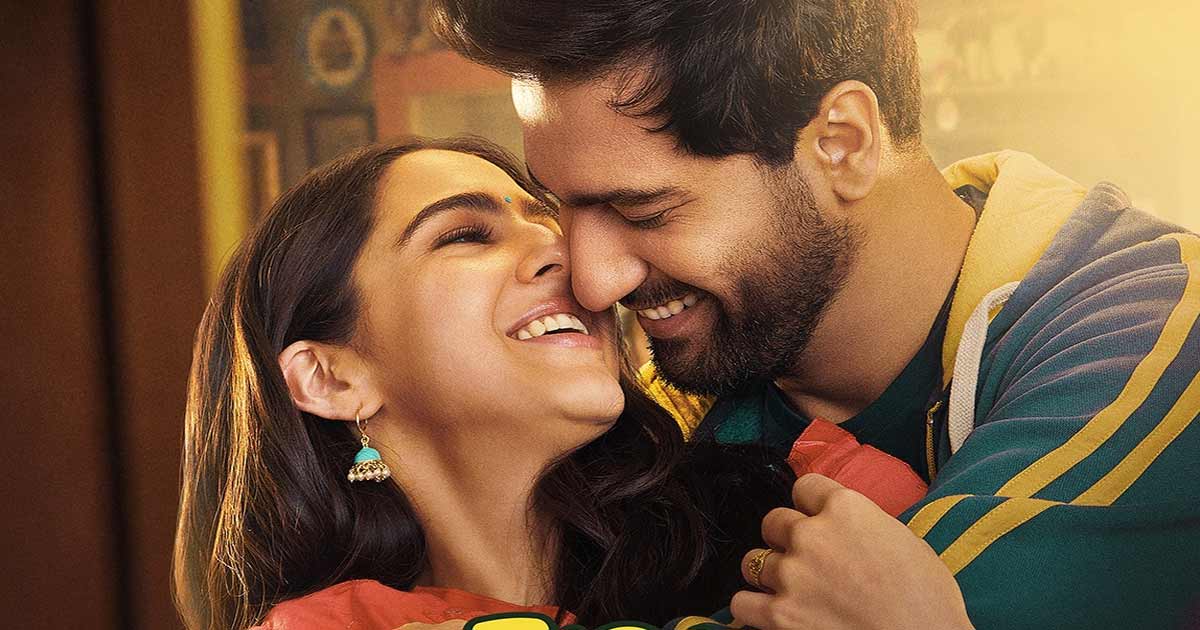 Zara Hatke Zara Bachke Movie Review Rating:
Star Cast: Sara Ali Khan, Vicky Kaushal, Sharib Hashmi, Kanupriya Pandit, and ensemble
Director: Laxman Utekar
Zara Hatke Zara Bachke Movie Review(Photo Credit –Imdb)
What's Good: the relatability factor in the first half lands quite well when a couple aspires to have a nuclear family and is struggling to buy a separate house.
What's Bad: It is Laxman's favourite game of hide and seek that dips the movie this time.
Loo Break: You can predict what happens mid-way through the second half, and that is your chance.
Watch or Not?: in case you are a fan of the two stars, there is enough of them. But if you aren't and haven't even been impressed by the trailer, you can wait for the OTT release.
Language: Hindi.
Available On: In Theatres Near You.
Runtime: 132 Minutes.
User Rating:
A couple living with their joint family in Indore aspire to live separately as they decide to buy a house for the two. Their economic condition falls short for them to afford their preferred home. How a weird trick helps them find one and what tremors it causes in their lives is Zara Hatke Zara Bachke.
Zara Hatke Zara Bachke Movie Review(Photo Credit –Imdb)
Zara Hatke Zara Bachke Movie Review: Script Analysis
Filmmaker Laxman Utekar, if you look closely, is weaving his films like beads in the same necklace. His universe is about people who are hiding things from their world and build a house of lies which eventually ends up creating a comedy of errors, transcending into an emotional or personal catharsis of sorts. Luka Chuppi, a rather commercial movie that introduced this idea quietly and safely, was an entertaining hide-and-seek (the title quite literally). Mimi, which came second, was an emotional journey of a mother by accident. Now, Zara Hatke Zara Bachke enters as a product standing right in the centre of the two. But can this formula continue to surprise us as it did the last two times?
Zara Hatke Zara Bachke, unlike his second movie Mimi, is an original idea as far as the information on the Internet goes. Written by Utekar with Maitrey Bajpai and Ramiz Ilham Khan, both also credited for the story and screenplay, this story is more of a funny satire about the aspiration of people to climb higher in the social hierarchy and eventually progress towards the maximum city, but their economic condition pulling them down. The fact that it opens to a couple romanticising a house more than each other while a romantic track plays in the background, which talks about a couple building a house in a beautiful place, says so much about the idea.
Laxman and his team, in the first half, do create a very impressive and immersive tale of how the have-nots have to suffer at the hands of recession and end up taking the help of dubious means to fulfil their dream. Because the urge is equal from both ends, in this, they blend humour and not the slapstick one but clever and situational that not just lands well but introduces us to the brain of this filmmaker who understands what clever humour is. Utekar's USP, alongside making movies about hide and seek, is also shaping families. Yes, there are similar characters, but he understands the grammar of a small-town Indian household. He doesn't hesitate to show you the most clichéd of the arguments but still very entertainingly. It is all enjoyable and relatable because it seems like it is written by people who have lived or witnessed this life closely.
But where Utekar falls short is the second half, where his game of hide and seek begins. Yes, you have momentarily laughter and even some very entertaining bits, but with the third film in the same thread, there is only much left to explore when it comes to the fact that now the leading parts are supposed to hide this big secret from the world. It all becomes too predictable at this point, and you can literally skip a good 20 minutes and still not feel like you have missed something. The ship starts sailing again when he gets into the complexities of the couple who are now fighting due to their dreams that made them take a drastic step, only to sink again with an overstretched hospital sequence that shouts the message rather than blending it with the story.
Zara Hatke Zara Bachke is clever but also predictable in the part that is supposed to be Utekar's USP is why it bothers.
Zara Hatke Zara Bachke Movie Review: Star Performance
Vicky Kaushal, at this point, is the most relatable face in the A league. The actor looks like he has broken the glass ceiling and is representing people who look human and not vanity-driven stars. So when he baths in a bathroom of a barsati in Indore with his janeu (Holy thread) on, he looks relatable and real. The fact that he is also a great actor helps because he elevates the movie with his performance. Though his Indore accent flickers slightly at points, he compensates with his acting.
Sara Ali Khan blends well in the role visually, and Rinku from Atrangi Re helps her a lot because this part falls close. The actor is growing with time, but it is the dramatics where it all feels like a glass half full. While her face gives what it is supposed to, it is her body language and the throwing of her hands in confrontation scenes that feel too much. Credit where it's due, Sara does share a very likeable chemistry with Vicky and their pairing looks quite good.
Everyone else play their parts with honesty and ends up creating a good experience. Kanupriya Pandit especially is a stand-out. Having spent a whole lot of time in the television space, she is the perfect fit for the path she plays and is so much fun.
Zara Hatke Zara Bachke Movie Review(Photo Credit –Imdb)
Zara Hatke Zara Bachke Movie Review: Direction, Music
Laxman Utekar as a director is quite an interesting person. The fact that he has been a cinematographer most of his career, he builds beautiful frames and believes in telling a story more visually than building an idea in the background. But one cannot ignore that he ends up going the predictable way because he has walked that path twice already now, maybe even he couldn't figure that out.
DOP Raghav Ramadoss creates some very beautiful frames and uses vibrant tones to establish this story. The art design in Utekar films is always interesting. The houses he creates in his movies are very fun and a character in themselves.
Sachin-Jigar's music is peppy, fun, romantic, and catchy. The album will definitely stay viral for quite some time. Phir Aur Kya Chahiye especially has a very long shelf life.
Zara Hatke Zara Bachke Movie Review: The Last Word
Zara Hatke Zara Bachke is Laxman Utekar building his universe by a step more with two good actors and a relatable tale. But maybe it is reaching its saturation and you can see it.
Zara Hatke Zara Bachke Trailer
Zara Hatke Zara Bachke releases on 02nd June, 2023.
Share with us your experience of watching Zara Hatke Zara Bachke.
For more recommendations, read our 8 A.M. Metro Movie Review here.
Must Read: Kathal: A Jackfruit Mystery Movie Review: Sanya Malhotra Inches Closer To Becoming Synonymous With Social-Satires Shaped Cleverly, But The Ride Is Little Uneven This Time
Follow Us: Facebook | Instagram | Twitter | Youtube | Google News
The post Zara Hatke Zara Bachke Movie Review: Vicky Kaushal & Sara Ali Khan Romance Through A Relatable & Quirky Tale Of Aspirations But It Is Laxman Utekar's USP That Flutters appeared first on Koimoi.