movie reviews
Jogira Sara Ra Ra Movie Review: A Harmless Part Funny Part Dated Product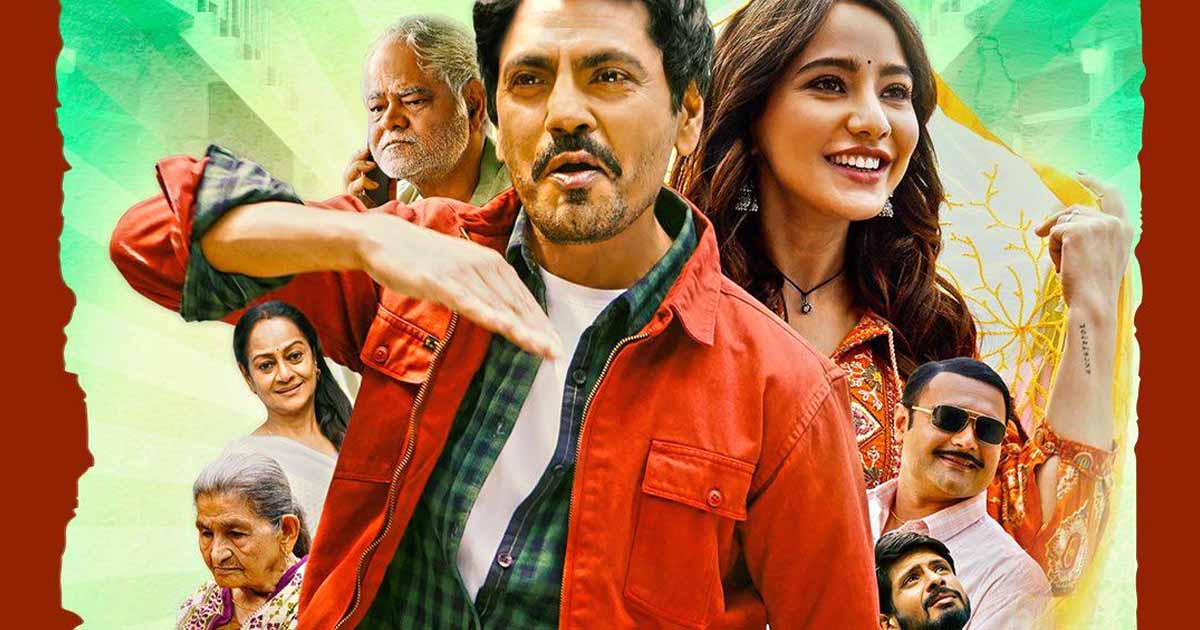 Jogira Sara Ra Ra Movie Review Rating:
Star Cast: Nawazuddin Siddiqui, Neha Sharma, Sanjay Mishra, Mimoh Chakraborty, Zarina Wahab, and ensemble.
Director: Kushan Nandy
Jogira Sara Ra Ra Movie Review (Picture Credit: IMDB)
What's Good: Sanjay Mishra's presence itself elevates the movie levels higher, and Nawazuddin helps him periodically.
What's Bad: Please stop making Nawazuddin dance. Poor guy struggles for his life with every single step.
Loo Break: there's no rocket science involved as such, so take a break at your leisure.
Watch or Not?: If you have no other better option, this one is at least a decent pass time.
Language: Hindi.
Available On: Theatres Near You!
Runtime: 121 Minutes.
User Rating:
A wedding planner meets a street-smart girl at a wedding. Soon they meet again but under very unusual circumstances. The comedy of errors begins when a fake kidnapping takes place, and the real kidnappers join the game.
Jogira Sara Ra Ra Movie Review (Picture Credit: (Picture Credit: Zee Music Company/Youtube)
Jogira Sara Ra Ra Movie Review: Script Analysis
An entire phase in Hindi cinema was dedicated to stories that took the essence of the Hrishikesh Mukherjee era and tried merging it with the commercial modern masala format. With too many misses, and a few classic hits, the genre did become quite popular until David Dhawan and Govinda decides to create a tsunami (not in a good way), and we all were kind of done, making way for the cinema of the elites with logic.
Jogira Sara Ra Ra, written by Ghalib Asad Arora, is a script that brings back the flavour of a comedy of error set in heartland India where two families are busy solving their own game regardless of the world that breathes around them. It is all quite enjoyable considering how the movie decides to transcend into things that will make a viewer suspend their disbelief in a time when we lost our appetite for such movies. But it is to the credit of some splendid actors that make it all work.
But you cannot ignore the haphazard handling of the script that chooses to introduce its heroine in soft focus, breaking into a dance number in the next 5 minutes. The movie has so much misogyny ingrained, and it never tried to counter that. Those were not at all the first things that the makers must have thought of, and you can see that. But even the continuity is so bothering, because things just start happening without a reason. Like how Neha Sharma gets too much involved in Nawazuddin Siddiqui's life, and we never saw them get that close in the first place where they are involved in a heated confrontation about the latter's family. Also, things get so repetitive mid-way that you cannot excuse it. All of this makes the movie look stretched after a point and and there is no relevance attached to the forcefully elongated portion.
Credit where it's due; the situational humour and Sanjay Mishra's world is shaped pretty well and hilarious, and those are some of the best moments.
Jogira Sara Ra Ra Movie Review: Star Performance
Nawazuddin Siddiqui actually takes a lot of effort in shaping characters and trying to make them real and breathable. You can see it in how he takes this half-baked part and makes it partially likable. There is so much more to him than just being comical. His outbursts and angry moments don't get the limelight they deserve. Also, please stop making Nawaz dance, you all.
Neha Sharma finally finds a part where she can show some of her acting talent. Even though she gets very monotonous after a point but this is actually a good performance and a part that matters a lot to a script.
Sanjay Mishra is a performer who can never go wrong, and he is the best part about this movie. Rohit Chaudhary deserves a mention for being very good in some parts and playing the stereotypical 'Hero ka dost' with dedication.
Jogira Sara Ra Ra Movie Review (Picture Credit: (Picture Credit: Zee Music Company/Youtube))
Jogira Sara Ra Ra Movie Review: Direction, Music
Kushan Nandy collaborates with Nawazuddin for the second time. As a director, he sticks to a simple approach and doesn't complicate things. He is very good at situational humour, but there are also many lazy moves that he makes.
The music and camera work are strictly average.
Jogira Sara Ra Ra Movie Review: The Last Word
Jogira Sara Ra Ra is a strictly average movie with some redemption that makes you want to give it a chance.
Jogira Sara Ra Ra Trailer
Jogira Sara Ra Ra releases on 26 May, 2023.
Share with us your experience of watching Jogira Sara Ra Ra.
For more recommendations, read our Chatrapathi Movie Review here.
Must Read: 8 A.M. Metro Movie Review: Gulshan Devaiah Makes You Fall For A Mirage As Gulzar Sahab's Poetry Immerses You Through Saiyami Kher In This Aching Tale
Follow Us: Facebook | Instagram | Twitter | Youtube | Google News
The post Jogira Sara Ra Ra Movie Review: A Harmless Part Funny Part Dated Product appeared first on Koimoi.