movie reviews
Aankh Micholi Movie Review: Watch This Paresh Rawal Film With Your Eyes Closed & Only Then You'll Have Some Fun!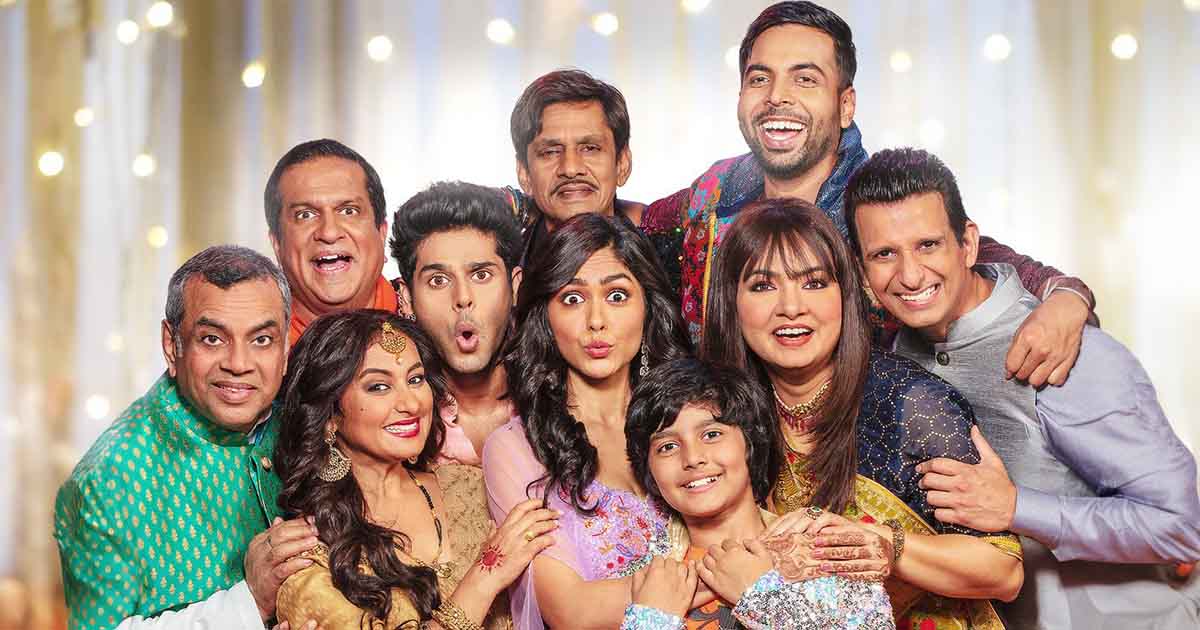 Aankh Micholi Movie Review Rating:
Star Cast: Paresh Rawal, Abhimanyu Dassani, Mrunal Thakur, Abhishek Banerjee, Sharman Joshi, Divya Dutta, Darshan Jariwala, Vijay Raaz, Grusha Kapoor
Director: Umesh Shukla
Aankh Micholi Review (Picture Credit: IMDB)
What's Good: The title of the film is so apt; it turns you blindfolded, leaving you to seek fun till everything gets over; also, when the movie ended, I looked around in my theatre only to find I was the only single person with four couples in four corners (good for them, I guess!)
What's Bad: Why they're releasing this in the theatres? (I get the couples above need some space, but why us?)
Loo Break: Three times: before, during & after the film
Watch or Not?: Just hide from this to seek some fun in your life
Available On: Theatrical Release
Runtime: 2 hours 24 minutes
User Rating:
Out of 8 characters in this story, 7 are suffering from some medical/mental condition – Navjot (Paresh Rawal) is absent-minded, forgetting everything he just heard; his older son Harbhajan Singh (Sharman Joshi) cannot hear; his younger son Yuvraj (Abhishek Banerjee) who stammers; his daughter-in-law Billo (Divya Dutta) who keeps asking Billo Bagge Billeyan Da Ki Karengi… Okay, that was a joke (better than what's in the film). Billo has the condition to mix two Hindi proverbs like "Kaam ke na kaaj ke daadhi me tinka?" that makes zero sense, just like the story of this film.
We also have Navjot's daughter Paro (Mrunal Thakur), who cannot see at night, whose marriage gets fixed, and Rohit (Abhimanyu Dassani), who cannot see in the day. NAHI YEH MAZAAK HO RAHA HAI? MAARO MUJHE MAARO! This doesn't end here; Rohit's family has his father (Darshan Jariwala), who has the condition to ask for a high five for everything he says. Till now, the writer ran out of all the conditions, so he decided to keep Rohit's mother (Grusha Kapoor) as totally normal. So, all these people come together to do something and call it a film.
Aankh Micholi Review (Picture Credit: Youtube)
Aankh Micholi Movie Review: Script Analysis
This is exactly that kind of film that comes out when two friends discuss over a drink: "Nowadays, Bollywood has stopped making Priyadarshan-like films," & one of them decides to write a story by mixing all his films. Jitendra Parmar's story feels straight out of a 2000s movie, which itself is stuck in the 90s. Giving every character a characteristic that tests your patience comes in between this comedy of 'err'ors.
Jitendra is also the man responsible for the writing of shows like Taarak Mehta Ka Ooltah Chashmah & that's why I was wondering throughout why everything feels like a bad TMKOC episode. Stupid ideas like instructing a blind character about the direction using the Mobile keypad's 2-4-6-8 buttons just to hide her blindness are passed off in the disguise of comedy of errors.
Aankh Micholi Movie Review: Star Performance
Paresh Rawal is funny because of his talent, not because the script offers anything substantial to him. His effortless nature of delivering lame lines with a straight face makes him the most bearable actor of all the others. Abhimanyu Dassani & Mrunal Thakur delivered probably the worst performances of their respective careers, something that any other could've ruined in the same way.
Also, if you can make talented actors like Abhishek Banerjee, Vijay Raaz & Sharman Joshi feel like they're in the wrong film, then it's your mistake and not theirs. All three don't even get a single good scene doing justice to the magnanimous comedic talent they possess. Divya Dutta & Darshan Jariwala are wasted as well, with the former going so over-the-top because of the messy script.
Aankh Micholi Review (Picture Credit: Youtube)
Aankh Micholi Movie Review: Direction, Music
Umesh Shukla continues to prove why he can only make good adaptations and not good films. His two good movies, OMG & 102 Not Out, both are adapted from theatre plays, making him a suitable 'adapter.' Umesh's direction is pretty substandard and couldn't withstand the chaos created by the story.
This film comes with a lot of 'worsts,' and another one is its background score. Sachin-Jigar have created 2 set pieces, one that keeps repeating 'Aankh Micholi' & another a jingle-like music, and they keep drilling the same in your head till it doesn't burst out screaming "Shut up!" Not a single song is even mentioning-worthy.
Aankh Micholi Movie Review: The Last Word
All said and done, Aankh Micholi is the classic case of how you get everything you want only to deliver what no one wants.
One star!
Aankh Micholi Trailer
Aankh Micholi releases on 3rd November, 2023.
Share with us your experience of watching Aankh Micholi.
Must Read: Kennedy Movie Review: Anurag Kashyap's Return To Form Is Boldly Political, Numbingly Brutal But Also Convoluted
Follow Us: Facebook | Instagram | Twitter | Youtube | Google News
The post Aankh Micholi Movie Review: Watch This Paresh Rawal Film With Your Eyes Closed & Only Then You'll Have Some Fun! appeared first on Koimoi.