movie reviews
Pippa Movie Review: Ishaan Khatter Starrer Gets All The Ingredients Right Only To Mess Up At The Recipe Execution Level!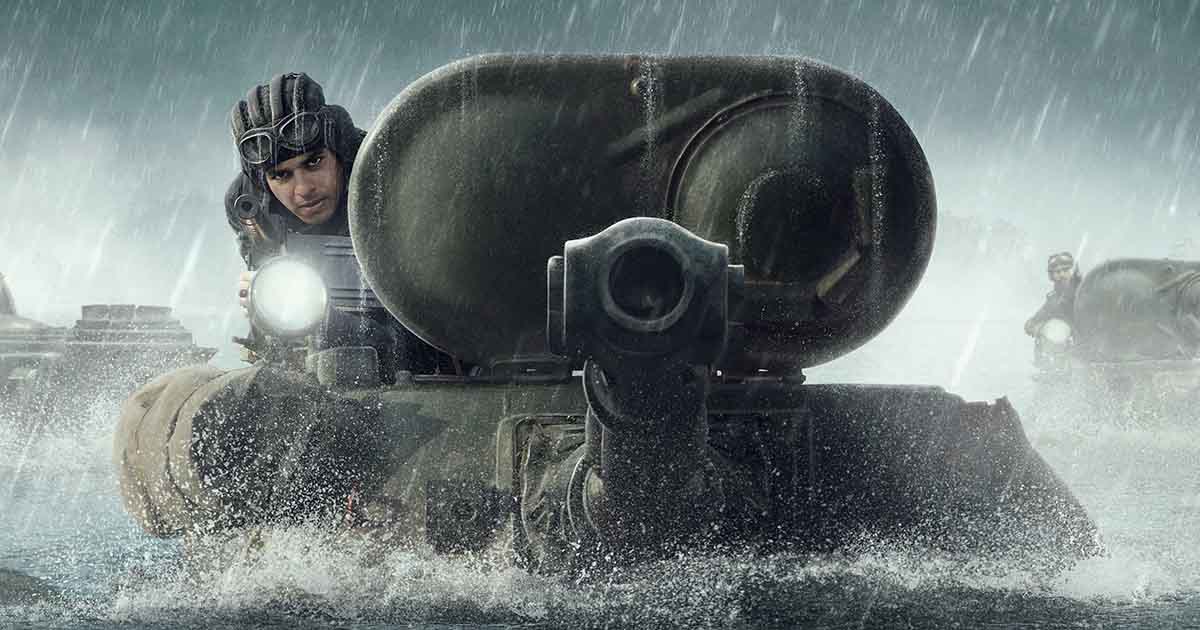 Pippa Movie Review Rating:
Star Cast: Ishaan Khatter, Priyanshu Painyuli, Mrunal Thakur, Soni Razdan, Chandrachoor Rai, Anuj Singh Duhan, Kamal Sadanah, Flora David Jacob
Director: Raja Krishna Menon
Pippa Movie Review (Picture Credit: IMDb)
What's Good: The problem with every good thing in the film is that you've seen all of those in many war films before
What's Bad: The deviation, shifting of the story back & forth while revolving around one big sequence
Loo Break: A few throughout the film thank the makers for releasing it on OTT
Watch or Not?: Only if you're too much into war movies & you've seen almost all of them
Language: Hindi
Available On: Amazon Prime Video
Runtime: 2 hours 19 minutes
User Rating:
In a military family dedicated to the service of the country, we've two brothers, the elder one, Major Ram Mehta (Priyanshu Painyuli), and the younger one, Captain Balram Singh Mehta (Ishaan Khatter). With the usual 'poles apart' brothers' personalities, the characters' stereotypical dynamics are just like every second bro-duo, with the elder being strict and the younger being the mischievous one.
The first act (introduction of characters) takes up much time without registering much additional details. With the gear change, we see Ram & Balram being called for the 1971 war that India fought to liberate East Pakistan from Pakistan, which is now known as Bangladesh. Both go their different routes with different responsibilities, leaving their mother (Soni Razdan) & sister Radha (Mrunal Thakur) in a state of worry. What happens further forms to be the crux of the story.
Pippa Movie Review (Picture Credit: Youtube)
Pippa Movie Review: Script Analysis
Taking a leaf out of Captain Balram Singh Mehta's war memoir, The Burning Chaffees, the script (Ravinder Randhawa, Tanmay Mohann & Raja Krishna Menon) tries hard to be two films into one, and only one of them is watchable at best. One film talks about the half-baked emotional connections between the characters, and the other is the war movie, which redeems the damage to some extent.
From what I've followed about Captain Balram's story, the writers here might have mixed two important occasions that happened during the 1971 war fictionizing Balram Singh Mehta's brother's story (who was Major irl too) by combining it with another story based on actual events from the war. I'm not saying it's a bad thing to mix stories, but at least do it in an intriguing way. This flaw pinches more when the lousy writing doesn't build any chemistry between the brothers and asks you to sympathize with them. How will we even do that?
The problem also is the way they've labeled the film as 'Pippa'; many won't get the meaning at first, and when they know it while watching the film, the makers don't really do much about the tank that's named 'Pippa.' There are fight sequences with the tank, but the lazy action choreography doesn't add any thrills to them.
Pippa Movie Review: Star Performance
Ishaan Khatter is a good actor, and I've been saying this since Beyond The Clouds, but this one got too monotonous for him. The whole time watching him act as this mischievous military officer, you'll feel something's missing. He performs well, but "Chalne firne ka tareeka thoda casual hai… Face pe smile hota toh better hota." Jokes apart, I understand the phase he's portraying of Balram Singh Mehta's life didn't have him as a full-blown army man, and that's why Ishaan had to underplay it, but still, it's just the overall finesse that's missing.
Priyanshu Painyuli does a better job of being a soldier than Ishaan, not only because his character is of the mature big brother but also because he's an incredible performer. I wish the writing could've done justice to these two because they would have emotionally killed it as brothers in an entangled relationship. Instead, the script boils down to the old brother confessing in an emotional sequence that the cigarette box their parents caught was his, to which the younger one replies, "I knew so!"
First Aankh Micholi and now this, there's something wrong with Mrunal Thakur reading the scripts for her role before taking films. Radha is so vague, without any backstory – she knows cryptography in college, so she gets picked by a secret agency that helps the country crack code language, spying on the enemies. She joins and gets everything right, and it's done—zero character arc. In a scene, they decode a message while talking about Baba Budan, who introduced coffee to India by smuggling 7 coffee beans from Yemen; so random?
Soni Razdan is just there, an emotional mother for whom you'll not be able to sympathize, unfortunately. Balli's friends & seniors, played by Chandrachoor Rai 'Chiefy' & Anuj Singh Duhan 'Speedy,' say/do all the typical army men things, but they're good actors. A brief, inconsequential sequence (which should have been written & performed well) shows Kamal Sadanah as Field Marshal Sam Manekshaw (wait till you watch Vicky Kaushal nail this role in Sam Bahadur) & Flora David Jacob (Indira Gandhi) discuss war strategy.
Pippa Movie Review (Picture Credit: Youtube)
Pippa Movie Review: Direction, Music
Raja Krishna Menon has directed two films which I really like – Airlift & Chef but he misses the mark with this one. Because the entire story revolves around one tank fight sequence, it gets tough for him to build the world apart from that portion that he has taken from the book. The way he amalgamates two different stories for the brothers won't really click with many.
Rampage and Parwana have AR Rahman written all over it! I loved the way MC Heam's rap song is used in an action scene, elevating the watching experience. Certain set-pieces of the BGM are worth the Rahman tag, but the majority of them are too generic.
Pippa Movie Review: The Last Word
All said and done, Ishaan Khatter's Pippa is a classic case of having all the ingredients right only to mess up at the recipe execution level to serve a final dish that's only partly enjoyable because of all the right things in it and not because its dramatic undercooked nature
Pippa Trailer
Pippa releases on 10 November, 2023.
Share with us your experience of watching Pippa.
Must Read: Aankh Micholi Movie Review: Watch This Paresh Rawal Film With Your Eyes Closed & Only Then You'll Have Some Fun!
Follow Us: Facebook | Instagram | Twitter | Youtube | Google News
The post Pippa Movie Review: Ishaan Khatter Starrer Gets All The Ingredients Right Only To Mess Up At The Recipe Execution Level! appeared first on Koimoi.