movie reviews
UT69 Movie Review: A Journey To The Jail Would Have Been A Better Option Compared To The Journey Of A Theatre To Watch Raj Kundra's Struggle (To Act)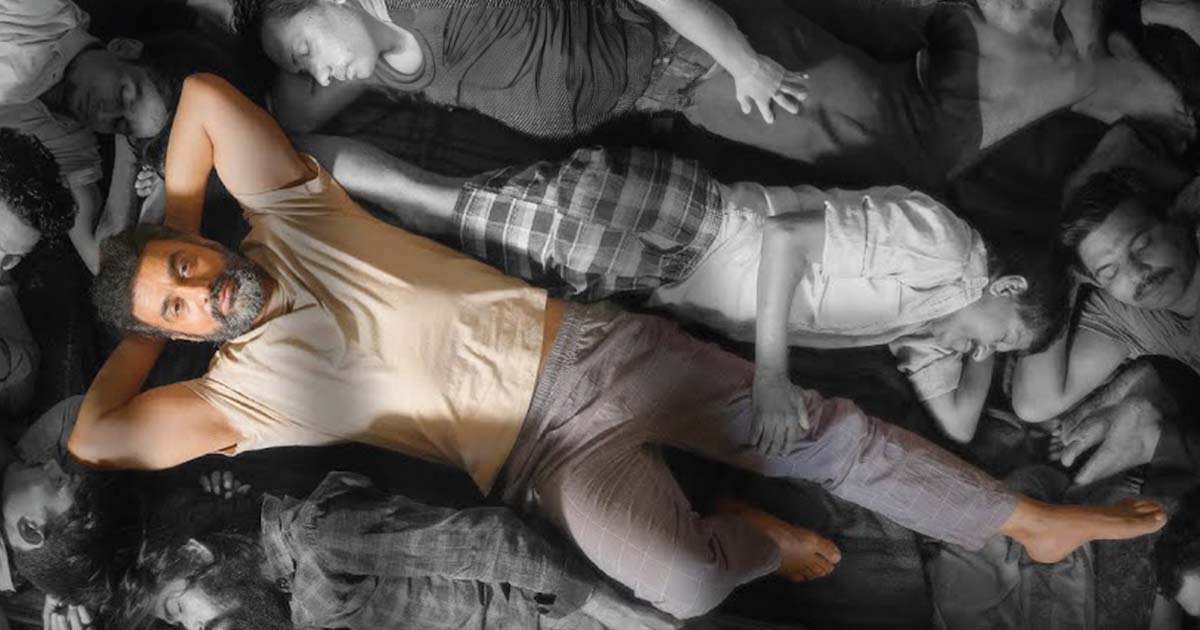 UT69 Movie Review Rating:
Star Cast: Raj Kundra
Director: Shahnawaz Ali
UT69 Review (Picture Credit: IMDB)
What's Good: Dhadkan's title song!
What's Bad: The efforts put in to make you fall for the lead are extremely ordinary at best
Loo Break: Every time they show a loo, you can take a break!
Watch or Not?: Watch only if you want to know nothing!
Language: Hindi
Available On: Theatrical Release (but avoid even when it releases on OTT)
Runtime: (the longest) 1 hours 57 minutes
User Rating:
It starts with the news montage of how Raj Kundra got arrested in the p*rnography case as we see the police taking him to the quarantine prison and then moving him to the main jail barrack in a few days. In jail, he goes through some heartbreaking, soul-wrenching, nerve-racking moments like not getting shampoo to spa his hair & toothbrush to brush his teeth while spending his jail time while comparing himself to OJ Simpson (who, by the way, was controversially acquitted for the murders of his wife & friend).
From how bad the food is in the jail to Raj Kundra saying, 'Welcome to the Raj Kundra's sh*t-life,' you'll see the story touching all the low-hanging fruits when it comes to narrating a jail-struggle story. He waits for his bail and gels well with the inmates inside, only to promise to make a film on them. But what about us? Why are we punished to watch it?
UT69 Review (Picture Credit: Youtube)
UT69 Movie Review: Script Analysis
I understand there must be some legality around the case for which Raj had to serve jail time, and that's why he wasn't allowed to talk about those things in the film, but why shoot an entire movie about the situations that don't evoke any sympathy because of how pretentiously they're presented?
This could've easily been a short film, a documentary or a boring book, but it had no reason to be a feature film asking people to pay and go through the things already known to them through the daily newspapers.
Yes, we know there are food quality issues in certain jails, there's no space for prisoners to sleep correctly, and there are no amenities to enjoy life inside; what's even the purpose of the film? Because if it's to have some sympathy for the lead character, it falls miserably flat on the face.
Credits where credit's due – Kevin Jason Crasta's cinematography and drama, owing to Vikram Bhatti's solid screenplay during the sleeping at night sequence, is built really well backed with Prince Mulla's impactful BGM and that kind of rawness was expected from other sequences as well. Neeraj Kumar Singh's sets are pretty authentic, portraying the imperfections of the jail without getting artificial.
UT69 Movie Review: Star Performance
Raj Kundra delivers a pretty mid-performance as he's not as bad as some other non-actors have been, but he's not as decent as the actor this story required to develop some connection with the viewers.
The jailmates are believable, and the one who plays Raj Kundra's close friend acts the best. The constable shown as Shilpa Shetty's fan is also natural with his performance.
UT69 Review (Picture Credit: Youtube)
UT69 Movie Review: Direction, Music
Shahnawaz Ali, who's making his debut as a director, ropes in all the cliched tropes of making a jail film, which doesn't really excite you for anything. This satire is tiring.
Prince Mulla's background score is decent but monotonous. It looks like he got a few set pieces right & hence, he uses them repeatedly until it bothers you a bit. The song, in the end, is suitable as a standalone track by a debutant.
UT69 Movie Review: The Last Word
All said and done, most cast members are making their debut in the film industry, and the makers flaunt the 'debutant' tag with the name of the members in the end credits, only to ask us to forgive their first mistake.
Two stars!
UT69 Trailer
UT69 releases on 03 November, 2023.
Share with us your experience of watching UT69.
Must Read: Tejas Movie Review: Someone Compiled Kangana Ranaut's Instagram Stories & Called It A Film
Follow Us: Facebook | Instagram | Twitter | Youtube | Google News
The post UT69 Movie Review: A Journey To The Jail Would Have Been A Better Option Compared To The Journey Of A Theatre To Watch Raj Kundra's Struggle (To Act) appeared first on Koimoi.