movie reviews
All India Rank Movie Review: In Varun Grover's Nostalgia Laced Coming-of-Age Drama It Is The Parents Who Grow Up More Than The Hero!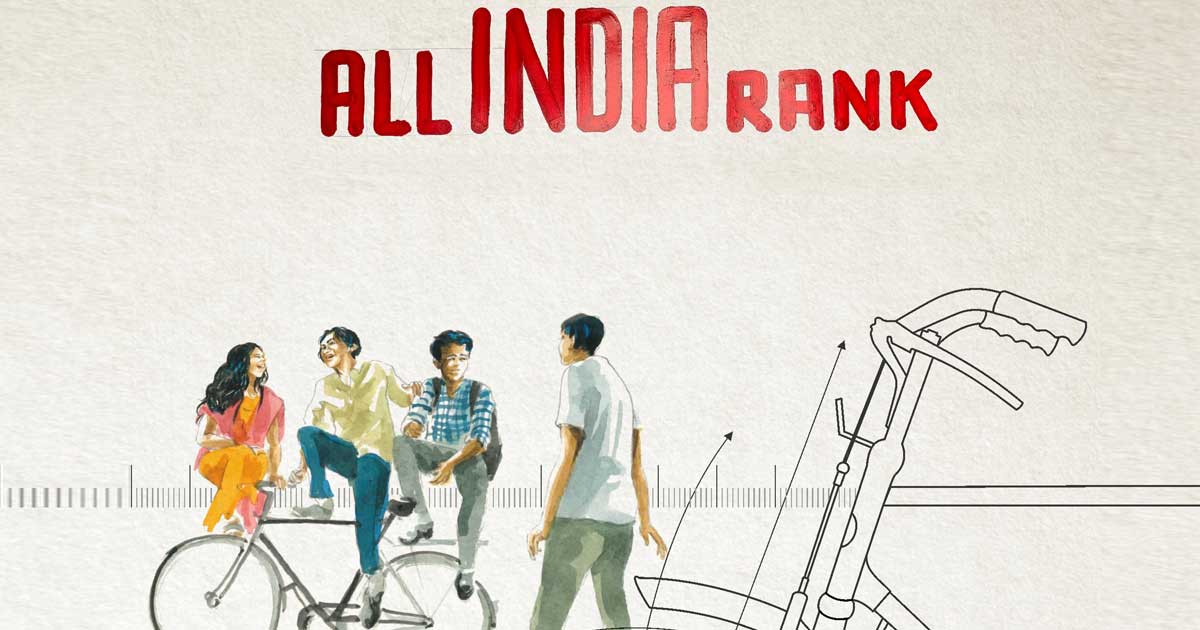 All India Rank Movie Review Rating:
Star Cast: Bodhisattva Sharma, Geeta Agrawal Sharma, Shashi Bhushan, Sheeba Chaddha & ensemble.
Director: Varun Grover.
All India Rank Movie Review ( Photo Credit – IMDb )
What's Good: In a rather poetic approach to a story told multiple times, Grover finds a sweet spot that was yet to be tickled in a time when an entire country was coming of age.
What's Bad: that he doesn't let the tragedy cook well enough to create the impact that it ultimately should.
Loo Break: if a potent lyricist, or writer, is now transitioning into a director, you know you are not allowed to be anything less than fully alert throughout.
Watch or Not?: watch it for how the filmmaker treats the subject without ever being overdramatic about it.
Language: Hindi (with subtitles).
Available On: MAMI Film Festival 2023.
Runtime: 97 Minutes.
User Rating:
Burdened by peer pressure, a 17-year-old boy (Sharma) from Lucknow has to migrate to Kota, against his will, to pursue IIT. Soon life happens and he goes through a journey that changes a lot in him and his parents too.
All India Rank Movie Review ( Photo Credit – Youtube )
All India Rank Movie Review: Script Analysis
Children succumbing to the dreams and demands of their parents, and parents burdening them with their unfulfilled aspirations is a very common Indian household trajectory. We have seen many moving films that have taken this conversation in a very interesting direction changing the hearts of at least some of its viewers and becoming the cinema of change. Vikramaditya Motwane's debut film Udaan, Aamir Khan's more commercially inclined 3 Idiots, TVF's successful show Kota Factory and a few others have aced the genre. So when Varun Grover decides to take the director's chair for the first time, what does he have in mind that will be different than what's already offered?
Written by Varun, All India Rank is set in the late 90s. So Grover's idea is not just about a 17-year-old boy coming of age, but figuratively and literally an entire country coming of age with and around him. This is the time of liberalisation in India. The audience is just getting used to the fact that there is Television beyond Doordarshan, the pop culture is not mainly classical but rock too. A boy calls himself Shawn Michael on a phishing call. So technically the curiosity is running in all possible directions because everything is news from the brands they eat, to the content they consume. Hero Ranger stays constant though!
Amid all of this is a boy who is forced by his father to study at IIT. The father calls a place for 'Charitravan' people to be. He advises him to study to the full human capacity. For the father, anything other than IIT is for the dumb people. Varun very cleverly establishes how with this the father is massaging his ego more than thinking of his only son's future. He wishes to wear his degree as a gold medal and roam around on his moped in the home town. The filmmaker uses this trajectory and then starts the journey of making the parents grow up.
It is an interesting idea because here is a couple who have lost everything and now are even harassed by the people at their father's workplace and an eve teaser is behind his mother. This all leads to a point where they suddenly realise that IIT is definitely not a character certificate and rather they are pushing their son into a spiral he might not be able to return from. While all of that is impactful, it also somewhere doesn't let the tragedy bloom because it comes abruptly and ends too soon. It does leave a mark on the characters on screen but not the viewers alike.
All India Rank Movie Review: Star Performance
Bodhisattva Sharma is such a confident actor. With his plain face and confused gaze, he manages to bring out the cluelessness of his character so well. Sharma as the character has to deal with a platter of conditions including the scarcity of monetary resources back home but he is also a teenage boy who cannot show it when he is around kids of his age who are well-to-do. A performance worth appreciating.
I am watching Geeta Agrawal Sharma in the second project this month after 12th Fail where she also played a mother to a boy hustling with competitive exams. But both the mothers are poles apart from each other. The actor plays her part pretty well and becomes a highlight of the movie and so is Shashi Bhushan who embodies the father so well. His performance is so good that when he finally comes to terms that IIT is not the end of the world, you breathe a sigh of relief. Sheeba Chaddha in a very limited role is impressive.
All India Rank Movie Review ( Photo Credit – Youtube )
All India Rank Movie Review: Direction, Music
Varun Grover can do anything and it's a proven fact now. For a man who only fascinated us with his poetry, he now is writing and debuting as a director. His approach to this story is so simple and effective that it reminds you of the movies that were made in the early 2000s. Laced with nostalgia of the times it is set in, Grover uses the yesteryear to the fullest. The Nirma jingles, Fair & Lovely, the normalisation of noodles here. He marinates his story so well, that it becomes a three-dimensional story. Most of the part is a young boy's journal entry, but it works because the surrounding is well researched and translated on screen.
The music album needs to be released as soon as possible. With one of the best opening credits this year, the songs of All Of India Rank are unique and so well-written. There is even a track sung by Vishal Bhardwaj folks!
All India Rank Movie Review: The Last Word
All India Rank is a very personal film considering Varun Grover himself is an IIT alumni. Don't expect a very dramatic reward, it is more of a subtle story about normal people dealing with times and challenges.
All India Rank Trailer
All India Rank releases on 27 October, 2023.
Share with us your experience of watching All India Rank.
For more recommendations, read our Yaariyan 2 Movie Review here.
Must Read: 12th Fail Movie Review: All Hail Vikrant Massey & Vidhu Vinod Chopra As They Shape The Most Pure, Personal & Brave Hindi Film In A Long Time
Follow Us: Facebook | Instagram | Twitter | Youtube | Google News
The post All India Rank Movie Review: In Varun Grover's Nostalgia Laced Coming-of-Age Drama It Is The Parents Who Grow Up More Than The Hero! appeared first on Koimoi.