movie reviews
Kennedy Movie Review: Anurag Kashyap's Return To Form Is Boldly Political, Numbingly Brutal But Also Convoluted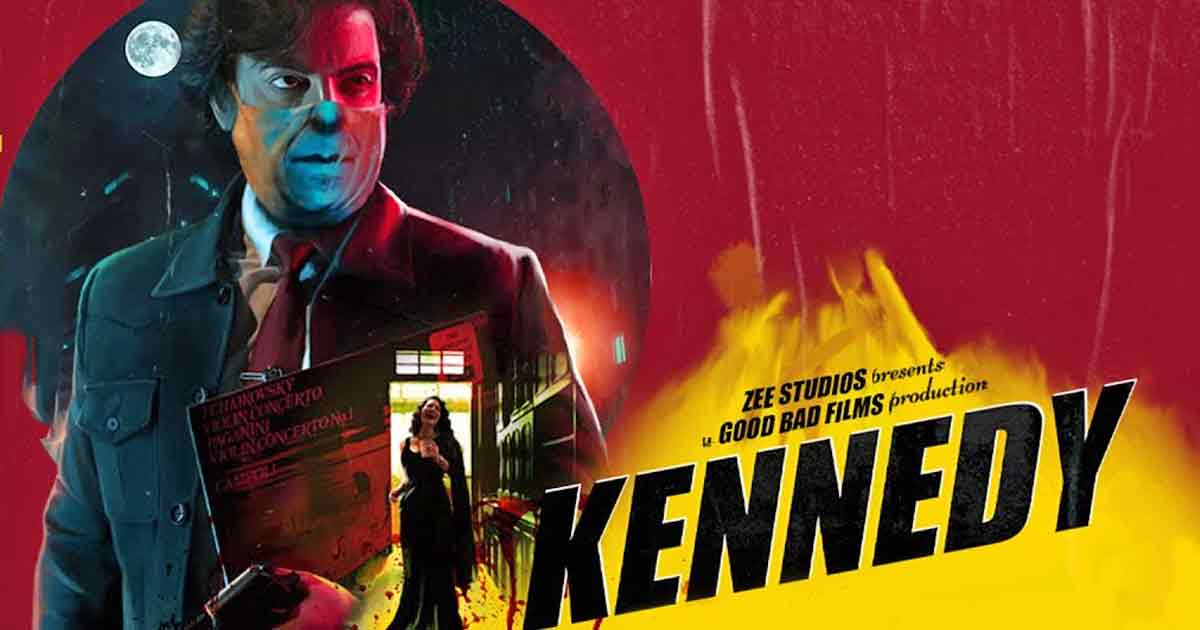 Kennedy Movie Review Rating:
Star Cast: Rahul Bhat, Sunny Leone, Megha Burman, Abhilash Thapliyal, Shrikant Yadav, and ensemble.
Director: Anurag Kashyap.
Kennedy Movie Review ( Photo Credit – Kennedy Poster )
What's Good: leave Anurag Kashyap loose, and you will see him show you how far the limits of darkness are with his sharp political voice.
What's Bad: his voice becomes convoluted in parts, and what is supposed to be a big reveal falls flat.
Loo Break: the entire runtime is scattered with touches of Anurag Kashyap, and you don't want to miss anything.
Watch or Not?: It is a movie that will grow with time. Even I won't claim to have understood the entire film. A second watch is needed. And your first is due, so go for it.
Language: Hindi (with subtitles).
Available On: MAMI Film Festival 2023.
Runtime: 143 Minutes.
User Rating:
An ex-police officer, Uday Shetty (Rahul), is an assassin for hire for the now Police Commissioner of Mumbai. The second wave of pandemic is ongoing, and now there is also a nefarious plan being hatched in the underbelly of the city. How will Uday fulfill his vengeance, and how what consequences he will face is the movie.
Kennedy Movie Review ( Photo Credit – IMDb )
Kennedy Movie Review: Script Analysis
Anurag Kashyap, when let loose without any limitations with an idea that has come out of his brain organically, can run to the boundary, pushing it even ahead, refusing to believe there is one. The filmmaker, with his distinctive films, has been more than just a storyteller. A voice that wants to talk about his times, give voice to the ones that have never got the stage. What he also knows is how to marinate his political stance with humor and fictional spice that it is entertaining. But does his indulgence with his content sometimes dilute and convolute the purpose of his movies? Let's dissect.
Kennedy, if you look at it. Is a film of our times and much more relatable than any other content around us at the moment. The opening frame tells you how the reputation of police officers in this city has touched a new low after the pandemic outbreak. The next slide is a couplet from William Wordsworth's poem Resolution & Independence, which talks about the wild nature of youth that turns into despondency and madness as we grow old. Amid all this poetry is a once careless cop killing people without thinking of the repercussions and now an assassin who has lost someone very dear because of his wild carelessness. Anurag shapes the dejection and loneliness of Uday with a lot of precision. All of this is happening while we are quarantined or in lockdown in the building adjacent to the parking lot Shetty is killing people in.
The anger in him seeks blood and not words. He doesn't speak much. The setup he is in demands the dead bodies of people who are roadblocks. So, he is technically on his dark dream job. But the criteria to get it was to lose a life that was once pleasant with children and a wife. It is the system that engulfs his happiness; it is his gest to the brutality that eats the hope out of him. This is Kashyap of Ugly finally trying to return after a long time and for good. He is politically brave, not shying away from questioning the system of real-time, talking about the man serving us electricity and probably running the country, calling him 'Bade Papa.' A scene where some jobless eve teasers asking people asking a man who's returning from work whether he lit a lamp or bang a plate, has to be the highlight.
Kennedy does lose grip more than once when it tries to constantly tell you what the tragedy was that turned Uday Shetty into Kennedy. Now, the movie is structured towards 'The Night,' where probably a significant turn of events happened. But the convoluted structure of the screenplay written by Anurag doesn't really create the impact that is desired. Like when you see the flashback in its entirety by the climax, you have seen the outcome of it so many times that it fails to yield any reaction. The same happens with the finale, where a man is taking down a system, but then we have seen so much chaos that a subtle scene doesn't get registered. But the last couple of seconds is where the nefarious Anurag is offering some redemption with a climax left hanging while you wait to hear a gunshot.
Kennedy Movie Review: Star Performance
Rahul Bhat needs to work more, and filmmakers should understand his potential. His body of work beyond the Anurag Kashyap universe is not noticeable and that needs to change. He holds Kennedy together. His almost dead stare, with not much being expressed, is what brings subtlety to this dramatic story. Bhat even manages to bring out the pain of a father missing his children well and is a great performer.
Sunny Leone is the perfect addition to this cast. For a woman who is clueless as to what hell is burning around her, the only time she can be herself is after she is drunk. She only giggles after she is intoxicated because that is the only way she can make sense of the uncomfortable world she has now lived in. It is a character not developed as well as it should have been, but you can also see potential in it.
Shrikant Yadav knows what his job is and does it to his best. Rest everyone is in excellent form and put their best foot forward to elevate the movie.
Kennedy Movie Review ( Photo Credit – Youtube )
Kennedy Movie Review: Direction, Music
Anurag Kashyap, with his direction this time, tries to create a ghost. A ghost that embodies the dark soul of this city with no hint of light in him. He sees the spirits of people he has killed; he actively converses with the first person he murdered. Like Ritesh Batra's Lunchbox had a character saying, "Is sheher mein marke bhi shanti nhi milti," Anurag takes that plot ahead. His direction is indeed exciting, and the way he jumps timelines does keep you hooked. He knows where the camera needs to be set.
Talking of the camera, DOP Sylvester Fonseca creates frames that add to the intense vibe Kashyap wants to create. The chase scenes, indoor confrontations, lighting, and the setup are so on point that at no point this world doesn't look lived in.
Aamir Aziz and Boyblanck together shape an exciting album that suits the Anurag Kashyap brand of music. The poetry adds a mystic later to this already mysterious world. The lyrics are so politically charged and potent that they question the system like a responsible filmmaker and his team should.
Kennedy Movie Review: The Last Word
It is a film about our times, and Anurag Kashyap is bold enough to ask some fundamental questions. But there are also some flaws that can be ignored otherwise.
Kennedy Trailer
Kennedy is right now in the festival circuit.
Share with us your experience of watching Kennedy.
For more recommendations, read our Ganapath Movie Review here.
Must Read: Tejas Movie Review: Someone Compiled Kangana Ranaut's Instagram Stories & Called It A Film
Follow Us: Facebook | Instagram | Twitter | Youtube | Google News
The post Kennedy Movie Review: Anurag Kashyap's Return To Form Is Boldly Political, Numbingly Brutal But Also Convoluted appeared first on Koimoi.