movie reviews
Apurva Movie Review: Tara Sutaria Runs For Her Life Only To Make You Walk Out Midway Of This Stale Version Of NH10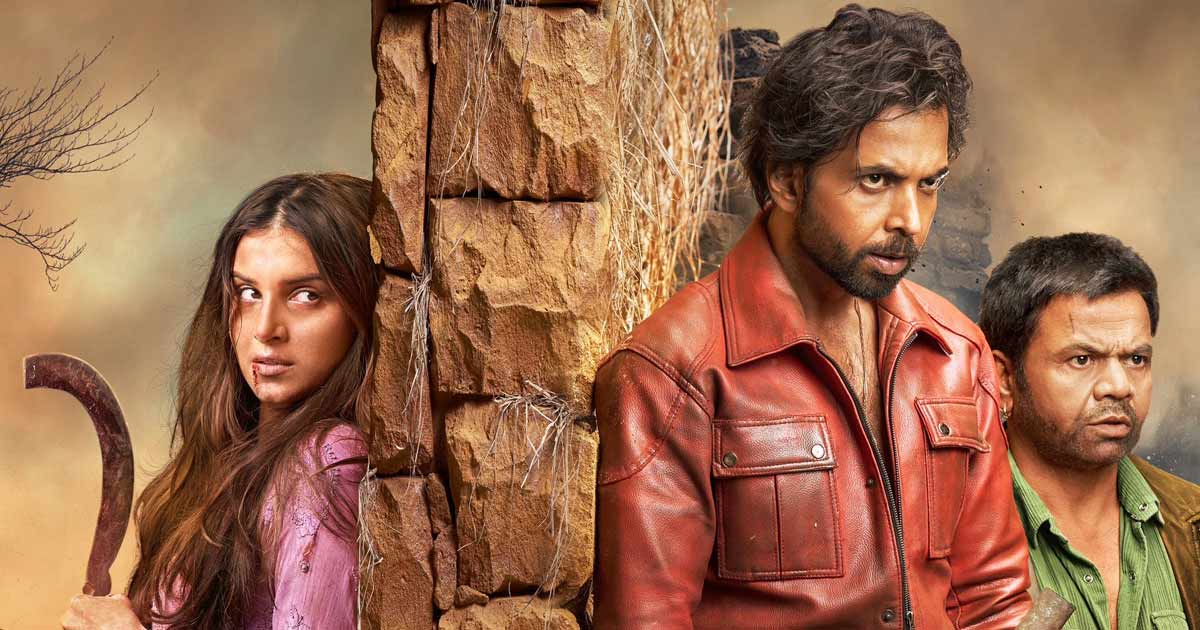 Apurva Movie Review Rating:
Star Cast: Tara Sutaria, Rajpal Yadav, Abhishek Banerjee, Dhairya Karwa, Sumit Gulati, Aaditya Gupta
Director: Nikhil Nagesh Bhat
Apurva Movie Review ( Photo Credit – IMDb )
What's Good: Its duration, 90 minutes! The regret of wasting time won't be major
What's Bad: It still kills your 90 minutes, though
Loo Break: Only if you can maintain a single position while experiencing 90 minutes of foreseeable mayhem
Watch or Not?: Skip it, save your 90 minutes, and invest them in doing nothing because that would be more productive
Language: Hindi
Available On: Disney+Hotstar
Runtime: 1 hour 35 minutes
User Rating:
En route from Chambal to Agra, we see a group of local goons looting a car for the most basic reason, which is revealed with such a long-a** build-up that you don't even care about it. The goons are Sukhi (Abhishek Banerjee), Jugnu (Rajpal Yadav), Balli (Sumit Gulati) & Chhota (Aaditya Gupta), and the reason is just because it's NH44 (probably as the route is Chambal to Jhansi) and you keep getting people who might beat you to death only to loot your valuables.
After the loot, they're on their way home, and just because a bus driver refuses to give them the way to overtake, they overtake it only to kill him and his partner. What next? Kidnap a beautiful girl from the passengers and try to brutally molest her, only to get killed by her by the end. That's it, that's the story.
Just FYI, the girl is Apurva (Tara Sutaria), who is traveling to Agra to surprise his boyfriend Sid (Dhairya Karwa), whose name she has saved as 'Sid Poochie' with two 'hearts' & one 'face blowing kiss' emojis in her phone. I know it's unnecessary information, but that's what the film is all about: information that's unnecessary to make a good film.
Apurva Movie Review ( Photo Credit – YouTube )
Apurva Movie Review: Script Analysis
Nikhil Nagesh Bhat, whose film 'Kill' is much awaited, pens a story you can narrate in a single breath without evoking any excitement from anyone who hears it. Okay, let me try. "It's a story about how four goons kidnap a girl from a bus, molest her, and one by one get killed because they're fools." Did you feel excited enough to watch how this pans out? If yes, then wait to read what all transpires to conclude this sure-mis-fire tale.
The surprise factor of the story heavily depends on the brutality the goons execute to break the girl they kidnap & none of their tricks are fresh enough to evoke any kind of emotion in you. This only proves why movies like Anushka Sharma's NH10 should be treated with more respect. There is nothing special to talk about Anshuman Mahaley's cinematography, which keeps cluelessly revolving around the formulaic treatment of the script.
Apurva Movie Review: Star Performance
Tara Sutaria finally gets to act as being more than a flowerpot, but unfortunately, in the wrong film. This in no way means she has arrived; it's just better than her past performances, which is not really a standard to match even for her.
The first glimpse of Rajpal Yadav had me go, "Yes! This should be interesting; he's finally not doing comedy," and with every passing scene, I was like, "Why is he not doing comedy?" Abhishek Banerjee doing this after something as brutal as Hathoda Tyagi is pretty similar to Robert Downey Jr doing Dolittle after Avengers: Endgame.
The other two dacoits, Aaditya Gupta & Sumit Gulati, get as much importance as the 'mystery' in this scattered crime-drama script. Dhairya Karwa is in the film only to arrive at the climax when his girlfriend, played by Tara, has killed everyone and says, "Main aa gaya hoon!"
Apurva Movie Review ( Photo Credit – YouTube )
Apurva Movie Review: Direction, Music
Nikhil Nagesh Bhat takes an extremely routine approach to writing and directing this. It clearly looks like a lack of effort while penning the story because of everything screaming generic AF. Because things are so predictable all the time, you don't notice anything good about the methodical chaos on-screen.
Vishal Mishra's songs just add to the duration. They might be good tracks standalone, but they don't fulfill anything by being in the film. The BGM is ordinary, too.
Apurva Movie Review: The Last Word
All said and done, this is just around ninety minutes long, and I can give you a hundred reasons why you should watch NH10 over this.
One and a half stars! 
Apurva Trailer
Apurva releases on 15th November, 2023.
Share with us your experience of watching Apurva.
For more recommendations, read our 12th Fail Movie Review here.
Must Read: Pippa Movie Review: Ishaan Khatter Starrer Gets All The Ingredients Right Only To Mess Up At The Recipe Execution Level!
Follow Us: Facebook | Instagram | Twitter | Youtube | Google News
The post Apurva Movie Review: Tara Sutaria Runs For Her Life Only To Make You Walk Out Midway Of This Stale Version Of NH10 appeared first on Koimoi.