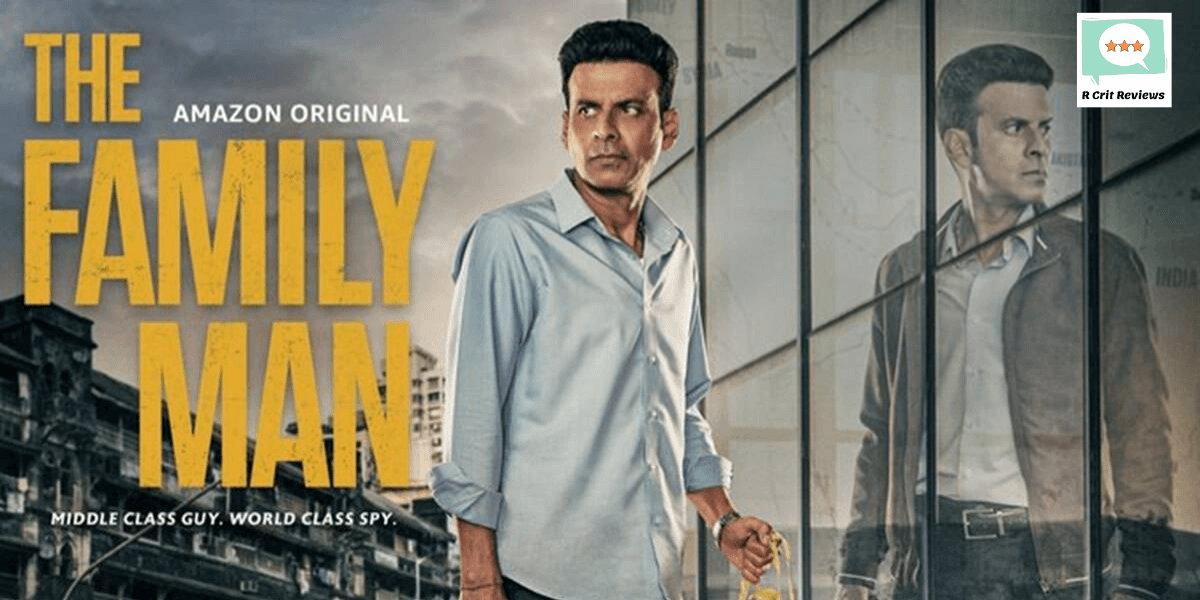 Likes
'The Family Man' is an excellently engaging well shot series that offers a perfect blend of comedy, thrills and twists.
The Family Man is an edgy action-drama series, which tells the story of a middle-class man who works for a special cell of the National Investigation Agency. While he tries to protect the nation from terrorists, he also has to protect his family from the impact of his secretive, high-pressure, and low paying job.

Genre: Drama
Network: Amazon Prime Video
Premiere Date: Sep 20, 2019
Episode 1: The Family Man

Middle-class man working for the National Investigation Agency. While he tries to protect the nation from terrorists, he also has to protect his family from the impact of his secretive, high-pressure, and low paying job.
Episode 2: Sleepers

A scooter bomb goes off at Kala Ghoda. Srikant learns about a mission called Zulfiqar. Suspects in the blast case tell him about a drop box near Victoria College. He arranges for round-the-clock surveillance at the drop box location.
Episode 3: Anti National

When he finds out that one of the hospitalised prisoners is part of Mission Zulfiqar, Srikant interrogates the prisoner's friend, Moosa, about it. Someone called Kareem has used the dropbox. TASC monitors Kareem's hostel room, but Kareem gives them the slip.
Episode 4: Patriots

TASC is in a quandary. They fear Kareem and his men have a devious plan. They get to Kareem's car, only to realise that things are not what they seem.
Episode 5: Pariah

ISI agent Sameer sends the Kala Ghoda bomber to Kashmir to execute Mission Zulfiqar. Srikant is 'punished' and sent to Kashmir, but when his boss, Kulkarni, tells him it was planned, Srikant starts digging into Zulfiqar.
Episode 6: Dance of Death

Srikant discovers that he's been after the wrong suspect all this time.
Episode 7: Paradise

Srikant searches for Sajid at a wedding in Baramulla, against Saloni and Vikram's wishes
Episode 8: Act of War

Srikant helps CIA locate Faizan, a wanted man hiding in Balochistan. Srikant slips into Pakistan to interrogate Faizan. Pakistan's Prime Minister finds out about Zulfiqar and tries to stop it.
Episode 9: Fighting Dirty

Srikant tries to thwart a plan to smuggle nerve gas canisters from Kashmir into Delhi.
Episode 10: The Bomb

TASC realizes that Mission Zulfiqar is not over. There is a Plan B. And it has already been put to action.
Review The Family Man Season 1
Srikant Tiwari works in a specially Made cell of the National Investigation Agency – Threat Analysis and Surveillance cell – Situated in an indescribable building in Mumbai. He tries hard to balance his loved ones and job, which despite having taken over his own life, doesn't pay well. His spouse, Suchitra, is a college professor and is oblivious of Srikant's greater than eventful fieldwork. She's tired of his erratic life and work. Aside from their trouble inviting teenaged daughter, Srikant and Suchi also have a music loving, but tone deaf son, who's extremely vocal about particular problems and wishes that his father was, too.
The Family Man is about TASC using some of the very intelligent intelligence within the nation and state of the art technology to detect dangers to the nation. The action, at work, begins With Mujahideens being recorded by the shore Guard and he, together with JK, he is sent to interrogate them, accompanied by Zoya, the recruit. While Srikant, J.K., Zoya and the others are busy chasing guys, interrogating them, planting hidden cameras and joining forces to foil evil plans, Srikant attempts to dodge the bullets family life fires at him daily. One of those bullets comprises his spouse Suchi getting too close for comfort, to one of her co-workers, Arvind.
Srikant is even seen getting an earful for something his daughter does in college. While work and life are occurring to Srikant, unbeknownst to him, a devious plan is hatched to create tension in India and bring it to its knees. What follows is a series of episodes and round watch, surveillance to catch the suspect In the act and find out what the act threatening India's security really is. The humorous part is that Shrikant's observation extends to his members of the family too. WOw, MOment: Inspired by real life incidents that flooding papers nowadays, The Family Man weaves together Manoj Bajpayee's lives – the mad non stop action stuffed one and another in which his loved ones is the boss.
It's super relatable on several levels. There's not any dull moment in the series. The children extorting their father instead of maintaining Their mouth closed is EPIC. At one point, you may also feel sorry for the guy. Mehak Thakur, who plays the role of Manoj Bajpayee's daughter Dhriti, provides a great performance and is certainly someone to watch out for. The camaraderie between Srikant and JK excels through consistently, be it on the field or with things on the home front.