movie reviews
Kuttey Movie Review: Vishal Bhardwaj's Custodian Rises, Tabu Sets Out To Rewrite Another Decade Of Cinema With Gulzar Sahab & The Team Only Flourishes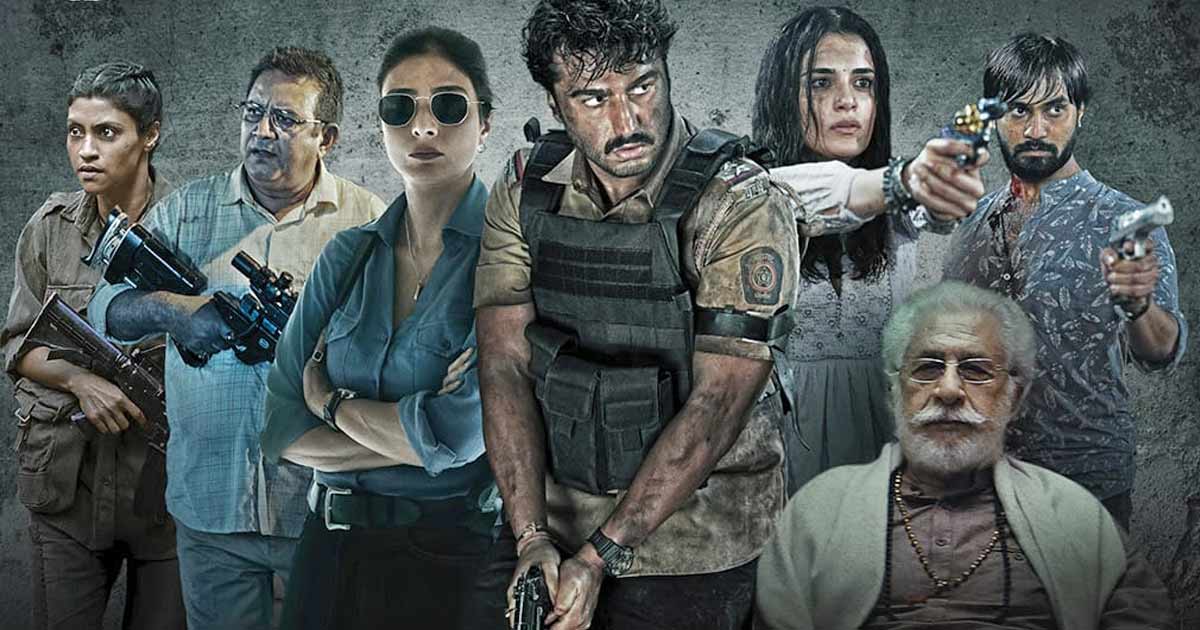 Kuttey Movie Review Rating:
Star Cast: Tabu, Arjun Kapoor, Radhika Madan, Kumud Mishra, Konkona Sen Sharma, Naseeruddin Shah, and ensemble.
Director: Aasmaan Bhardwaj
Kuttey Movie Review Out  ( Photo Credit – Kuttey Poster )
What's Good: The confidence with which Aasmaan decides to take his legacy ahead but also adds his essence to it. I am here for Tabu's Bollywood takeover era and can someone make me meet Gulzar Sahab, please?
What's Bad: Not bad, but there was scope to add more but then Aasmaan is also clever to not let his vision branch out in a way that it ends up purposeless.
Loo Break: Don't even dare!
Watch or Not?: If Vishal Bhardwaj telling indulging stories with his ideology represented without making it preachy are your gig, here is his son taking ahead the legacy with his touch.
Language: Hindi (with subtitles).
Available on: In Theatres Near You!
Runtime: 112 Minutes
User Rating:
6 people, all with tempers touching the sky, get involved in one robbery from different angles. Who takes home the cake is the story and revealing anything more about the plot will be a crime.
Kuttey Movie Review ( Photo Credit – A Still From Kuttey )
Kuttey Movie Review: Script Analysis
Vishal Bhardwaj over the years with his collaboration with Gulzar Sahab has become a genre in Indian Cinema. His idea of setting his stories in land politically charged and shaping a world that speaks of freedom has been a liberating escape. Decades into the business, he now fuels his heir to take the legacy ahead and rightly so. Enters, Aasmaan Bhardwaj. With a team that is no less than a tall-order dream, he ventures out to tell a quirky yet rooted story and like his father does what he knows best, serving top-notch content.
Written by Aasmaan with Vishal being credited for additional screenplay and dialogues, Kuttey is a movie that is a game of Ludo where every section of the board has pawns working together to beat the pawns from the other boxes. In his writing, the filmmaker shapes the movie as a maze. No one cares about others, you never know who will double cross and kill someone, and the mystery continues. It is not an easy genre, but Aasmaan does an amazing job of sticking to a modified three-act structure yet doesn't let it ever feel like a structured mess.
There is chaos in every scene that Aasmaan shapes. He takes his sweet time in setting the base for a story that will take a chaotic shape in the second half. It is a story that very bravely relies a whole lot on the second half and the filmmaker takes that risk quite consciously and makes sure he does his best to not let it look like an imbalanced product. Like Vishal Bhardwaj's superpower is his poetry and the presence of it in the frame, his son holds a quirky sense of humour and the darkest way to execute it. He makes you laugh at the most traumatic scenes and never lets it sound illogical. Because he writes the characters at the base level so hopeless and stone-hearted that there is no scope for irk when a man falls under a moving train.
One has to credit the debutant director for being brave enough to not let the presence of massive stars affect his voice. His need to give every woman in the frame the agency she deserves, talk about the marginalized pushed to take up weapons, or even the fact that a righteous cop chooses to go on the dark side without the screenplay judging either of them even once is visible. There is no gender to any character in this movie, it could be a man, or a woman, but it all depends on their position in this hierarchy. The clever decision is to also set the story in a limited world rather than broadening the horizon and going haywire. The reward for that chase and fight is not something that affects the larger-than-life syndicate (eg: drugs or a treasure), but something that passes by us everyday we walk on the road. Remember, I said rooted?
Aasmaan handles the climax so cunningly that it all blends into one and fades back into oblivion as a Faiz Ahmed Faiz poetry plays in the background. One thing that he should have explored more is the world that Konkona's character Laxmi comes from. Also, why so less of Naseeruddin Shah and why is his part borderline inconsequential when it is supposed to be one of the most powerful?
Kuttey Movie Review: Star Performance
The art of writing characters in a way that the first 2 minutes of their screentime explain to you where they come from is rare. Aasmaan has it. It is Tabu's world and we are just living in it rent-free. The actor is out on cinema domination and how. She plays Poonam aka Pami, a police officer who has climbed the stairs of misogyny to now rule the same men who subjected her to it. The place she is in, she calls encountering people 'masti' and doesn't think twice before she kills someone. Tabu is as effortless as an actor can be. No one can even come close to how skillfully she makes every character hers.
Arjun Kapoor plays a corrupt police officer who is also religious and observes fast on Tuesdays. He breaks that fast and worships the god before he takes a gun and butchers an entire party for money. I have been saying this for years, the actor has a range and deserves so much more. After the amazing Sandeep Aur Pinky Faraar here he plays the part where he doesn't overdo anything. He finds his comfort spot and plays there.
Radhika Madan deserves to be seen and appreciated more. For a character that is privileged yet has nothing, she brings out the dilemma well. Accompanied by Shardul who is seasoned in his own way, they do manage to bring out the emotions in their storyline with ease. Watching the actor after Eeb Allay Ooo! working with prolific names feels like a victory. But a sequence from the trailer featuring them is also missing from the theatre cut. I wonder why?
Kumud Mishra is a beast and one that doesn't make noise but lets his action speak. If there is an award for the most controlled performer, it has to go to him. Konkona Sen Sharma knows what creates magic and does just that. Though she deserved much more screentime, she does an intriguing job.
Kuttey Movie Review ( Photo Credit – A Still From Kuttey )
Kuttey Movie Review: Direction, Music
Aasmaan Bhardwaj in his debut is a firebrand. The filmmaker understands what consequence means. Every character in his story is evil, no one is s ane and neither are their intentions. So he doesn't let them walk away without facing the consequences of their evil. A trait almost every filmmaker forgets to add. I am amazed by how clear he is with what he wants. Nothing in his translation of his script to screen feels like captured by fluke. Each frame is thought about and the chaos is composed with everything considered.
DOP Farhad Ahmed Dehlvi does capture this world well and incorporates the darkness within the characters in his frames too. But his extensive usage of red lights and diagonal frames completely disappears after a point and feels like an incomplete node.
I am yet to reach the level where I have the caliber to critique a Vishal Bhardwaj X Gulzar Sahab album. Only goodness and gems. Listen to Vaat Lagli and measure the legendary poet's range.
Kuttey Movie Review: The Last Word
Kuttey is a film aware about its purpose and too clever for a debutant filmmaker. We have a successor to the Bhardwaj legacy and that must be celebrated.
Kuttey Trailer
Kuttey releases on 13 January, 2023.
Share with us your experience of watching Kuttey.
For more recommendations, read our An Action Hero Movie Review here.
Must Read: Blurr Movie Review: Disjointed Scenes, Confused Storytelling End Up Snatching The 'Thrill' From This 'Thriller'
Follow Us: Facebook | Instagram | Twitter | Youtube | Telegram | Google News
The post Kuttey Movie Review: Vishal Bhardwaj's Custodian Rises, Tabu Sets Out To Rewrite Another Decade Of Cinema With Gulzar Sahab & The Team Only Flourishes appeared first on Koimoi.