movie reviews
Bholaa Movie Review: Ajay Devgn Retells Lokesh Kanagaraj's Story In The Most Histrionic Way Possible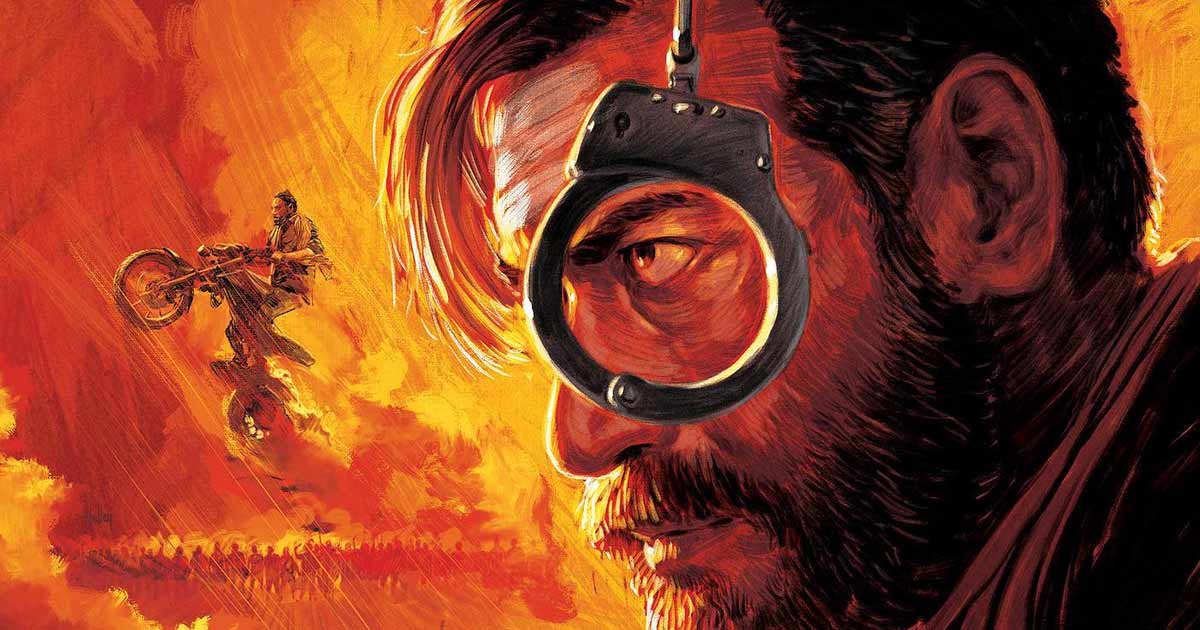 Bholaa Movie Review Rating:
Star Cast: Ajay Devgn, Tabu, Deepak Dobriyal, Gajraj Rao, Sanjay Mishra, Vineet Kumar, Makarand Deshpande, Amir Khan
Director: Ajay Devgn
( Photo Credit – Poster from Bholaa )
What's Good: It's Ajay Devgn's bewildering passion for creating that one perfect actioner & this is a step in the right direction
What's Bad: Lokesh Kanagaraj's Kaithi ran, so Ajay Devgn's Bholaa could walk!
Loo Break: Not at all in the first half & climax; you still have a choice!
Watch or Not?: Only if you have the appetite to digest a loud masala entertainer
Available On: Theatrical Release
Runtime: 144 Minutes
User Rating:
IPS Diana Joseph (Tabu), through an exhilarating truck chasing scene, manages to catch cocaine worth 1000s of crores which was being transported by Sikka Gang's Nithari (Vineet Kumar) & his younger/crazier brother Ashwathama (Deepak Dobriyal). Ashwathama goes crazy as it's not just the drugs captured by the police but also his brother. Diana escapes Ashwathama's trap of getting intoxicated at a higher rank official's retirement party. Still, many of her colleagues are drugged at the risk of losing a life if not treated in a couple of hours.
She takes up the task of transferring all the officers to a 3-hour far hospital along with Bholaa's (Ajay Devgn) help because he's the only one who can drive a truck. Also, Bholaa got arrested just for looking suspicious after he spent ten years in jail for the reasons only to be revealed in the film's further parts (or when Lokesh Kanagaraj decides to write it). He, for his personal reasons, decides to help Diana cover the highway full of death traps trying to keep the officers alive and detained drugs safe.
( Photo Credit – Still from Bholaa )
Bholaa Movie Review: Script Analysis
Ajay Devgn retells Lokesh Kanagaraj's story in the most histrionic way possible, absolutely nailing the 'action' bit of actioner but making an 'err' in attaining 'er' (entertainer) bit of the same. Following the template of keeping the crux the same and adding some unwanted clutter which was never required in the first place, Bholaa's narrative relies extremely heavily on VFX-filled action sequences.
Totally not complaining about them, as the film's action is its soul holding back your attention till the end. Be it the very John Wick-like 'open contract' against the protagonist action sequence or Ajay's Bholaa thrashing the life of baddies using 'Trishul', when it roars, it roars 'oh so good!'. It's the additional love track, a love song and a long dramatic drag of the father-daughter sub-plot that holds Bholaa back. I still have a strong belief Ajay Devgn along with his trusted cinematographer Aseem Bajaj will one day make a film that will not only stun his fans but each and every cinema fan.
Bholaa Movie Review: Star Performance
Ajay Devgn's Bholaa is a silent hero who doesn't have some heroic one-liners to win toh over, and he instead follows his regular 'mode of communication,' i.e. his eyes to do the serious talking. This characteristic has been mastered by him not once but multiple times, and it's the same level of swag here. Tabu, as always, is mind-blowing and inaugurates the warfare getting red-faced with a brilliantly choreographed action scene blasting a container filled with dust.
Deepak Dobriyal's Ashwathama gets the quirks on point, and despite doing all the bats*it crazy things (like killing someone while dancing on an item track), he never gets too crazy to cringe you out. Gajraj Rao is almost unrecognisable with the kind of get-up he has and the accent he nails, and he gives his best. Sanjay Mishra's role could've been meatier with funnier lines to be the comical relief this film needed. Though, the actor playing Kharchi (Amir Khan, as per Wiki) would surely make you chuckle amid all the chaos. Vineet Kumar as Nithari almost had me believe that it's Piyush Mishra playing his character, and that's the best compliment I could find for him.
( Photo Credit – Still from Bholaa )
Bholaa Movie Review: Direction, Music
Ajay Devgn, the director, will always have a fan in me. From his first film U, Me Aur Hum, I've always respected his vision for cinema which he only cemented with Shivaay and now Bholaa. He's just one good script away from being a director to remember.
KGF fame Ravi Basrur scores the background score of the film, which goes over the board and loud, similar to what happened to him in the Yash-led franchise as well.
Bholaa Movie Review: The Last Word
All said and done, Bholaa is all about Ajay Devgn's grand vision for cinema, and he continues to hunt for that one perfect film.
Three stars!
Bholaa Trailer
Bholaa releases on 30th March, 2023.
Share with us your experience of watching Bholaa.
For more recommendations, read our Tu Jhoothi Main Makkaar Movie Review here.
Must Read: Mrs Chatterjee Vs Norway Movie Review: Rani Mukerji Is As Natural A Natural Can Get In Displaying The Pain Of A Helpless Mother!
Follow Us: Facebook | Instagram | Twitter | Youtube | Google News
The post Bholaa Movie Review: Ajay Devgn Retells Lokesh Kanagaraj's Story In The Most Histrionic Way Possible appeared first on Koimoi.