movie reviews
Gaslight Movie Review: Clichés In Sara Ali Khan Starrer Don't Let You Look Beyond Stereotypical Troops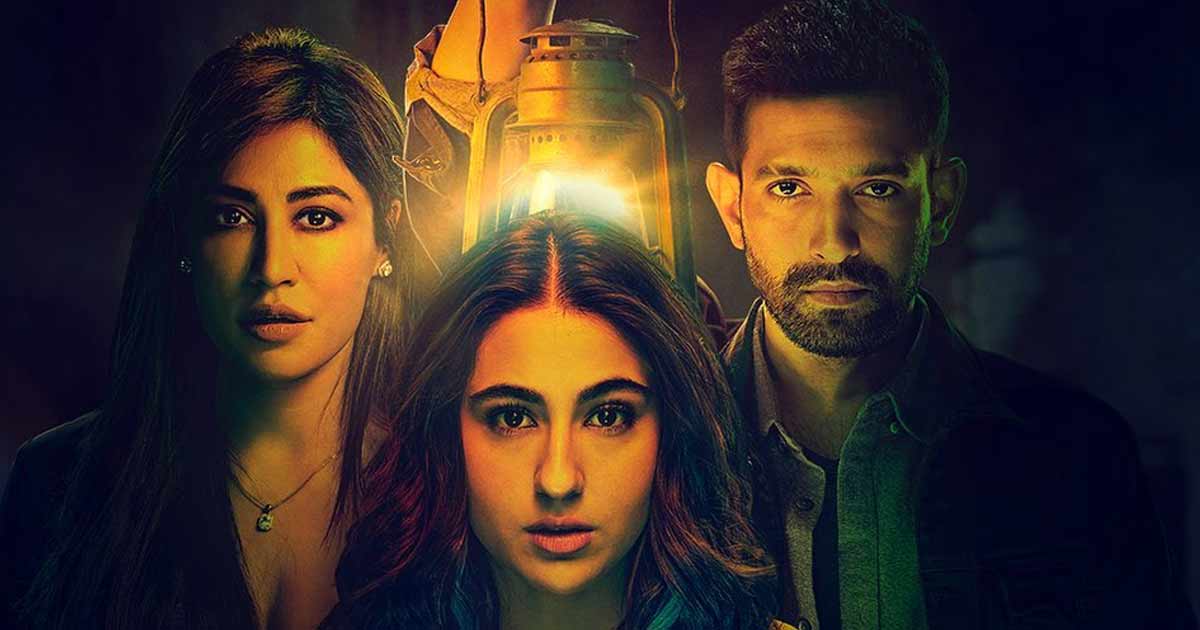 Gaslight Movie Review Rating:
Star Cast: Sara Ali Khan, Chitrangda Singh, Vikrant Massey, Akshay Oberoi, Rahul Dev, and ensemble.
Director: Pavan Kirpalani.
( Photo Credit – Poster from Gaslight )
What's Good: DOP Rahul Dharuman is trying to create fresh visuals with restrictions. Vikrant Massey is trying to make this all look fresh.
What's Bad: The same old blueprint that makes things supremely predictable.
Loo Break: If you have seen enough Whodunits, you have solved a big mystery initially. Take one whenever until the final 10 minutes.
Watch or Not?: If you do not have any other option and want to find some merit in a movie directed by a filmmaker who also has Phobia in his filmography, this one is a good exercise.
Language: Hindi (with subtitles).
Available On: disney+ Hotstar.
Runtime: 111 Minutes
User Rating:
Meesha (Sara), an estranged daughter, returns to her King father after he writes a letter to her requesting a return. On her arrival, she is welcomed by her stepmother, who has her motives. After a few spooky turns of events and her father in no sight, Meesha begins to smell foul play.
( Photo Credit – Still from Gaslight )
Gaslight Movie Review: Script Analysis
As Sriram Raghavan through Andhadhun rightly addressed, with the filmmakers evolving with their cinema, even the audience has also seen much. It's community education, and one cannot think less of the other. Over the years, Whodunits have become a staple fodder for audiences who want to immerse in a two-hour-long quest. By now, we know what Clichés look like and how a stereotypical blueprint misleads and then throws the truth at you. The job of a filmmaker is to mend this blueprint in a way that surprises and shocks the audience. What is the point of this genre is not that?
Gaslight, written by Pavan Kirpalani and Neha Sharma (not the actor), walks on the same path that has been taken by many that came before it. There is no wrong in doing so. Have as many stereotypical troops as you want, but the idea is to justify them with newness. But if your product ends up getting too comfortable with the clichés, how are you planning to shape the redemption that is fresh? So, here is a daughter coming back to her father after years. She might have left the palace in her teen years, because this is the first time everyone is seeing her as a grown-up. The movie takes no effort to tell us that.
Yes, there has been a big reveal about Meesha's whereabouts all these years. But why is Rukmini (Chitrangda) not concerned about it since the beginning? Also, how is this palace still functionally designed for a wheel-chair bound person to move around so quickly if Meesha was away for a decade easily? Gaslight is stuck in time when it chooses to add jump scares that give out the mystery more than scaring. A blind lady dressed in all black attire, looking as spooky as she can; says, "unki aatma Mahal me bhatak rahi hain (his spirit is still wandering in the palace)," making the setup look funny than intense. Also, why is everything so convenient for the killer at first? Why is no one involved in there doubting him, whereas a viewer caught him in the very first scene? How does Sara fall down an entire staircase but had no scratch?
Pavan does try to make a concrete conversation about the Have nots trying to rise above their destiny and going all rogue to get what they dream of. But that is diluted by the constant staple scene that are placed in dark alleys and rooms of the palace. Even the final 10 minutes do offer some redemption but at the cost of investing 2 hours.
Gaslight Movie Review: Star Performance
It seemed like the cast was told to watch all possible direction Whodunits as a homework so they could replicate those performances in here. Sara Ali Khan as Meesha isn't anything new from what she has done in the past. Her emotional scene doesn't land well, nor do the jump scares.
Vikrant Massey tries his best to hide things, but he cannot because the writing doesn't let him. The actor has a complex arc, but the onscreen translation does nothing to let the transition show. Chitrangda Singh has a very powerful screen presence, but she is made to take the back seat after a point, and that was criminal. Akshay Oberoi plays a stereotypically 'rich obsessed with his money' character and there is no variation in it.
( Photo Credit – Still from Gaslight )
Gaslight Movie Review: Direction, Music
Pavan Kirpalani has done two of my favourite thrillers, Phobia and Ragini MMS. The latter was a very innovative idea, even if the execution did go weak at times. With Gaslight, he dilutes his own style to make it bigger and seem large. He has a 'haveli' at hand and he decides to add the elements that are done to death by now. In a significant chunk it looks like a Fear Files episode more than a Kripalani directorial.
DOP Rahul Dharuman tries his best to make the visuals work but is also restricted. The music is used as a device to intrigue spooks, but the loudness is more bothering than scaring.
Gaslight Movie Review: The Last Word
Gaslight gets so comfortable with clichés that it forgets to rise above them to serve something new.
Gaslight Trailer
Gaslight releases on 31st March, 2023.
Share with us your experience of watching Gaslight.
For more recommendations, read our Zwigato Movie Review here.
Must Read: Bheed Movie Review: Looking At The Lockdown As Another Partition Is Fierce, But The 'Not-So-Subtle' Commentary Is Unlike Anubhav Sinha
Follow Us: Facebook | Instagram | Twitter | Youtube | Google News
The post Gaslight Movie Review: Clichés In Sara Ali Khan Starrer Don't Let You Look Beyond Stereotypical Troops appeared first on Koimoi.