movie reviews
Gumraah Movie Review: Two Aditya Roy Kapurs Playing A Game Of Convenience & A Messy Climax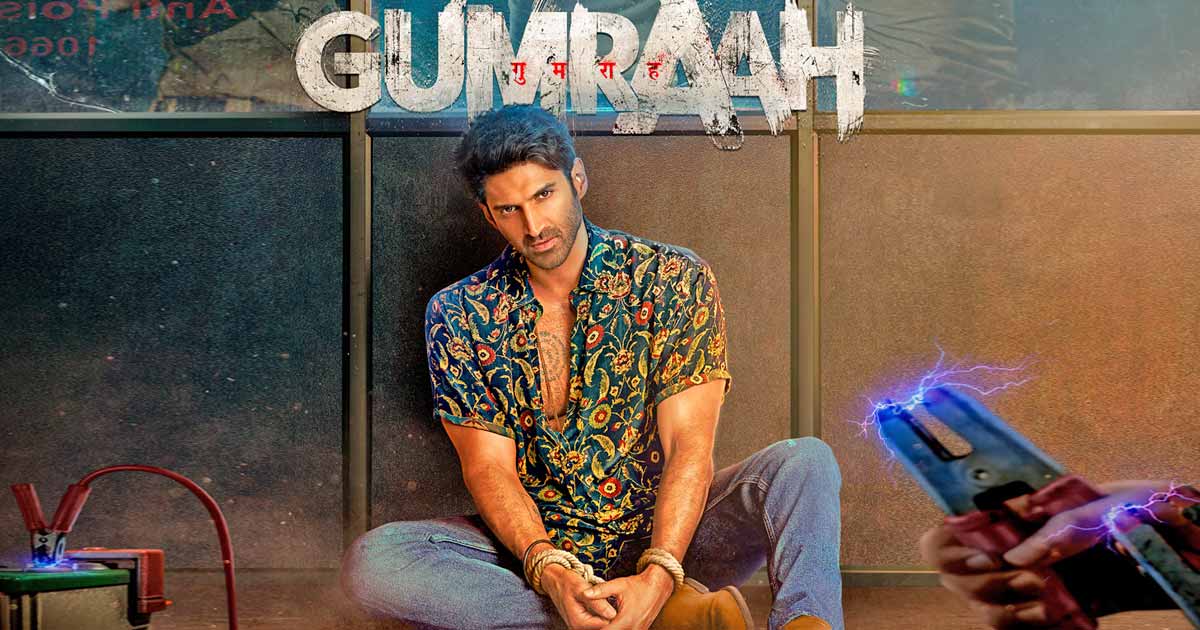 Gumraah Movie Review Rating:
Star Cast: Aditya Roy Kapur, Mrunal Thakur, Ronit Roy, Mohit Anand, Deepak Kalra, and ensemble.
Director: Vardhan Ketkar
Gumraah Movie Review ( Photo Credit – Gumraah Poster )
What's Good: Mrunal Thakur is trying her best to make this look like a movie with a lot of brains.
What's Bad: The very convenient routes that it takes one after the other only to lead us to an extremely out-of-context climax.
Loo Break: Throughout the first half because nothing concrete or never seen before takes place as such. Even the second half follows the same streak, but then there's also intermission in between.
Watch or Not?: You can wait for its OTT release and maybe watch some of it to decide if you can bear the entire film.
Language: Hindi
Available on: In Theatres Near You.
Runtime: 137 Minutes
User Rating:
A man is killed in his house, and the police catch the potential murderer only to realise he has an exact look-alike roaming around. Begins the game to find out who the real killer is and how can these two men look exactly similar.
Gumraah Movie Review Out( Photo Credit – A Still From Gumraah )
Gumraah Movie Review: Script Analysis
Second Whodunit this month after Gaslight, and the genre only keeps getting some lazy addition because it is that tricky to crack. How often have you come across stories that reveal the killer in the first frame and then shape the entire narrative to find his motivation? Gumraah, and addition to mediocre entries in the genre, is one such movie that thinks of itself as an intelligent movie but soon entangles itself in the same plan it hatches to confuse the audience.
Story by Magizh Thirumeni and screenplay by Aseem Arora, Gumraah is a way too simple tale of murder told even more simply only to make it pseudo-complex by the end. There is an inconsequential man being murdered, a killer is dressed in the most 'Killer' outfit ever, and he conveniently escapes because he is very smart. The following week, cops capture the murdered after a very CID level interrogation and create a mess for themselves when two looking men stand in front of them.
To complicate this tale, Vardhan Ketkar with Aseem adds layers that are supremely inconsequential to the story. A hammy, Ronit Roy, hates one of Aditya Roy Kapurs, Arjun, because he helped his daughter elope. While this is a very convenient reason, it doesn't serve much to the main story. Talking of convenience, it is the favourite word of this product that only looks for route that are easy. Proofs just appear out of nowhere very easily with no efforts taken; everyone is at the right place at the right time. Also, how doesn't neither of the two Adityas have anyone look for them when the police has literally kidnapped them? Forget family, no family, doesn't one of them own an entire agency? Aren't his employees worried?
Credit where it's due; the final reveal portion does make for decent pulpy content but also standalone. There is no connect between it to the main story. The entire narrative that jumps from one setup to another lacks the glue to bind it all supremely. It looks like short episodes with no connect to each other. Songs are thrown to take things ahead, but they take it nowhere. Also, the art department has a lot to answer. Blood, if left in the air, turns brown because it has iron and air has oxygen, the reaction changes colour. The blood here looks like a lipstick stain. You will see. Attention to detail gone for a toss.
Gumraah Movie Review: Star Performance
Art team, whoever thought that Aditya Roy Kapur wearing two different shirts with weird tattoos and no change in facial features or hair, will be fed to us as a double role, we need to talk.
Add to it that Kapur tries two different talking styles at first, only to forget it mid-way and entirely brush it under the carpet during the final act. The actor does what one expects out of him, and the script doesn't do much to support or enhance him because the character is written that banal.
Ronit Roy is still stuck in time and continues to be that father from Udaan. He was phenomenal in that Vikramaditya Motwane directorial, but somehow all his work beyond that has been the same, and it has kind of started bothering.
Mrunal Thakur is busy making sense and also work. The only standout from the entire cast that has two Adityas. Mohit Anand and Deepak Kalra are decent, but they do not get much to explore.
Gumraah Movie Review Out! ( Photo Credit – A Still From Gumraah )
Gumraah Movie Review: Direction, Music
Vardhan Ketkar makes this entire movies very less exciting. He throws in some vibrant lights, but that is not how noirs are made, sir. The film after a point, stops taking itself seriously, and as an audience, feels that. The story is very bumpy and the not-so-smooth transitions add more to the downfall.
The music is staple and not so memorable. The cinematography never gets consistent at all.
Gumraah Movie Review: The Last Word
Gumraah is a very lazy product that oversimplifies everything for a noir it tries to be. Even two Aditya Roy Kapurs cannot save this mess.
Gumraah Trailer
Gumraah releases on 07 April, 2023.
Share with us your experience of watching Gumraah.
For more recommendations, read our Bheed Movie Review.
Must Read: Chor Nikal Ke Bhaga Movie Review: One Twisted Turn, Two Brilliant Performances Ft. Sunny Kaushal & Yami Gautam!
Follow Us: Facebook | Instagram | Twitter | Youtube | Google News
The post Gumraah Movie Review: Two Aditya Roy Kapurs Playing A Game Of Convenience & A Messy Climax appeared first on Koimoi.