movie reviews
Joyland Movie Review: A Brave Soul-Crushing Queer Drama Where Patriarchy Overpowers Love & Forbidden Desires Push People To Walk Towards Dystopia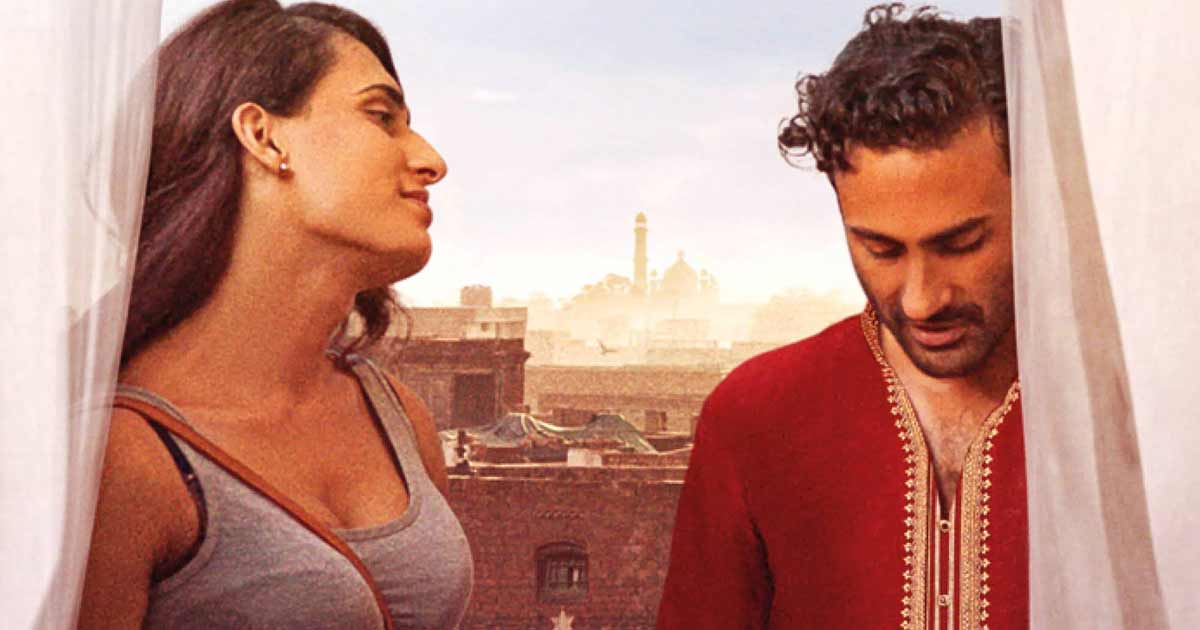 Joyland Movie Review Rating:
Star Cast: Ali Junejo, Rasti Farooq, Alina Khan, Sarwat Gilani, Salman Peerzada, Sohail Sameer, Sania Saeed, and ensemble.
Director: Saim Sadiq
Joyland Movie Review(Photo Credit –Poster From Joyland)
What's Good: Saim Sadiq talks of love, falling out of it, s*xual desires, and patriarchy that pushes people to the wall with a tale that shatters us to the core.
What's Bad: If the world chooses to not watch it.
Loo Break: you aren't allowed to at all.
Watch or Not?: WATCH, WATCH, WATCH! It is not every day a debutant filmmaker makes a movie so good that the final frame leaves you shattered.
Language: Punjabi & Urdu (with subtitles).
Available On: To Release In India Soon.
Runtime: 126 Minutes
User Rating:
A supremely patriarchal family is waiting for one of its two sons to produce an heir to their falling kingdom. The youngest son who is an antithesis to their ideology goes and finds a job in an erotic dance theatre and falls in love with the trans starlet there. What it does to his marriage and family is Joyland.
Joyland Movie Review Out(Photo Credit –Poster From Joyland)
Joyland Movie Review: Script Analysis
"Our brother will rescue you from us", Haider is told by one of his three nieces whose mother is about to deliver her fourth child, supposedly a son as told by the doctor after illegally checking the gender. Seconds later she goes into labour and has to be rushed to the hospital, but before that she commands and orders everyone about what is to be done in her absence. Cut to the hospital, the nurse is least bothered because the woman is in her fourth labour and is not allowed to have tantrums. And another girl is born. Back home, Haider, a young man is expected to be manly by his father and sacrifice a goat with his hands. There is a haunting melancholy in this shattering film called Joyland. It talks of genders, breaks their stereotypes, but also makes you realise they cannot be broken no matter what if the world around you doesn't want you to.
The genre Queer drama is comparatively still in its very initial experimenting stage across the globe, moreover in the Asian subcontinent because it isn't been long acceptance has come their way in the public consciousness. When a debutant filmmaker with no baggage at all decides to make a film so true to his roots but so universal at the same time, he is honest about his material and the void that his characters suffer. He doesn't blink his eyes even once before he makes sure that his characters don't sit right in any moral compass but that doesn't make them any sort of villains in the story. Joyland is that one film that doesn't set out with a goal but breathes with its audience and gives them the chance to take away whatever they want to.
There is a man Haider, who has failed every test of proving himself manly enough laid by his father who rules the house from a wheelchair. Haider has no job, and is supported by his strong wife who takes up the 'Man' part of their relationship. He is close to his sister-in-law, whom he helps to run the house and bring up her three daughters. He is almost the unlabelled house help who gets no respect until he finds a job one day. The job is to dance alongside an ambitious trans starlet who hates the world calling her Biba (pretty young girl), but wants to be addressed as 'Madame'. In a world so cruel to her, she still has the fire to demand respect.
Written by Saim with Maggie Briggs, the film explores this relationship and how their unconventional love shatters the world around them. Look at how they don't even give Madame her name. No one is bothered what her name is because her 'confused' s*xual identity for them is a label enough to only address her by some pronoun and not know her. There will of course be sparks when she falls in love with a married man. Through this, the writers pierce deep into the idea of loneliness, the meaning of love, s*xual desires of people who are not expected to have them, and patriarchy that confuses people about their s*xual identity even more. There is a marriage between two loving people at stake when the man decides to fall for Madame. The wife has already suffered enough for loving him because her in-laws who take care of her have also oppressed her enough.
The grammar of Joyland shapes the movie in a way that you watch a certain character as the central part but turns the world upside down by the climax when the central focus shifts in the most shattering way, (not spoiling). At the heart of it is a movie that wants to address generational oppression by patriarchy, people falling in and out of love, and the gender politics that pushes both women and men to the wall that breaks them. But all of this is done while meditating cinematically. There is no chaos other than the main conflict, no outside resistance or gaze as such because the family indoors is already self-destructive enough.
Joyland Movie Review: Star Performance
The cast of Joyland is so synced and connected that they all play with each other's energy. There is a rhythm in how they all perform and make way for the next actor to elevate the scene even more. Two confrontations inside the house and the second one is so organic. The camera doesn't even focus on the three characters in the frame, but God the way the three pull off that scene is crazy!
Ali Junejo plays Haider by using his entire presence. Here is a man burdened by the gaze of his family who looks at him as a less manly and of no use individual and that burden is visible in his body language. Add to it the fact that he is married and falls in love with a Trans woman. The way he approaches Haider is so heart-breaking because while he understands what he is doing wrong, but is also reckless and not shy of crying his heart out. There is so much melancholy and oppressed anger in just his eyes.
Rasti Farooq manages to be us in the setup. The patriarchal household waiting for a boy child isn't just limited to Pakistan but is also reminiscent of India. Rasti as Mumtaz, Haider's wife, manages to channel the anger anyone who is against the setup will have. It is her who has to pay the biggest price of the situation but also silently. Even her rebellion is silenced because she is a woman. While she fights loneliness, the pressure of falling out of love, suppressed s*xual desires because her husband no longer finds him attracted towards her, she is a bottle of an aerated fluid filled to its maximum on the verge of bursting. And when she bursts….
Alina Khan should be the face of victory for the coming months at least. What a natural actor. For the most part of it, she is enacting the sufferings that possibly her or the members of the community have already faced and even more brutal than that. The fact that she is not a cis-gendered actor playing a Trans woman but a trans person herself adds even more empathy. She demands respect, combats for it if need be, and climbs the ladder to be in a position to demand a clean hotel room is so empowering.
Sarwat Gilani is a star. An actor who has done some of the most unconventional roles in the Pakistani industry plays yet another complex but liberating parts. Nucchi is a strong woman who takes care of a family of nine while trying to give it an heir. She is fierce and knows to fight but has surrendered to patriarchy because she knows she alone cannot take it down. So it is either die of your desires or sacrifice them and exist. She chooses the latter. There is so much tenderness in the bond she shares with Mumtaz but not without some sparks. But there was room for some more of them together in the movie.
Joyland Movie Review(Photo Credit –Still From Joyland)
Joyland Movie Review: Direction, Music
Saim Sadiq is so confident for a filmmaker who is making his debut. There is so much empathy and melancholy in how he shapes Joyland. The fact that he knows what is needed to make a scene perfect and not add anything extra in his very first film fascinates the most. He explores the emotion of love with so non-judgemental gaze that gives you as a viewer a clear vision rather than the one that is at times contaminated by the director themselves by adding unnecessary commentary. He doesn't believe in saying it all but lets the actions speak. Haider's s*xuality is never discussed but hinted and you have to catch it.
Also, how beautifully he realises that not every rebellion walks towards a happy outcome. Especially in a setup like Joyland there cannot be a happy ending easily even if you root for it. Sadiq does what fits this narrative best because a cheery end might lead to making this an escapist cinema taking away the realism. Good job there!
The presence and absence of music are both apt at every corner of Joyland. The song Biba by Farasat Anees is a strong track and enters the narrative at a crucial point.
Joyland Movie Review: The Last Word
Joyland is meditation in cinema and one that will move you to the core. Saim Sadiq might have not made it to the Oscars final list but he is already a winner for making a film as brilliant as this. Thank you so much to the Kala Ghoda Festival authorities for screening this gem.
Joyland Trailer
Joyland releases on 15th February, 2023.
Share with us your experience of watching Joyland.
For more recommendations, read our Pathaan Movie Review here.
Must Read: Almost Pyaar With DJ Mohabbat Movie Review: Anurag Kashyap Tries Using His Underrated Superpower Of Portraying Love But The Spell Fails To Completely Bound This Time
Follow Us: Facebook | Instagram | Twitter | Youtube | Google News
The post Joyland Movie Review: A Brave Soul-Crushing Queer Drama Where Patriarchy Overpowers Love & Forbidden Desires Push People To Walk Towards Dystopia appeared first on Koimoi.