movie reviews
Selfiee Movie Review: Why Driving License & Why Not Passport Issue Involving Dual Citizenship? Akshay Kumar Was Almost There With The Self-Deprecatory Humour!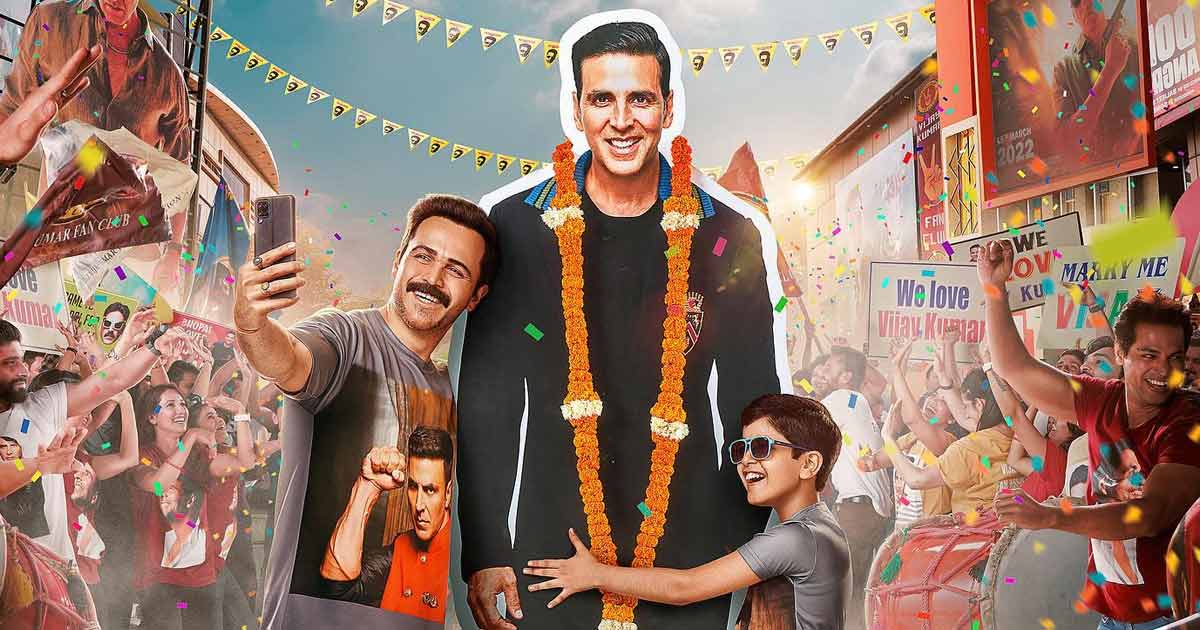 Selfiee Movie Review Rating:
Star Cast: Akshay Kumar, Emraan Hashmi, Nushrratt Bharuccha, Diana Penty, Mahesh Thakur, Abhimanyu Singh, Meghna Malik, Kusha Kapila
Director: Raj Mehta
Selfiee Movie Review(Photo Credit –Poster From Selfiee)
What's Good: The typical Akshay Kumar trademark comedy in some scenes
What's Bad: The typical 'tweaking' in copy-pasting the already tried & tested script making certain things worse than the original
Loo Break: Songs & whenever you need to!
Watch or Not?: Only if you haven't seen the original (Driving License) you'll have a bright chance to enjoy some scenes
Language: Hindi
Available On: Theatrical Release
Runtime: 143 Minutes (Yep, that number ironically denotes 'I Love You' but sorry, this is going to be 'ek-tarfa pyaar')
User Rating:
Before the movie started, we all saw Akshay Kumar's recorded message about how this is dedicated to his fans and how he's nothing without them, but then he goes on to do films like these to disappoint not all but a considerable chunk of them. He plays Vijay Kumar (Akshay Kumar), a superstar who is worshipped by his fans and one his biggest fans in RTO Inspector Om Prakash Agarwal's (Emraan Hashmi) love for him is dubiously termed as 'bhakti'.
Star wants a driving license for a car-based scene shoot, RTO officer wants a harmless selfie with his favourite star but things change when Vijay reaches the RTO office. Who has done what and why forms the major crux of the film which revolves around a cat-and-mouse game being played by the 'Khiladi' & 'Anari'.
Selfiee Movie Review Out(Photo Credit –Poster From Selfiee)
Selfiee Movie Review: Script Analysis
Mehta's trusted writer Rishhabh Sharrma (Good Newwz, Jugjugg Jeeyo) adapts & modifies the screenplay of Lal Jr's Malayalam film Driving License led by Prithviraj Sukumaran for Akshay Kumar's Hindi remake. Okay, this may sound insane, but, hear me out. The comical relief of the film comes also from Akki cracking self-deprecated jokes, why didn't they take it a step ahead? When you can talk about his 'masoode' ruining his smile, joke about his commitment to do millions of projects every year, and make a doctor criticize his 'massy' script sense, then why did you restrict the story only to the source material available beforehand?
Why this can't be a story of a story who somehow forgets to renew his passport & fails with extreme difficulty in renewing it owing to his dual citizenship (India & Canada, maybe?)? Why not completely redesign the project retaining just the narrative's soul of a public war between a superstar and his die-hard fan? I know it's easy to pen and difficult to execute, but isn't that the same as remaking an already-loved movie?
Anurag Kashyap's guy Rajeev Ravi (Dev D, Gangs Of Wasseypur) keeps it pretty basic when it comes to cinematography. Apart from a couple of routine action sequences, there's nothing really to boast about how the film 'looks'. Ritesh Soni's editing is of no help letting the second half drown into oblivion.
Selfiee Movie Review: Star Performance
Akshay Kumar's obsession over his lucky number 9 continues with his character Vijay driving Cars with numbers like 4545 or 0909, and even his driving license form states his address as '27' Pali Hill. Most of the time, due to the film's self-deprecatory humour, it almost looks like Akshay is breaking the fourth wall to talk to the viewers. This is something Akshay can do while sleepwalking, the performance doesn't boost the dragging narrative. He retains his best self while delivering a few genuinely hilarious lines but unfortunately that's not enough.
Emraan Hashmi's Om's star-worshipping isn't really built well to develop a connection solely depending on his performance. It would be really hard for the non-fans to completely understand what is he going through. The transformation of Om from a die-hard fan to a failed father to a revengeful RTO Inspector fails to evoke any kind of emotions apart from "just end this already?"
Nushrratt Bharuccha & Diana Penty as respective housewives of Emraan & Akshay have nothing to do in the film apart from making sure their husbands don't f*ck up. Extremely fit & the 53-year-old handsome Mahesh Thakur barely gets any footage and it'll puzzle me forever, how can you take someone as talented as him without giving him some meaty jokes? Abhimanyu Singh's character writing is hilarious leading to some rib-tickling scenes, leaving the best for the last. 'Corporator' played by Meghna Malik relies heavily on her natural performance bringing the best out of the character. Kusha Kapila is just there, yet again.
Selfiee Movie Review Is Now Out (Photo Credit –Poster From Selfiee)
Selfiee Movie Review: Direction, Music
Raj Mehta should stick to the original scripts for his skills to flourish. You definitely see bits of him in the comedic pieces of the film but that's about it, it's a pretty generic attempt otherwise. I'd decode the above line for you, Mehta fails to handle the 'masala' portions of Vijay Kumar but nails the gut-busting scenes of Superstar Suraj (played by Abhimanyu Singh).
People like Tanishk Bagchi, Yo Yo Honey Singh, The PropheC, Lijo George, DJ Chetas, Vikram Montrose, Aditya Yadav, Tarun & Anu Malik (for Main Khiladi Tu Anari remake) came together for the songs but couldn't deliver a single track that could be in my playlist for even a week. PropheC's Vibe is ruined by making it the 'for the sake of hook line' song (When you hear the original, the song starts with the hook line bringing the early high which the film version fails to achieve).
Selfiee Movie Review: The Last Word
All said and done, Selfiee could be true to the original but that's also somewhere its weak point. The film shines when it doesn't 'try' to copy and that's why this needed a cosmetical makeover from not only outside but inside as well.
Two stars!
Selfiee Trailer:
Selfiee releases on 23rd February, 2023.
Share with us your experience of watching Selfiee.
Must Read: When John Abraham Called Karan Johar 'Clannish' After Being Asked To Choose Between Salman Khan, Aamir Khan & Shah Rukh Khan: "… Kumars Or Devgns?"
Follow Us: Facebook | Instagram | Twitter | Youtube | Google News
The post Selfiee Movie Review: Why Driving License & Why Not Passport Issue Involving Dual Citizenship? Akshay Kumar Was Almost There With The Self-Deprecatory Humour! appeared first on Koimoi.