movie reviews
8 A.M. Metro Movie Review: Gulshan Devaiah Makes You Fall For A Mirage As Gulzar Sahab's Poetry Immerses You Through Saiyami Kher In This Aching Tale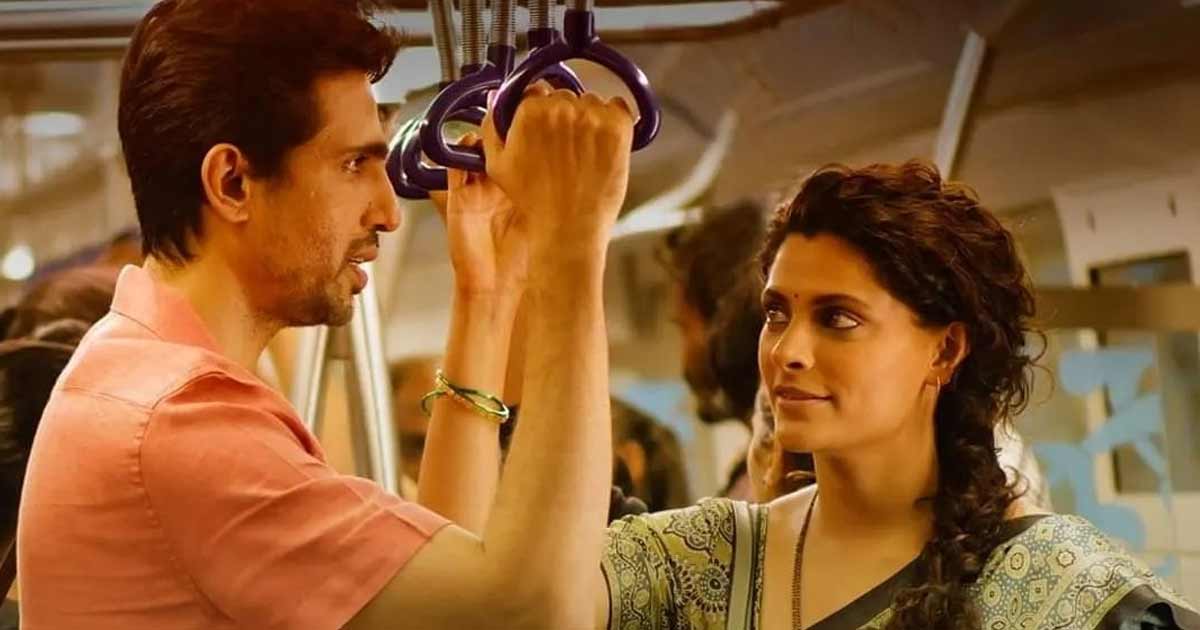 8 A.M. Metro Movie Review Rating:
Star Cast: Saiyami Kher, Gulshan Devaiah, Umesh Kamat, and ensemble
Director: Raj Rachakonda
8 A.M. Metro Movie Review(Photo Credit –Instagram)
What's Good: The actor who understands the dilemma and pain of their characters and plays with each other's energies is precisely the frame an immersive watcher deserves. Both Gulshan and Saiyami give this one their all.
What's Bad: Raj suffers the Anurag Kashyap dilemma of not understanding where to pull the trigger and say cut. The climax stretches out of control, partly taking away the magic.
Loo Break: It certainly isn't a flawless product, but it is an immersive watch that, in fragments, will test you. You have to be an audience who appreciates that kind of cinema.
Watch or Not?: This is an experiment that needs to be watched not just for how good a writing example it is, but also for how excellent synergy the actors share.
Language: Hindi (with subtitles).
Available On: In Theatres Near You.
Runtime: 162 Minutes
User Rating:
Two star-crossed people meet on a metro in Hyderabad. After several meetings, they start developing a bond that is not love because there are married to their respective partners. Who do they call it, then? What does the world think of them? What does losing someone exactly look like? Explore it as they do.
8 A.M. Metro Movie Review(Photo Credit –Still From Movie)
8 A.M. Metro Movie Review: Script Analysis
As I head back home in an 11:40 PM Mumbai local, with a minimum rush, I look around and imagine how many stories float around me in their untidy clothes, tired shoulders, and the gaze that penetrates through their phone screens. Good, bad, ugly, of loss, of gain, of grief, and some even greedy fantasies that might be shaped as story to just show off. That pulls me back exactly a couple of hours back, where on the big screen, I witnessed two star-crossed people (not lovers) meet under the most peculiar circumstances only to heal each other and, in a way, the audience consuming it. 8 AM Metro isn't just a movie that plays with your mind, but the story, in its very essence, captures our hearts.
It isn't about two people meeting. It is two halves coming together to make one. There are each other's last leaves in more ways than one. Written by Raj Rachakonda and his partner in crime Shruti Bhatnagar credited as Associate Screenplay Writer, 8 AM Metro is a movie that is a movie that invites its viewer to have a conversation with its character. Maybe you are that one boy lost in his phone in the background, when Pritam and Iravati are slowly forming a bond with each other. In a city so busy, the camera zooms into two people who look as normal as us and are doing jobs that are so close to ours.
The movie finds its soul in the very fact that it is the story of ordinary people who haven't achieved anything extraordinary in their lives; they are almost oblivion. When they meet, it is a time bomb. Because any frame could be the last of them together. She is married, and he has a family, too, and that makes their bond a questionable one from the word go. Can a man and woman, each married with two kids to separate people be just friends or acquaintances who can lend an ear when the other wants to say something? Raj and Shruti, with their writing, beautifully bring out the dilemma in 8 A.M. Metro. Society has no say in their world, because the society very much lives in their head, so the filter is already on. Add to the fact that s*xual tension from Pritam's side is so subtle that when it appears, you know this was coming, but you also weren't prepared.
There is so much to unfold in a movie that captures a city and two oblivious people roaming around. It makes one question their honesty and morals because what if you form one such bond? Yes, it does dip a bit post the second half, and you somewhere see the direction it is going towards. But you certainly cannot guess what is about to come. It catches you off guard in the first act of its climax, and God, what a treat.
Yes, there are obvious convenient points in the movie. How does their time match in the second time? How does a woman who has spent all her life in Nanded (a small town in Maharashtra) write so complex Hindi poems? There is no backstory or mention of her learning Urdu or Hindi. And there are more. But they do not hamper the overall vibe.
PS: kudos to the writers and the entire team for initiating a healthy conversation around mental health and promoting seeking medical help for the same without succumbing to the social stigma.
8 A.M. Metro Movie Review: Star Performance
Gulshan Devaiah is having the time of his life as an actor. The balanced act in Dahaad, and now such a nuanced performance in 8 AM Metro. As an actor, he gives this part his all, and you can see his interest in doing that. He looks like one of us. He isn't always perfect, has a patchy beard, and his shirt is creased all the time. The fact that he is relatable and even acts top-notch is cherry on the cake. More of this Gulshan and, of course, an abundance of the Twitter version always!
Saiyami Kher as an actor, has immense potential. While this character falls too close to what she has done with Choked, she manages to make this one look different. She plays the part of a women with a traumatic past and anxiety; you can see the detailing that goes into creating her. The actor brings so much nuance with her balanced act. While the complex Hindi and Urdu don't come handy to her and you can sense that in the way she recites, the actor manages to be good in it as per her capacity.
Umesh Kamat doesn't get much of that share but is a seasoned actor and understands his job enough to give a good performance.
8 A.M. Metro Movie Review(Photo Credit –Still From Movie)
8 A.M. Metro Movie Review: Direction, Music
Raj Rachakonda's direction in 8 AM Metro s drenched in poetry, allegory, and a ton of metaphors. Add to it the fact that every poetry recited by Saiyami is written by Gulzar Sahab himself; you know what level of poetic adventure you are setting out for. 8 AM Metro's soul is in that poetry that travels through emotions, and you can see that in the legend's words too. One had to be alert to grasp how he narrates the dilemma with his soothing words. One poetry talks of suicide and death where it takes the metaphor of a gold fish; you can only fathom how brilliant it is.
But, Raj suffers from a very evident Anurag Kashyap problem. They both don't know where to stop. The final act of the movie gets very stretched to a point where you as a viewer, know where exactly the screen should have blacked out. In movies you do not see a future in, it is so lucrative and evil but tempting to end them on an incomplete note. Remember the void Lunchbox left us with, or Photograph (does Ritesh Batra exactly know the art of an brilliant climax?), or Casablanca, or Before Sunrise, they are incomplete and up for the audience to weave a tale as per their understanding of the material. The climax here loses that chance to create a bond with the viewer beyond screen.
For me, the movie should have ended when one of the protagonists sees a book written by the other. The music is indeed great, but Mark K Robin's tracks will take their time to grow on me. The background score is a winner in parts and a staple in some.
8 A.M. Metro Movie Review: The Last Word
8 AM Metro is not a bulletproof movie that will be acclaimed for being perfect, but it has a beating heart that pumps out poetry and emotions. Go for it.
8 A.M. Metro Trailer
8 A.M. Metro releases on 17th May, 2023.
Share with us your experience of watching 8 A.M. Metro.
Fore more recommendations, read our Chor Nikal Ke Bhaga Movie Review here.
Must Read: The Song Of Scorpions Movie Review: Irrfan Khan Proves Why His Art Is Immortal In This Cinema Of Allegory
Follow Us: Facebook | Instagram | Twitter | Youtube | Google News
The post 8 A.M. Metro Movie Review: Gulshan Devaiah Makes You Fall For A Mirage As Gulzar Sahab's Poetry Immerses You Through Saiyami Kher In This Aching Tale appeared first on Koimoi.