movie reviews
Kathal: A Jackfruit Mystery Movie Review: Sanya Malhotra Inches Closer To Becoming Synonymous With Social-Satires Shaped Cleverly, But The Ride Is Little Uneven This Time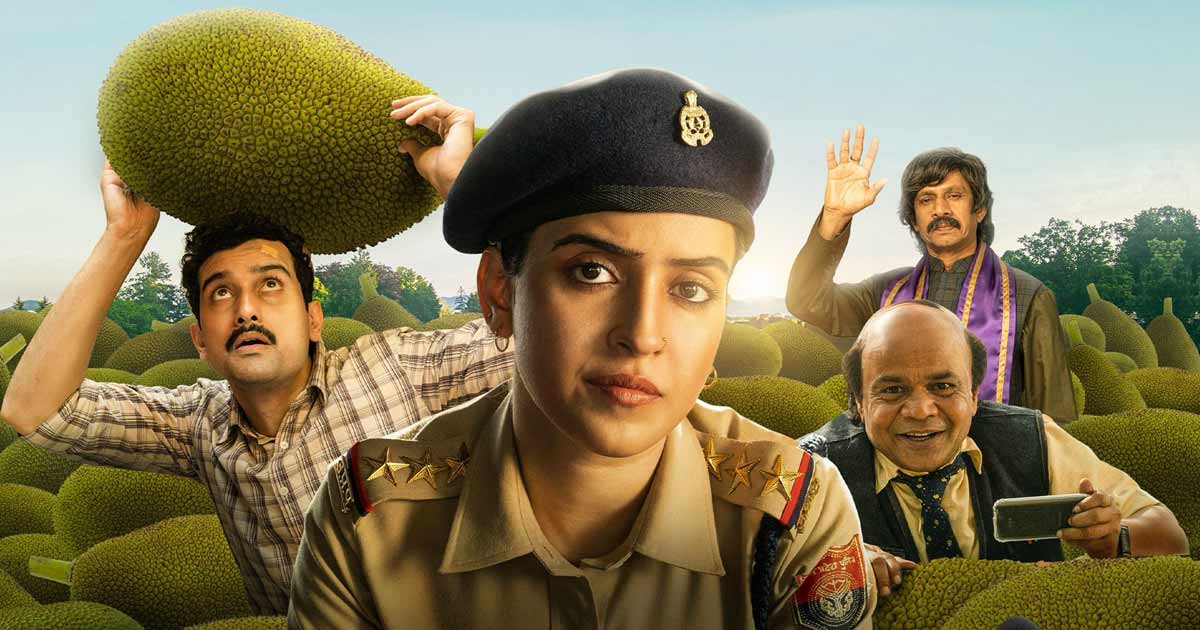 Kathal: A Jackfruit Mystery Movie Review Rating:
Star Cast: Sanya Malhotra, Anant Joshi, Rajpal Yadav, Vijay Raaz, Neha Saraf, and ensemble.
Director: Yashowardhan Mishra.
Kathal: A Jackfruit Mystery Movie Review ( Photo Credit – IMDb )
What's Good: a movie about a social cause isn't preachy but filled with brilliant performances and a noble message.
What's Bad: the transition between the acts is not smooth, and you can feel the jerks on the way.
Loo Break: This isn't a movie that demands you to put yourself under pressure; watch it at your leisure and pause it if you want a break.
Watch or Not?: there is no reason so bad that it should keep you away from watching it. Go ahead and watch it when you want to laugh a bit and also see great acting performances.
Language: Hindi (with subtitles).
Available on: Netflix.
Runtime: 115 Minutes.
User Rating:
In a small town called Moba in North India, an MLA files a missing complaint about his two Jackfruits (Kathal). The most efficient inspector of the police station Mahima Basot (Sanya), is assigned the case, and she sets out to investigate with her boyfriend, Saurabh Dwivedi (Anant), who works under her as a constable. The hunt for Jackfruits leads to a case more important, and Mahima finds her way to solve both.
Kathal: A Jackfruit Mystery Movie Review ( Photo Credit – IMDb )
Kathal: A Jackfruit Mystery Movie Review: Script Analysis
Using cinema as a tool for awareness isn't an easy job. A movie can be navigated into many directions, and the most loved of them all are satirical comedies. Blending your message into comedy so seamlessly that the audience consumes the product without complaining or moving away from the screen. Kathal: A Jackfruit Mystery is a very fresh addition to the troupe as far as the idea is concerned. The execution, though, reaches halfway but is still entertaining.
Written by Yashowardhan and Ashok Mishra, Kathal begins as a pulpy tale of a police officer who has levels of battles to fight to reach the top—first, her gender, caste, strength, and even voice. After having proven herself by catching a wanted man, she is put on the duty of finding two missing Jackfruits. Yes, it does sound bizarre, but to an extent, it is a cinema of the absurd. Remember how Lijo Jose Pellissery, in his splendid Jallikattu, made an entire village run behind a missing bull that was found running loose? Not at par with that cinematically brilliant product, but Kathal till mid-way is the same trajectory.
A bizarre object goes missing, but in the course of finding it, everybody suddenly has a personal vested interest. For some, it is a ladder to step higher; for some to achieve their dream; for others, just a weird object that will bring them a hefty bounty. It's greed that fuels Kathal the way it does. The movie kick-starts as a joke only to transcend into a serious conversation that the viewer might not have expected. It's a clever trap to bring in the audience, entertain them, and also make them hear your message.
The film, though, manages to pull off that blueprint in parts. While the gest to highlight the caste divide, the world judging a woman even if she decides to wear a pair of jeans, and the need of the patriarchy to always have the men overpowering the women, the transition through all of this is not smooth. When the movie shifts from its first act to the second, you can see the transition and the bump it brings with it because they don't really blend organically as they should. This very problem follows the movie till the very end. But it is the comic timing and writing that save the day.
Kathal: A Jackfruit Mystery Movie Review: Star Performance
The way Sanya Malhotra chooses her parts is commendable. This is the second cop role played by a woman this month post Sonakshi Sinha's amazing Dahaad. Both ladies belonging to the marginalised community, having hustled hard to climb the ladder and still struggling to make a mark. As Mahima, Saniya brings so much humaneness to her Inspector avatar, far away from the stereotypical caricatures. She is empathetic, but also entertaining; she is woke but also wants to serve the patriarchal mindset in a way because she wants to marry the man she loves. There are so many complexities, and Malhotra carries them well.
Anant Joshi again, gives the stereotypical cop Avatar a break and brings in a fresh perspective. He isn't Singham or Simmba, he cannot beat goons to pulp, he has all the vices you could possibly think of in an upper caste privileged man, but he is still likable. The writing tries to show his transformation and awakening which goes blur due to a very unclear execution.
Vijay Raaz, as the MLA who openly believes in caste divide, is impressive. The way he discriminates and Mahima opposes silently is a parallel plot that deserves more screen time and exploring. Kathal houses many more good talents including Neha Saraf, Raghubir Yadav, the hilarious Rajpal Yadav who become a crucial part of the story and is worth the mention. They all make the movie a breezy watch.
Kathal: A Jackfruit Mystery Movie Review ( Photo Credit – IMDb )
Kathal: A Jackfruit Mystery Movie Review: Direction, Music
Yashowardhan Mishra's direction is simple and draws a lot of inspiration from various films. The way he opens the movie is commendable because it is not an easy job to set the tone of such a script. It is in the transitions that he loses his balance and doesn't manage to fully recover. The vibrancy that this world emotes is entertaining. Because even the den of a human trafficker is painted in bright pink and one can interpret it in more ways than one.
The visuals are easy and breezy. They run through alleys and markets very impressively and DOP Harshvir Oberai gets his assignment correct. Ram Sampath's music is fun and steps the mood but used very haphazardly.
Kathal: A Jackfruit Mystery Movie Review: The Last Word
Kathal is a fresh idea that has a lot to offer, but the execution might act as a bothering bit for many. Watch it for some very good performances.
Kathal: A Jackfruit Mystery Trailer
Kathal: A Jackfruit Mystery releases on 19 May, 2023.
Share with us your experience of watching Kathal: A Jackfruit Mystery.
For more recommendations, read our The Song Of Scorpions Movie Review here.
Must Read: The Kerala Story Movie Review: If We Thought The Kashmir Files Was Peak Manipulation, We Certainly Weren't Prepared For This Devious Product
Follow Us: Facebook | Instagram | Twitter | Youtube | Google News
The post Kathal: A Jackfruit Mystery Movie Review: Sanya Malhotra Inches Closer To Becoming Synonymous With Social-Satires Shaped Cleverly, But The Ride Is Little Uneven This Time appeared first on Koimoi.