movie reviews
Adipurush Movie Review: This Prabhas Starrer Is Not My Ramayana, I Would've Liked This Better As An Audiobook!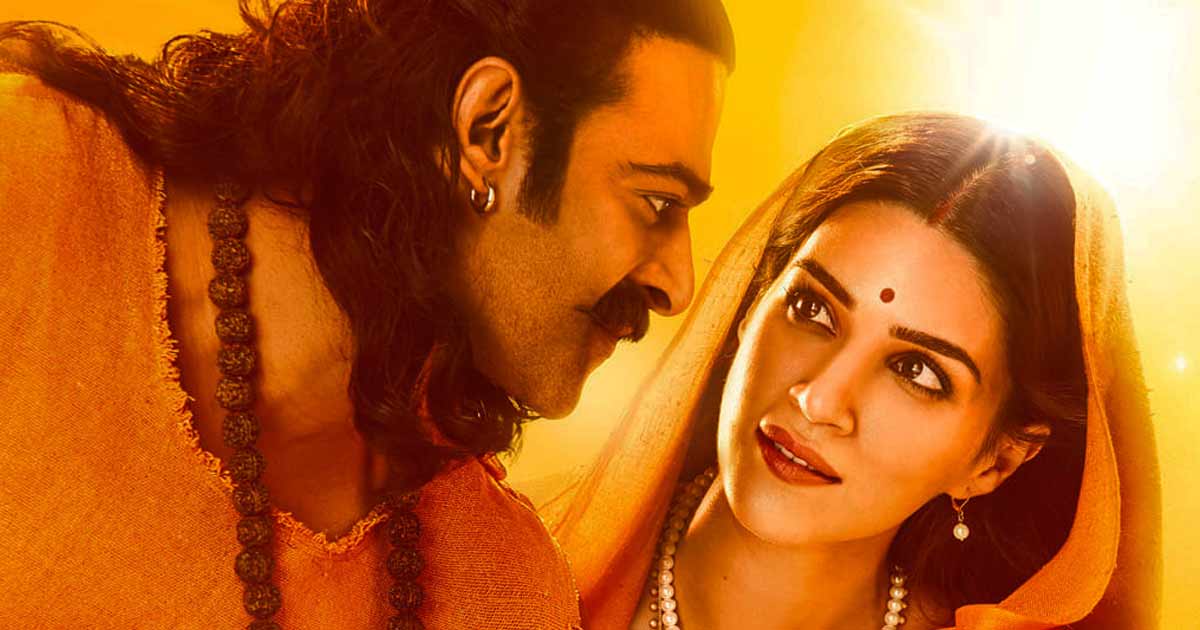 Adipurush Movie Review Rating:
Star Cast: Prabhas, Saif Ali Khan, Sunny Singh, Kriti Sanon, Devdatta Nage, Vatsal Sheth
Director: Om Raut
Adipurush Movie Review Out! ( Photo Credit – Instagram )
What's Good: It's based on 'Ramayana'
What's Bad: It's based on 'Ramayana' but you can't help!
Loo Break: It's 179 minutes and you might have too many drinks to force yourself to pee & also because the movie is #NotMyRamayana
Watch or Not?: Even if you're not aware of the story, watch Doordarshan's 1978's version or the Indo-Japanese take in 1992's Ramayana: The Legend of Prince Rama (Way way better than whatever this was)
Language: Hindi
Available On: Theatrical release
Runtime: 179 Minutes
User Rating:
An extremely quick recap is given about the pre-Lord Ram's (Prabhas) Vanvas phase as we land straight into what it looks like a Game Of Thrones' Kingdom Of The North-inspired setup, where Lankesh 'Ravana' (Saif Ali Khan) is getting his boon granted by his great-grandfather Lord Brahma. Lankesh's sister Shurpanakha loses her nose to Lord Rama after she tries to ask him to marry her despite being married to Sita (Kriti Sanon).
This starts the war between two forces leading Lankesh to abduct Sita in the disguise of a Sadhu (Saint) and provoking Raghav to come for him with rage which usually isn't the emotion you'd connect with him. With the help of Sugreev, Lord Hanuman (Devdatta Nage), and his brother Lakshman (Sunny Singh), Lord Rama sets on the journey of bringing Janaki back from Ravana's control leading to being named the Prince of Ayodhya, the leader of its people ever deserved.
Adipurush Movie Review ( Photo Credit – YouTube )
Adipurush Movie Review: Script Analysis
By now everyone knows this story is based on the epic 'Ramayana' and director Om Raut has penned the screenplay which is a chaotic mess consistently throughout the film. Working on the story is so emotionally embedded in every Indian, the makers chose the risk of telling the right story in the wrong way. The story was supposed to be the film's USP but because It's so close to every one of us, it'll hurt you after a point of time.
Since its trailer, Adipurush has lived through the five stages of accepting Grief. When the trailer launched, cinema fans & those who worship Lord Rama were in 'denial' that how can one be so bad at retelling a story that's so sacred for many of us. Then it was the 'anger' that came in the form of trolling on social media where some tried to 'bargain' with the makers of the film to improve at least bits of the film. But, after watching the film, I can now confirm that the result is nothing but a 'depressing' truth and we all will have to 'accept' that this is #NotOurRamayana.
From the promotional assets, many of us collectively predicted that the VFX won't be good and yes we all were right. Up till the first half, I was confused to answer: "Can you overlook the substandard quality of its VFX?" but the film ended with my hope of this being a project I'd recommend to anyone to understand the epic of Ramayana.
500 crores worth the reported budget and the makers hired someone who's not comfortable in handling the camerawork of a film of such stature. Karthik Palani fails to manage the green-screen mess and does a shabby job of portraying the high-scale action sequences in a way they should've been. The 20 FPS (frames per second) video-game footage-kinda VFX will not only hurt your brain but also sadden you for the crores spent to create something like this.
Adipurush Movie Review: Star Performance
Prabhas takes limited effort to bring out the charm, calm and effervescence Lord Rama's character is usually described as. He is playing one of the most important avatars of Lord Vishnu looking tired and out-of-the-place the whole time, how one could even accept that? It's not a new character for which one could leave some benefit of the doubt, it's something we all have seen growing up and if not, we all will narrate him to many upcoming generations.
Saif Ali Khan gets the victim of a poorly written character out of the mindset of pleasing a 'large set of audience' by entirely villainising 'Ravana' without depicting his other side in which many describe him as a "great scholar and the most intelligent person of his time." To masala fry the narration, writers take the routine route of pitching this as a hero VS villain story instead of focusing on many nuanced details.
Sunny Singh looks lost from scene one and that doesn't go away restricting him from being way too far from the life Sunil Lahiri had injected in Lakshmana. Kriti Sanon as Mata Sita has grace but due to her lacklustre chemistry with Prabhas & the wrongfully taken cinematic liberty about her costume decisions, even she fails to create the desired impact. Devdatta Nage as Lord Hanuman comes close to do a mockery of the character and fails to portray the perseverance, strength and even the humour Bajrang Bali has had in the literature.
Adipurush Movie Review ( Photo Credit – YouTube )
Adipurush Movie Review: Direction, Music
Tanhaji has been one of my all-time favourite commercial potboilers in which Om Raut tried to add 'mass masala' in a period drama. Little did I know, he'd follow the same template for a story like this. Lack of research, a vision that's flawed and CGI that hurts your brain, Om fails to master even a single department to deliver a project of this size.
Ajay & Atul are the only two people from the entire team who got the assignment continuing to deliver a banger of a soundtrack despite all the negatives. The only reason why I would've liked this film as an audiobook more is because of this duo's otherworldly background score. From Shivoham to Jai Shree Ram, trust them to deliver some 'God Level' songs (pun intended!).
Adipurush Movie Review: The Last Word
All said and done, more than this being a bad film, I'm disappointed at a lost opportunity that was right there with all the funds in the world to retell the heroic tale of the victory of truth over evil but the entire crew decided to infuse it with dialogues like "Jo hamari behno ko hath lagayenge unki lanka laga denge!" & "Ek sapore ne shesh naag ko lamba kardiya" ruining everyone's Ramayana.
Two stars!
Adipurush Trailer
Adipurush releases on June 16, 2023.
Share with us your experience of watching Adipurush.
For more recommendations, read our Sirf Ek Bandaa Kaafi Hai Movie Review here
Must Read: Adipurush Movie Review (Quicker): It's The Story That Excels In This Prabhas Starrer, Not The Way How It Is Told!
Follow Us: Facebook | Instagram | Twitter | Youtube | Google News
The post Adipurush Movie Review: This Prabhas Starrer Is Not My Ramayana, I Would've Liked This Better As An Audiobook! appeared first on Koimoi.