movie reviews
Bloody Daddy Movie Review: Shahid Kapoor's Audition To Be The Desi John Wick!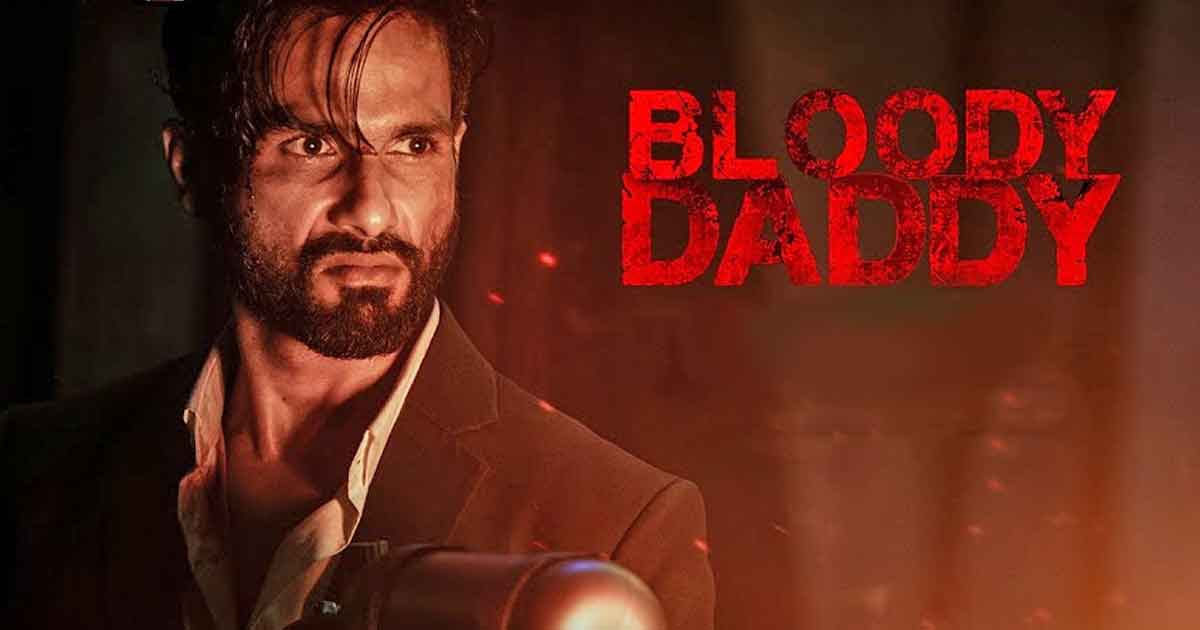 Bloody Daddy Movie Review Rating:
Star Cast: Shahid Kapoor, Ronit Roy, Sanjay Kapoor, Rajeev Khandelwal, Diana Penty, Zeishan Quadri & more
Director: Ali Abbas Zafar
Bloody Daddy Movie Review ( Photo Credit – Bloody Daddy Poster )
What's Good: Some gut-busting liners resulted in the film getting an A certificate and release on OTT (as per sources close to the film)
What's Bad: The same old predictable storyline
Loo Break: Anytime in the second half which runs wild on a slippery slope
Watch or Not?: Only if you're a fan of harmless actioners
Available on: Jio Cinema
Runtime: 123 Minutes
User Rating:
The time is just after Covid's second wave, and the place is Delhi's Connaught Place, we see a car hit another, leading to 2 people stealing an important bag that has Cocaine worth crores. The people who stole are from NCB and one of them is Sumair (Shahid Kapoor). The drugs that got busted are of Sikander (Ronit Roy), the bad guy and just like every villain, he kidnaps the hero's son to blackmail NCB into returning his Cocaine.
Sumair (Shahid Kapoor), for his son, agrees to sacrifice the cocaine following Sikander's order to reach Dubai in Gurugram. Upon reaching his five-star hotel, Sumair gets tracked by his team and now he has two different sets of people to deal with before getting to his son. What happens next and how he manages to get to his son, forms the basic premise.
Bloody Daddy Movie Review ( Photo Credit – Youtube )
Bloody Daddy Movie Review: Script Analysis
Ali Abbas Zafar co-writes this with Aditya Basu, Siddharth–Garima keeping the skeleton of the script as generic as it could ever get. "A drug mafia kidnapping Police's child to recover his busted drugs" is not the storyline we're hearing for the first time. It's the challenges Shahid's 'Bloody Daddy' faces to reach to the bad guy that makes this a one-fun-time watch.
Ali brings back his trusted cinematographer Marcin Laskawiec (Tiger Zinda Hai, Jogi) who manages to excel in a couple of action scenes, specifically one in the 5-star hotel's kitchen in which Sumair uses all the crockery & cutlery to face the bad guys. It's the dialogue backed with some good performance that escalates the ordinary storyline.
Bloody Daddy Movie Review: Star Performance
This is Shahid Kapoor auditioning to be the 'Desi John Wick' and he excels at places. His undeniable charm wants you to be with him and root for him as he gets his hands bloody.
Ronit Roy adds Black to the grey characters he plays by being extra wicked with his evil smile. Proving his acting range by playing Mr Bajaj on television to Sikander in this one, he goes from being a good guy to a very good bad guy.
Sanjay Kapoor, despite his limited screen space, gets some of the hilarious lines forming the best comedic relief amidst the chaos. Rajeev Khandelwal is yet another TV star maintaining just the right balance of being equally uproarious and charming at the same time. Diana Penty is royally wasted.
Bloody Daddy Movie Review ( Photo Credit – Youtube )
Bloody Daddy Movie Review: Direction, Music
Action has been Ali Abbas Zafar's home ground for a while now and this was a project in which he could've bared it all. Yes, the mid-level budget could've been an issue but Ali restricts himself from reaching his limits.
Julius Packiam interestingly mashes Mission Impossible and Don 2's themes to create a strange amalgamation of a theme. Jumping from a rap song to melancholic slow music in the same scene is the kind of bold decision I loved but they're too less to talk about.
Bloody Daddy Movie Review: The Last Word
All said and done, Shahid Kapoor's transformation from Chocolaty Boy to Bloody Daddy in Bollywood is a testimonial of how amazing an actor he has turned out to be.
Three stars!
Bloody Daddy Trailer
Bloody Daddy releases on 09 June, 2023.
Share with us your experience of watching Bloody Daddy.
For more recommendations, read our Sirf Ek Bandaa Kaafi Hai Movie Review here.
Must Read: Zara Hatke Zara Bachke Movie Review: Vicky Kaushal & Sara Ali Khan Romance Through A Relatable & Quirky Tale Of Aspirations But It Is Laxman Utekar's USP That Flutters
Follow Us: Facebook | Instagram | Twitter | Youtube | Google News
The post Bloody Daddy Movie Review: Shahid Kapoor's Audition To Be The Desi John Wick! appeared first on Koimoi.