movie reviews
Tiku Weds Sheru Movie Review: A 10-Minute Movie & 102 Minutes Of Random Chaos Pretending Hard To Make A Point; Avneet Kaur Is A Surprise Package Though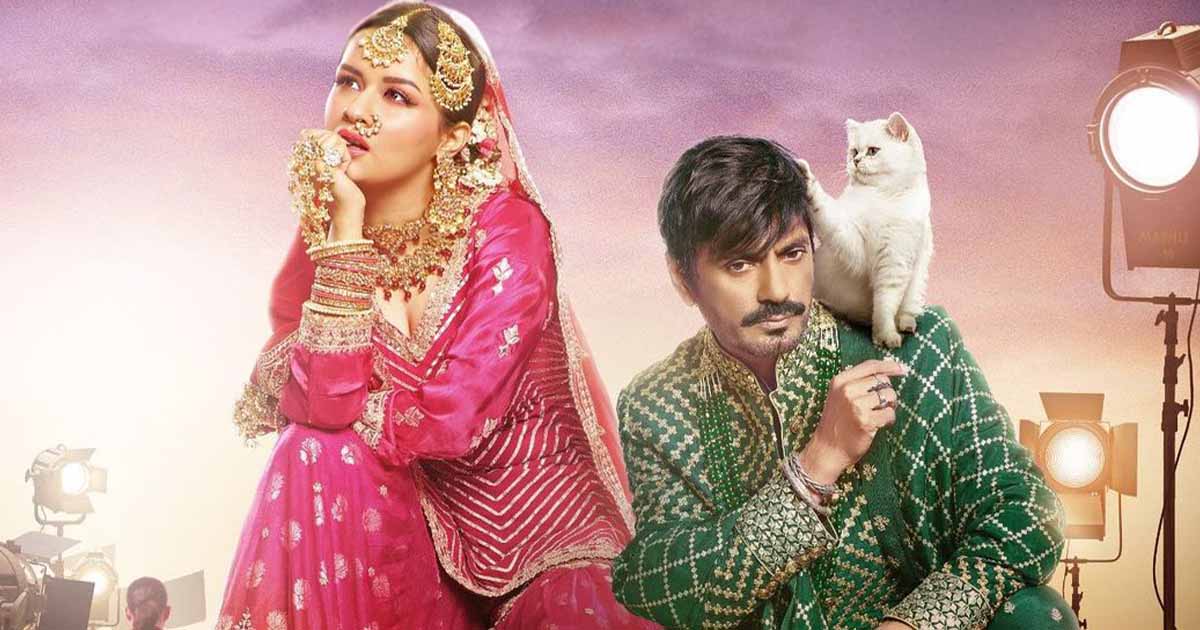 Tiku Weds Sheru Movie Review Rating:
Star Cast: Nawazuddin Siddiqui, Avneet Kaur, Vipin Sharma, Khushi Bharadwaj.
Director: Sai Kabir
Tiku Weds Sheru Movie Review (Picture Credit: IMDB)
What's Good: The opening sequence and first 10 minutes must be why Irrfan Khan must have said yes to this movie.
What's Bad: The rest is why we should be happy he never made it. A product so confused that it doesn't even know its position to even think of using a hook. Stop making Nawaz dance please.
Loo Break: Take plenty because you deserve them.
Watch or Not?: It's on OTT; try your luck, test your taste buds but don't even expect the minimum here.
Language: Hindi (with subtitles).
Available On: Amazon Prime Video.
Runtime: 112 Minutes
User Rating:
Destiny brings together two people with dreams and aspirations and locks them in a marriage. In the maximum city they live, the chaos Tiku creates, and Sheru tries hard to sort it all. But even he has his own vices, and they take a toll some day; it is where Tiku is put to test.
Tiku Weds Sheru Movie Review (Picture Credit: Youtube)
Tiku Weds Sheru Movie Review: Script Analysis
The stories of dreams and aspirations that make people do the extreme and then suffer the consequences of it is a plot that branches out into so many avenues. Especially when the said dreams are to become actors and stars, the outcome is so dramatic and shaking that a nuanced writer can hold his audience and shatter them for the runtime only to leave with a long-lasting mark. Madhur Bhandarkar's Fashion is a prime example (irony, it starred the producer of this film, and what a splendid performance!).
But Tiku Weds Sheru, that somewhere is made of the same cloth about people fighting their situation to become stars in a visual field, is too confused and very busy in finding what its tone is what 'sur' is it supposed to stick to. The search for its core takes the entire runtime, and we are served no movie but disjointed pieces of a story that have no connection to one another if you see from a bird's eye view. No going to lie. I was sold in the first 10 minutes where a man who does all kinds of wrong things goes for matchmaking and revolts against the girl's family when the uncle hits her. There is so much thought in that little sequence, and you expect the same to flow throughout the movie.
But you don't always get what you hope. Tiku Weds Sheru rather chooses to be so random that there is no graph. The biggest question is, what is the movie trying to say? Who is it talking to? Does it want to be a commentary about the film industry? Is the dilemma of the 'outsiders' is what we are supposed to focus on? It tries to delve into every aforementioned thing but never religious sticks to any to drive any single point home. The biggest disappointment is the fact that Avneet Kaur gives this part her all and is too good for a debut alongside an actor as seasoned as Nawaz, but for what?
A screenplay that travels through sequences of a story is supposed to have glue that sticks those sequences together. Like there is a beautiful moment between Tiku and Sheru where they are finally accepting each other on a beach, but the decision to abruptly intervene it with a mention of abortion leading to Nawaz breaking down hilariously; the magic is lost and never found again. Similarly, the script just jumps to sequences and expects us to understand what's happening without really asking us to join. He randomly begins peddling drugs, and lands in jail; Tiku takes a weird decision because now she is hurt that he lied, but wasn't bothered until she was bathing in money and no risk was around her. There is so much randomness written all over it that you stop feeling anything for the characters, and empathy could be the last thing even then.
Tiku Weds Sheru Movie Review: Star Performance
Why is Nawaz doing this to us and himself? The actor has given Bollywood some of the most fulfilling and nuanced characters that will be remembered for years to come. But in the recent past, the actor has made so many questionable choices and some downright bad that it is becoming difficult to really trust him as an actor. Even Jogira Sara Ra Ra, his last release, was a film that did not deserve him, and so was Heropanti 2, but why would an actor of his stature not repel these? Maybe big money, but then how long will that go on for?
Avneet Kaur is a surprise package that manages to be the best actor in the room Nawazuddin is present too. She brings out the emotions and wild nature of Tiku out pretty well. A girl who has lived a strict upbringing wants to see the world with her glasses and but the only way out is marrying a much older man (age is never discussed in the movie because who cares about substantial plot points anyways?) It is a tricky part, and Kaur plays it well. She just chooses the wrong film.
Rest everyone is paper thin on note characters that are only expected to serve the lead couple and have no separate world.
Tiku Weds Sheru Movie Review (Picture Credit: Youtube)
Tiku Weds Sheru Movie Review: Direction, Music
Sai Kabir has a track record of making movies that, at one point, jump like excited children who have just seen a box of chocolates. Randomly, with no idea where to go. Tiku Weds Sheru is no different, and it is so bizarre in parts that you really want to understand what exactly made all of these people make this film.
The music of Tiku Weds Sheru is genuinely good. Composer Gaurav Chatterji and Sai Kabir have composed some very delicate numbers, and they will be appreciated when they grow on listeners.
Tiku Weds Sheru Movie Review: The Last Word
Tiku Weds Sheru refuses to be a movie that wants to find its purpose and entertain its audience. It just chooses to exist randomly, and that is not a sign of a good film.
Tiku Weds Sheru Trailer
Tiku Weds Sheru releases on 23 June, 2023.
Share with us your experience of watching Tiku Weds Sheru.
Must Read: Zara Hatke Zara Bachke Movie Review: Vicky Kaushal & Sara Ali Khan Romance Through A Relatable & Quirky Tale Of Aspirations But It Is Laxman Utekar's USP That Flutters
Follow Us: Facebook | Instagram | Twitter | Youtube | Google News
The post Tiku Weds Sheru Movie Review: A 10-Minute Movie & 102 Minutes Of Random Chaos Pretending Hard To Make A Point; Avneet Kaur Is A Surprise Package Though appeared first on Koimoi.