movie reviews
Almost Pyaar With DJ Mohabbat Movie Review: Anurag Kashyap Tries Using His Underrated Superpower Of Portraying Love But The Spell Fails To Completely Bound This Time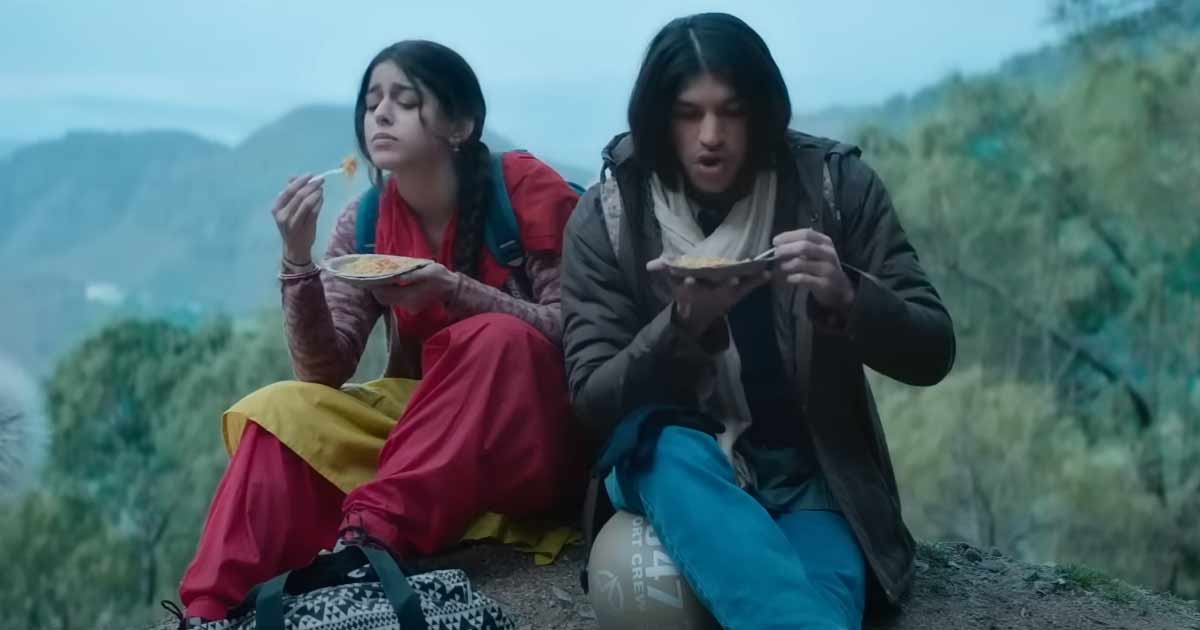 Almost Pyaar With DJ Mohabbat Movie Review Rating:
Star Cast: Alaya F, Karan Mehta, Vicky Kaushal, Sapna Pabbi, and ensemble.
Director: Anurag Kashyap.
Almost Pyaar With DJ Mohabbat Movie Review Out ( Photo Credit – Movie Still )
What's Good: Anurag writing about love is a hurt lover writing the moments from the relationship he cherishes the most. From chasing light to the darkness of it all.
What's Bad: But this time the journey between chasing lights and facing darkness has a path with bothering loopholes.
Loo Break: If you aren't a viewer who decodes a film beyond what's on the screen, you will need many. But if Kashyap is your poison, you don't leave the bar even if the music isn't good someday.
Watch or Not?: Again, if you are an AK fan, I cannot even manage to stop you and I won't. But many might wait for an OTT release.
Language: Hindi.
Available On: In Theatres Near You.
Runtime: 121 Minutes.
User Rating:
Two landscapes, Dalhousie in India and London are witnessing two love stories with four star-crossed lovers trying to make sense of the situation they are put into. When love knocks them down hard and patriarchy makes it even worse, it is they who have to find a solution for the wilderness.
Almost Pyaar With DJ Mohabbat Movie Review Out ( Photo Credit – Movie Still )
Almost Pyaar With DJ Mohabbat Movie Review: Script Analysis
A very unpopular opinion, Anurag Kashyap might be defined as the man who makes the cinema on the underbelly and the darkness of the worlds he creates, but at the core of it all, he is a lover boy who craves to tell a love story that scales all the highs and lows of love. He finds the 'Ishq Da Rang' in 'Grey Wala Shade', a man who spoke about how wild love turns one into (Manmarziyaan). Or even back when he chose to find a sane space between Leni and Dev in DevD amid the insanity that the protagonist endorses. There is poetry in him that spills every time two lovers meet in his universe and one cannot ignore that.
In Almost Pyaar With DJ Mohabbat, written by Anurag, he sets out on a journey to tell stories about love doomed by patriarchy and moral conditioning. His idea is to pitch the innocence and carefree vibe of love against the backdrop of conservative families and a society that expects you to fit into boxes of restriction set by them. Be it in India or an Indian moved to the west, the conditioning mentally pulls them back home and they end up caging their children no matter what.
There is too much innocence in how Kashyap writes his first story set in Dalhousie. These are just two young naive people eloping to watch a concert organized by their favourite DJ Mohabbat. There is no mention of love or a relationship around them, they never propose to each other or even talk about being anything to each other. But it is in the way they approach each other, the way how the world makes them think it is just them for each other now. There is beauty in every time they talk like children after society has speculated another obnoxious rumour about them.
The second story in London has the wildness of it all. A girl so obsessed with the boy that she breaks the stereotypes set for her gender and approaches him till he agrees one day. While the narrative of this one falls very weak in front of the first, there is much heart here too. Their love is wild and that prepares you for a wilder outcome. But how Anurag chooses to treat this story kind of pulls one out of the experience. In parts it feels unnecessary, in some, it feels rushed. The filmmaker does try to talk about many things as layers of his movie but they don't land well.
He tries to take a jibe at Love Jihad, homophobia, and religious fanaticism, but they don't land how they show because the conversation seems like it left mid-way at many points. Especially the part where he enters the zone of homos*xual dynamics, they don't seem like a part of the story at all. While one understands where he is trying to take this, if the onscreen translation is not offering anything that supports the noble thought, it is a battle already lost.
Credit where it's due, the dialogues of Almost Pyaar With DJ Mohabbat are worth giving attention to. When Yakub says " Kitna acha hota agar hum bade hokar apna dharam chun sakte," an aged woman asks him which religion would he have chosen, to which Yakub replies, "Mein to Dharam ki dukaan par jataa hi nahin." You see the effort in those words. Also, Kashyap uses Vicky Kaushal's DJ Mohabbat as the glue mouthing some most delicate lines that have come from Vishal Bhardwaj and Gulzar Sahab. You have to experience them all.
Almost Pyaar With DJ Mohabbat Movie Review: Star Performance
Alaya F is definitely growing as an actor and you can see that in the Dalhousie version of the story where she plays Amrita. The actor has to act as a 16-year-old school-going girl clueless about the societal norms just eloping with a boy she trusts to watch a concert. Alaya manages to bring out the innocence so well. The London version though, where she plays Ayesha is her reel extension and doesn't seem challenging to the actor.
Karan Mehta has had the most challenging part to play here. Playing Yakub in Dalhousie and Harmeet in London, he goes through a massive transformation in the latter. For Yakub, he has to be an aimless Muslim teenager in the north of India navigating through life. He does the job so well and makes you believe in his naive act. The actor is certainly very talented and I am definitely excited to see what he does next.
Even Vicky Kaushal is present kind of taking his Manmarziyaan's DJ Sandz spiritually ahead with DJ Mohabbat. He is a breeze every time he graces the screen and only reflects adorable energy bringing a smile to your face. Plus he narrates some of the most delicate words written by Anurag with Vishal Bhardwaj and Gulzar's help.
Almost Pyaar With DJ Mohabbat Movie Review Out ( Photo Credit – Movie Still )
Almost Pyaar With DJ Mohabbat Movie Review: Direction, Music
Anurag Kashyap as a director finds his kick in experimenting as much as he can. The blueprint and structure of Almost Pyaar With DJ Mohabbat are unlike any other Anurag Kashyap movie. While there is his stamp, there are also parts where it looks and feels staple which bothers. He sets out to tell a story with all the conviction but that doesn't translate completely on screen as he envisions. But one has to appreciate that he finally knows where to end his films! A cliffhanger so intriguing.
Amit Trivedi yet again collaborates with Anurag Kashyap to create a unique album that has the potential to grow. While it doesn't match the bar that is set by Manmarziyaan and Bombay Velvet, there is a lot of effort in creating an album relevant to the times the movie is set in. Mohabbat Se Kranti being the highlight, Duniya is another amazing number too. I would want to give this album some more time to grow on me to judge it well. Also, Trivedi deserves all the love for bringing back Richa Sharma for an unexpected track.
Almost Pyaar With DJ Mohabbat Movie Review: The Last Word
Anurag Kashyap sets out on a journey to tell love stories set against the backdrop of patriarchy by loses his way too.
Almost Pyaar With DJ Mohabbat Trailer
Almost Pyaar With DJ Mohabbat releases on 03rd February, 2023.
Share with us your experience of watching Almost Pyaar With DJ Mohabbat.
For more recommendations, read our Kuttey Movie Review here.
Must Read: Mission Majnu Movie Review: Sidharth Malhotra Leads A Mission Impossible To Watch, Rashmika Mandanna Can't See Because She's Blind & We Can't See Her Because We're Bored!
Follow Us: Facebook | Instagram | Twitter | Youtube | Google News
The post Almost Pyaar With DJ Mohabbat Movie Review: Anurag Kashyap Tries Using His Underrated Superpower Of Portraying Love But The Spell Fails To Completely Bound This Time appeared first on Koimoi.