movie reviews
Gandhi Godse – Ek Yudh Movie Review: Rajkumar Santoshi's Comeback 'What If…' Drama Fails To Find Its Core & Ends Up Wandering In Its Technical Finesse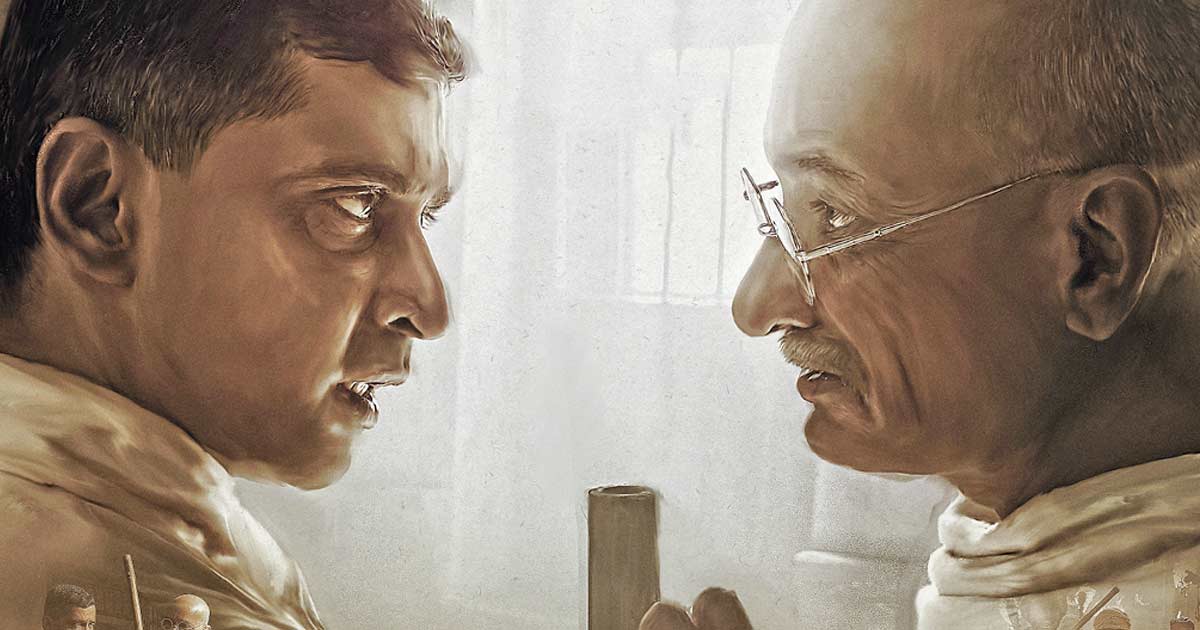 Gandhi Godse Ek Yudh Movie Review Rating:
Star Cast: Deepak Antani, Chinmay Mandlekar, Tanisha Santoshi, Anuj Saini, Pawan Chopra, and ensemble
Director: Rajkumar Santoshi
Gandhi Godse – Ek Yudh Movie Review ( Photo Credit – Gandhi Godse Ek Yudh Poster )
What's Good: a very fiery idea of making the two most politically charged distinct ideologies clash and blend into each other.
What's Bad: not staying true to the aforementioned idea and ending up being a confused product packaged well.
Loo Break: the initial chunk of the first half can be used for this very purpose.
Watch or Not?: the film is visually very charged but that doesn't mean one will invest that much only for the beauty of the product. Can wait for its OTT release.
Language: Hindi
Available on: In Theatres Near You.
Runtime: 110 Minutes.
User Rating:
Set in a fictional time where Mahatma Gandhi survives Nathuram Godse's attack and they both meet and discuss their idrologies in life.
Gandhi Godse Ek Yudh Movie Review ( Photo Credit – A Still From Gandhi Godse Ek Yudh )
Gandhi Godse Ek Yudh Movie Review: Script Analysis
Irony flipped ten folds as we witness the release of Pathaan in the same week a movie about liberal and communal ideologies battling it out is beyond my imagination. This week marks the comeback of two of Bollywood's most iconic names, of course, the King Khan Shah Rukh Khan, and the man with the art of indulging storytelling, Rajkumar Santoshi. But does the filmmaker still hold the art that he did when he told Bhagat Singh's haunting tale?
Gandhi Godse – Ek Yudh written by Santoshi with Asghar Wajahat's (whose play the movie is an adaptation of) help on dialogues is on paper a very rare idea. I say rare because the sensitive factor of the story in itself is so controversial that even the mention of it can trigger battles forget shaping an entire story. There is a clash of two of the most burning ideologies. The liberals wanting a nonviolent equal ground and the communist who want the entire nation to be coloured in the colour they worship. All of this is imagined in a situation where Mahatma Gandhi survives the attack and then confronts Nathuram Godse. Full marks for the sheer bravery and imagination.
But Santoshi goes extremely haywire when he tries to translate all of that on the big screen. For a film that is about the battle between the ideologies comes to its main conflict too late. While we are told how the environment was constantly fluctuating its inclination towards and against Gandhi, the screenplay ends up investing too much time in the same. And when it finally decides to enter the real conversation that it has promised, it channelizes the entire thing into episodes where the conflict is raised and solved quite quickly.
These are the men with vast opposite schools of thoughts. Godse hates Gandhi to the core. Even in a fictional tale, how can one imagine him saving Mahatma? Even if you ignore that, the fictional world almost imagines the Father Of The Nation as a stubborn spoiled child of a rich family who does things on his terms without thinking of his surrounding. The film talks about slavery, inequality, and much more but adds unintentional humour to it and dilutes the purpose. Even the way it addresses Mahatma Gandhi's thoughts on celibacy and the mending of it, it all looks so heavy-handed and forced. Nothing about it comes out of an organic space but looks like someone is just making a point.
Gandhi Godse Ek Yudh Movie Review: Star Performance
Deepak Antani has played Gandhi in over 100 plays and he has become one with the part. There is ease in how he treats the on-screen replication of the nation's most revered figure. He misses no note and aces everything.
Chinmay Mandlekar who says Hindu almost equal to the times he breathes in the movie acts like he is in a school play. Too much dramatics pulled me out of the experience and made me see how he moves his hands in the most restricted way.
Tanisha Santoshi's debut only allows her to cry on any given situation. Everytime the camera focuses on her, she is crying except her entry scene and it becomes a laughter-triggering point rather than emotional. Also, who all thought the idea of introducing her half-baked love story was amazing, please never give your opinions to anyone.
Gandhi Godse Ek Yudh Movie Review ( Photo Credit – A Still From Gandhi Godse Ek Yudh )
Gandhi Godse Ek Yudh Movie Review: Direction, Music
Here is a man who made a film like Pukaar which was also fictional but was so satirical in its own way. Created history with The Legend of Bhagat Singh, wrote the most fiery scene question the treatment of women in the mythological epic Ramayan in Lajja. But in Gandhi Godse Ek Yudh, Santoshi leaves a whole lot on the technical department. Other than the lazy colour tone of the movie, the frames and cinematography is amazing.
The set designs are well thought and detailed in every corner. Full marks to the technical teams. AR Rahman does the music and it serves the movie well. But the recall value doesn't seem to be much.
Gandhi Godse Ek Yudh Movie Review: The Last Word
Gandhi Godse – Ek Yudh Is a very interesting idea but takes a lot of time to come to the main conflict. The track is even lost midway never to be found again.
Gandhi Godse Ek Yudh Trailer
Gandhi Godse Ek Yudh releases on 26 January, 2023.
Share with us your experience of watching Gandhi Godse Ek Yudh.
For more, read our Cirkus Movie Review here.
Must Read: Kuttey Movie Review: Vishal Bhardwaj's Custodian Rises, Tabu Sets Out To Rewrite Another Decade Of Cinema With Gulzar Sahab & The Team Only Flourishes
Follow Us: Facebook | Instagram | Twitter | Youtube | Google News
The post Gandhi Godse – Ek Yudh Movie Review: Rajkumar Santoshi's Comeback 'What If…' Drama Fails To Find Its Core & Ends Up Wandering In Its Technical Finesse appeared first on Koimoi.