movie reviews
Faraaz Movie Review: Hansal Mehta Titles The Film After An Individual Only To Give Him Such Less Importance That It Felt Cheated!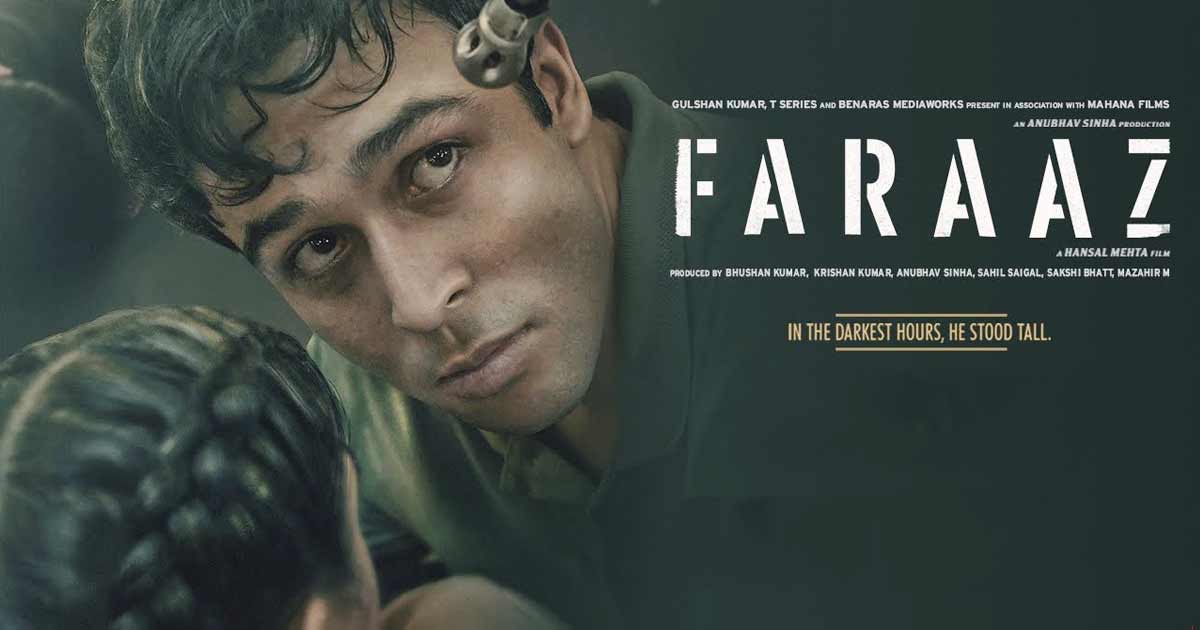 Faraaz Movie Review Rating:
Star Cast: Aditya Rawal, Zahan Kapoor, Juhi Babbar, Sachin Lalwani
Director: Hansal Mehta
Faraaz Movie Review(Photo Credit –Poster From Faraaz)
What's Good: The chilling atmosphere one would get while displaying the inside out of a terrorist attack
What's Bad: Anything and everything apart from that atmosphere! (barring a few performances, BGM & camerawork)
Loo Break: Somewhere in the second half where things start to drag
Watch or Not?: Watch it without keeping the film's title in mind (Why? Read the review till the last to know!)
Language: Hindi
Available On: Theatrical Release
Runtime: 113 Minutes
User Rating:
Narrating the deadliest terrorist attack that happened in Bangladesh on the night of 1 July 2016, the story starts by showcasing a day in the life of the country. Shopping malls, trains, and kids playing gully Cricket & reminds you of any other flourishing city like Mumbai, Colombo, etc. Holey Artisan Bakery, a place of class, serving tempting desserts to the rich class of Bangladesh becomes the target place for five misguided young minds who support the brainwashing that states 'Bangla Muslims' need to come in support of the protection of Islam.
Nibras (Aditya Rawal, Paresh Rawal's grandson) leads this group of extremists who go into the Cafe only with the motive of killing non-Muslims in the house. They ask to read people any verse from Quran as their ticket to stay alive but Faraaz (Zahan Kapoor, Shashi Kapoor's grandson), son of a multi-millionaire conglomerate head, chooses to stay back for his Hindu friend & be the good part of the 'good vs bad Muslim' debate. What happened to him & 30+ other people that night is what the story is about.
Faraaz Movie Review(Photo Credit –Still From Faraaz)
Faraaz Movie Review: Script Analysis
Ritesh Shah, Kashyap Kapoor & Raghav Kakkar have penned a story that could've easily been written after watching a 10-minute video on YouTube about the attack. Not to disrespect the efforts or offend anyone but the writing team missed a whole lot of 'available on the internet' material to showcase the heart-touching atrocity that happened on that night.
"How can this happen? He was the only earning member of the family. What will I do with my two daughters? My two daughters are too young to understand what has happened to their father. They keep calling his mobile every day but it's switched off," this BBC interview given by the wife of the Head Chef who lost his life that day gave me more chills than this entire film. "I can never guarantee the safety of everyone again," said Holey Artisan Bakery's co-owner Arsalan after the incident happened. Why all of this didn't make it to the climax instead of a speech that made zero impact?
Yes, Faraaz did an extremely brave job of choosing death over a terrorist questioning his ideology, but you'll have to establish his character first to make us emotionally connect with the sacrifice he made. You give us a couple of lines by Faraaz about how he wants his Islam back from the terrorists and expect us to not only root for his outlook but also digest the fact that the whole film was based on him. IMO, that's a little more to ask from an audience that has already seen multiple films on similar lines.
Hansal Mehta's long-time trusted cinematographer Pratham Mehta remains to be the best thing that happened to the otherwise routine narrative. The tension in the cafe's corridors is amazingly built as the camera pans through the deadly atmosphere created by the trio's tight screenplay. Amitesh Mitesh Mukherjee's taut editing helps the overall pace to be under control despite the dragging narrative in the second half.
Faraaz Movie Review: Star Performance
Aditya Rawal brings in the required innocent wickedness to the character of Nibras. The way he shifts from being dreadful to downright neighbourly is something that's extremely hard for even seasoned actors. The blank stares he delivers speak a lot about the kind of actor he's set to be in the industry.
Zahan Kapoor, unfortunately, falls victim to lousy character writing as despite getting the titular role he's not someone who remains the center of the story. He's decent with his act but you'd want more from a character you see on every promotional material & even the title of the film. Juhi Babbar, as a mother set to do anything to make sure his kid is safe, delivers a thoughtful performance. Sachin Lalwani, the only terrorist apart from Nibras who gets some screen space, remains to be yet another good actor with a dissatisfactory character.
Faraaz Movie Review(Photo Credit –Still From Faraaz)
Faraaz Movie Review: Direction, Music
Hansal Mehta, the man behind some classics like Shahid, Aligarh, and CityLights, fails to skillfully portray the manipulation of radical mindsets getting brainwashed for the purpose even they're not clear of.
The film consists of only one song, Musafir Ko, written and composed by the extremely talented Sameer Rahat (My dil got rahat for his entry in the film industry). Siddharth Pandit's background score hauntingly supports the tension created for an apt watching experience.
Faraaz Movie Review: The Last Word
All said and done, Faraaz is a film that shouldn't have been titled Faraaz in the first place. It doesn't revolve around Faraaz, it revolves solely around the attack he lost his life in & hence, it should've been named accordingly.
Faraaz Trailer
Faraaz releases on 3rd February 2023.
Share with us your experience of watching Faraaz.
For more recommendations, read our Kuttey Movie Review here.
Must Read: Almost Pyaar With DJ Mohabbat Movie Review: Anurag Kashyap Tries Using His Underrated Superpower Of Portraying Love But The Spell Fails To Completely Bound This Time
Follow Us: Facebook | Instagram | Twitter | Youtube | Google News
The post Faraaz Movie Review: Hansal Mehta Titles The Film After An Individual Only To Give Him Such Less Importance That It Felt Cheated! appeared first on Koimoi.