movie reviews
Fukrey 3 Movie Review: Varun Sharma, Pankaj Tripathi & Team Prove Once Again How Complicated It Is To Do Simple Comedy!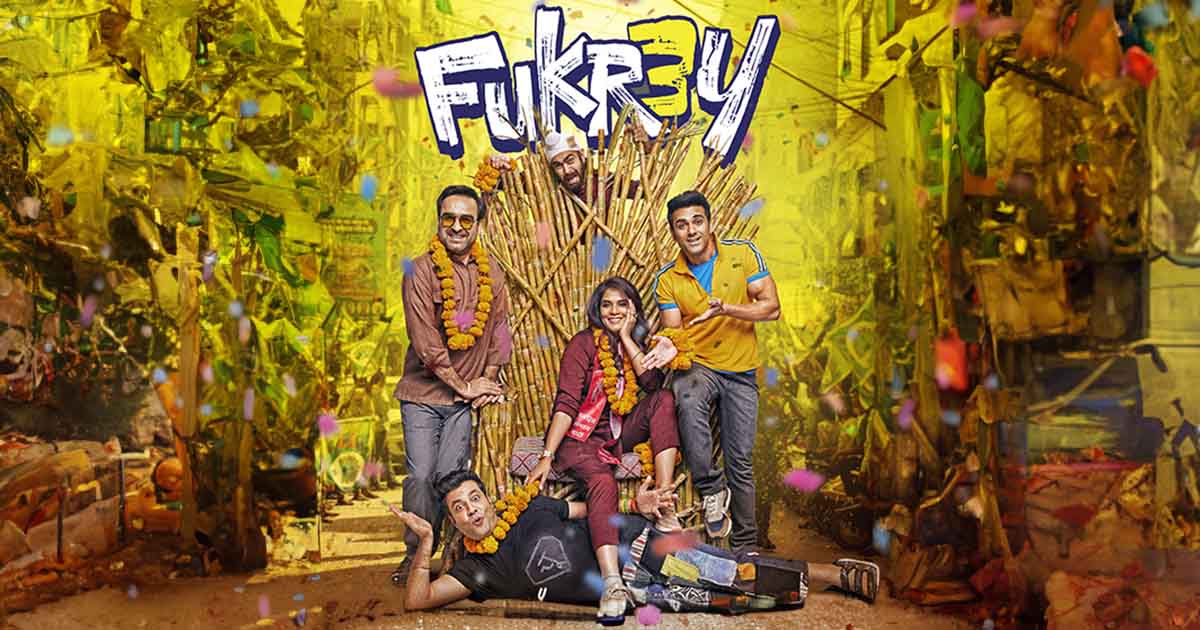 Fukrey 3 Movie Review Rating:
Star Cast: Varun Sharma, Pankaj Tripathi, Pulkit Samrat, Manjot Singh, Richa Chadha, Manu Rishi Chadha & others
Director: Mrighdeep Singh Lamba
Fukrey 3 Movie Review (Picture Credit: Youtube)
What's Good: Pankaj Tripathi, just being on the sets of a comedy film makes it funnier; I don't know how to explain this, but yes, it does!
What's Bad: It takes itself too seriously in the second half with a social message that comes across as forced as an important cameo in this one
Loo Break: The second half will give you ample opportunities; don't miss the fun though
Watch or Not?: Yes! But if you haven't watched the first two, go and watch them first
Available On: Theatrical Release
Runtime: 2 Hours 25 Minutes
User Rating:
With a helpful & impressive recap track, we go through the 'choochiyaap' the Fukra gang has gone through in the first two parts; it is pretty helpful for the ones who'll jump in without watching the prequels (spoiler: you're missing the best of the series if you're doing so & no that doesn't mean this is a lousy sequel). Hunny (Pulkit Samrat), Choocha (Varun Sharma), Lali (Manjot Singh), and Pandit (Pankaj Tripathi) are back, but they haven't cracked any lottery with Choocha's 'Deja Chu' power; instead, they're doing odd jobs ignoring Bholi Punjaban (Richa Chadha) who's all set to enter into politics.
But as it's a sequel, they can't keep ignoring the story's leading lady, so she somehow gets them to work for her. In the process, Choocha gains more public popularity than her only to compete in the election. In between all this, a coal-mine diamond hunt happens, including Shunda Singh Ahluwalia (Manu Rishi Chadha) and suitable for the film, it ends before getting on the nerves. But, it's all about this new superpower they generate & how they keep dodging the Bholi-web throughout.
Fukrey 3 Movie Review (Picture Credit: Youtube)
Fukrey 3 Movie Review: Script Analysis
Vipul Vig's story has 'Fukrey' written all over it, and it's always great to carve out an identity for a franchise that makes it stand out from the rest. We know to think bikes when someone says Dhoom, to think 'eww, why did I think about this?' upon someone saying MSG – Messenger Of God and with every film, Fukrey has been making clear how this franchise is all about dumb friendships with dumb superpowers.
The one thing that's different here from the first two parts is how it starts going downhill in the second half. It comes across like the makers had a few good jokes, and they used them all in the first half. You'll sit through because of the actors' convincing performances.
Vipul Vig's dialogues (additional dialogues by Mrighdeep Singh Lamba) come with the same madcap flavour, and how smartly they're written for every character distinctively. Pankaj Tripathi's Pandit gets the lines that rely heavily on his performance, whereas Varun Sharma's Choocha's dialogues are something you'd expect only to hear from someone like him.
Lines like "Vasco Da Gama ne kaha tha: Videsh mein haggna, mootna bhool jaana par passport kabhi mat bhoolna", and that too coming from Pankaj Tripathi only cements the fact how complicated it is to do simple comedy, that's where Fukrey wins all the time.
Fukrey 3 Movie Review: Star Performance
The makers adhered to the buzz, making Varun Sharma's Choocha's the centrepiece of this threequel as he always has been a fan-favourite. Some things work, and some go over the board with this decision, but Varun's effortless performance saves the day.
Pankaj Tripathi is the champion and deserves all the limelight in Fukrey 4, at least. I had secretly hoped makers would do that this time, but it was Choocha's film. With every part, Pandit's involvement has increased, and that's also because of how Tripathi sir has evolved as an actor in this last decade.
The major hit of Choocha and Pandit overtaking the hilarious parts has been taken by Pulkit Samrat's Hunny & Manjot Singh's Lali. It's not an issue about the screen time; it's about the division & exhaustion of good jokes. Richa Chadha also almost gets out of the focus as Bholi loses her signature touch as the story brings in another villain in Amit Dhawan's Dhingra, who's useless. Manu Rishi Chadha is the 2nd wasted Chadha in the film after Richa.
Fukrey 3 Movie Review (Picture Credit: Youtube)
Fukrey 3 Movie Review: Direction, Music
Mrighdeep Singh Lamba continues to reign the formula that contains an intelligent mixture of slapstick comedy with some clever lines, and that's what the Fukrey flavour is all about. It's just he goes a tad bit over the board with the super talent the leads will acquire and couldn't better the Deja-Chu from the previous one.
Abhishek Nailwal's background score is fun and used many times to sync with the funny lines to create a better impact. None of the new songs are any good to make it to your playlist, and hence, the makers play around with their tried and tested tracks like Ambarsariya to maintain the melodious momentum.
Fukrey 3 Movie Review: The Last Word
All said and done, Fukrey 3's title has the movie's rating secretly hidden in it if you look closely! It continues to own & flaunt the story's foolhardy nature, boasting about something that has become extremely rare to find – harmless fun.
Three stars!
Fukrey 3 Trailer
Fukrey 3 releases on 28th September, 2023.
Share with us your experience of watching Fukrey 3.
For more recommendations, read our Jawan Movie Review here.
Must Read: Haddi Movie Review: It's Messy But There's Also Nawazuddin Siddiqui & A Surprising Anurag Kashyap To Cover It Up
Follow Us: Facebook | Instagram | Twitter | Youtube | Google News
The post Fukrey 3 Movie Review: Varun Sharma, Pankaj Tripathi & Team Prove Once Again How Complicated It Is To Do Simple Comedy! appeared first on Koimoi.