movie reviews
Jaane Jaan Movie Review: Give Jaideep Ahlawat Every Acting Award Out There (& Indian Remake Of Joaquin Phoenix's Joker), Kareena Kapoor Khan Surrenders To The Brilliance Of Sujoy Ghosh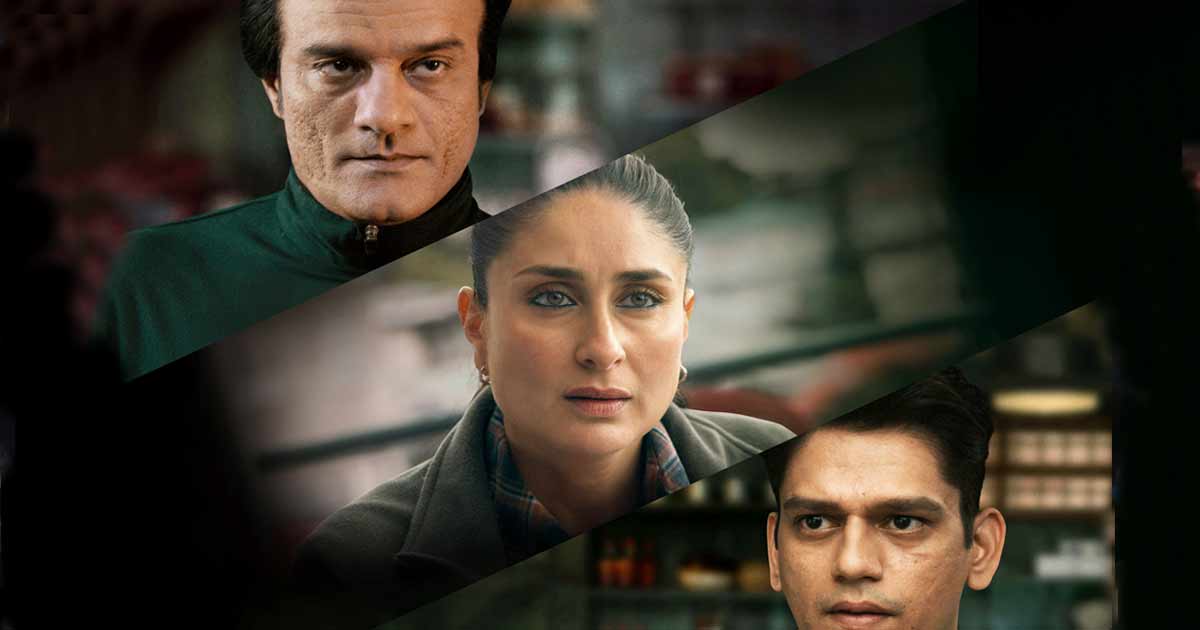 Jaane Jaan Movie Review Rating:
Star Cast: Jaideep Ahlawat, Kareena Kapoor Khan, Vijay Varma, Saurabh Sachdeva, Karma Takapa, Naisha Khanna
Director: Sujoy Ghosh
Jaane Jaan Review Out! ( Photo Credit – IMDb )
What's Good: We're getting the best out of the best in Jaideep Ahlawat's Naren & Kareena Kapoor Khan; signing this film is a sign that she's ready to surprise everyone in her second innings
What's Bad: It'll be compared to Drishyam, but the truth is its source material (the original novel from which this is adapted) was written way before Jeethu Joseph conceptualised Drishyam 2
Loo Break: Despite being an OTT release, I'd suggest you not leave your couch/bed/seat even for a minute; you'll enjoy this more if you watch it in one go
Watch or Not?: Watch it even if you're not a fan of mystery thrillers; this could be your gateway drug!
Available On: Netflix
Runtime: 2 Hours 19 Minutes
User Rating:
A genius mathematician-cum-teacher, Naren Vyas (Jaideep Ahlawat), in West Bengal's bewitching-but-underrated town Kalimpong, is leading an isolated life, taking a decade to solve an unsolvable problem. Having hots for his single-mother neighbour in Maya D'Souza (Kareena Kapoor Khan), he lends a helping hand to her to cover a murder she has executed with her daughter Tara (Naisha Khanna). Who is killed? Well, I'll try to be as spoiler-free as I can, still keeping my points.
An Inspector from Mumbai, Karan Anand (Vijay Verma), handles this murder investigation and keeps Maya as his prime suspect for having all the reasons to kill the deceased. She keeps getting saved due to the mastermind Math teacher's ability to step ahead of the police's legwork. The story revolves around how Karan tries to unravel the shrewd web of confusion designed by Naren and what he finds (or not) to solve this complicated murder mystery (or not).
Jaane Jaan Review Out! ( Photo Credit – YouTube )
Jaane Jaan Movie Review: Script Analysis
The film never shies away from claiming that it is based on the Japanese worldwide-celebrated Mystery Novel The Devotion Of Suspect X by Keigo Higashino; from displaying under the main title to mentioning 'Suspect X' in the conversations, it proudly accepts the fact that it's an adaptation. Before this one, in India, a Tamil film titled Kolaigaran (starring Vijay Antony) also adapted a similar story. Sujoy Ghosh very smartly mixes some elements from both the book and the movie, adding his slick touches to give it the distinctive look it desires.
Yes, it'll remind you very much of Drishyam, but being adapted from a novel released in 2005, it has the classic 'Ghosh Stamp' imprinted all over it and it kind of changes how I used to look at Jeethu Joseph's masterpiece. Ghosh's non-linear treatment gifts you with an impeccable scene like Naren & Karan conversing about the case with the clips of them performing Jujutsu playing as a flashback in between their chess-like-moves dialogues.
The master cinematographer Avik Mukhopadhyay (Pink, October, Sardar Udham) brings the gloomy, dreary Kalimpong to life with its fog being reminiscent of the blurriness the film's narrative portrays. Jaideep's make-up artist deserves a raise for nailing Naren's immaculate demeanour in the perfect way. Ghosh turns this Japanese epic into a 'Raja, Rani, Chor, Sipahi' game, with Raja & Chor being so contrastingly similar that you'll start questioning your belief in the second half.
Jaane Jaan Movie Review: Star Performance
If Jaideep Ahlawat doesn't get significant acting accolades in the upcoming awards season, the tad bit of remaining faith in these shows will die a silent death. WHAT A PERFORMANCE! FLAWLESS. Yes, I know how he always manages to surprise, but this is something else. This is special. Can Sriram Raghavan make a film loosely based on Joaquin Phoenix's Joker, casting Ahlawat in the lead? I'll empty all the 954 bucks remaining in my hollow bank account. Jaideep: You're a gem & it's time you get your due. *bowing down in respect for you*.
Kareena Kapoor Khan's choice of this project is in itself an indication of how she has her vision crystal clear in choosing some meaningful subjects in her second innings. The subtlety she brings to Maya is precisely how a seasoned actor like her would perform. She keeps the oomph around her character alive and still be dead, shocked at what's going on.
In such a short span of his career, Vijay Varma has already heard all the positive things a performer craves, and the way he still keeps surprising with each of his performances screams the greatness of the performer in him. To stand tall to two solid performances in Jaideep & Kareena, Vijay does everything right, making him stand out of all the stalwarts. Saurabh Sachdeva is WOW! A few minutes after his performance, he exhales menace like a villain who can creep you out like anything.
Jaane Jaan Review Out! ( Photo Credit – YouTube )
Jaane Jaan Movie Review: Direction, Music
Sujoy Ghosh manages to hit a home run in the world of mysteries once again, keeping your brain hooked till the last minute of the film. Yes, the climax will initiate some debates around how it should have been, but I'll jump at Ghosh's side for keeping it different from the book & yet not making any mess out of the story. Jeethu Joseph's treatment of a similar story was on the other end of this spectrum, but they should've acknowledged the original source somewhere, is what I feel.
Clinton Cerejo & Bianca Gomes' band 'Shor Police' has composed the BGM, which heavily relies on sound design, keeping it as authentic as possible. The dull aura of the film is complemented well by the band's subdued score, keeping things mysterious and respecting the genre.
Jaane Jaan Movie Review: The Last Word
All said and done, Jaane Jaan is not only one of the best thrillers we've seen in Indian cinema but raises some ambiguity against this: another one of the best thrillers Indian cinema has ever seen. Nevertheless, it's an intriguing affair to the last second, with a performance to be remembered forever in Jaideep Ahlawat's Naren.
Three and a half stars!
Jaane Jaan Trailer
Jaane Jaan releases on 21st September, 2023.
Share with us your experience of watching Jaane Jaan.
For more recommendations, read our Love-All Movie Review here.
Must Read: Jawan Movie Review: Shah Rukh Khan Gets From South What Bollywood Failed To Do For Years!
Follow Us: Facebook | Instagram | Twitter | Youtube | Google News
The post Jaane Jaan Movie Review: Give Jaideep Ahlawat Every Acting Award Out There (& Indian Remake Of Joaquin Phoenix's Joker), Kareena Kapoor Khan Surrenders To The Brilliance Of Sujoy Ghosh appeared first on Koimoi.