movie reviews
Fursat Movie Review: Vishal Bhardwaj & Gulzar Sahab's Poetry Travels Time In This Short Film But The Ride Is A Bit Bumpy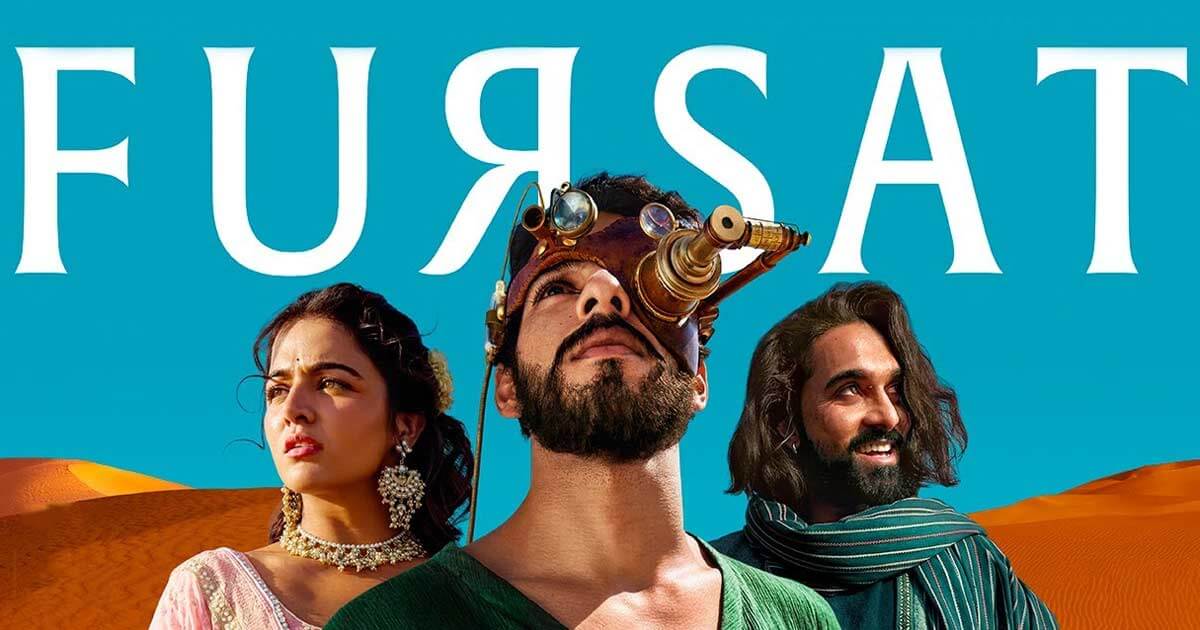 Fursat Movie Review Rating:
Star Cast: Ishaan, Wamiqa Gabbi, Salman Yusuf Khan, and ensemble.
Director: Vishal Bhardwaj.
Fursat Movie Review ( Photo Credit – Fursat Poster )
What's Good: VB trying his hands at different genres without forgetting his core by inducing an aching love story in it and of course having Gulzar Sahab by his side.
What's Bad: The idea flickers at some point because the execution feels too rushed to conclude.
Loo Break: You aren't allowed to ask that question here. Also, it's on YouTube, you could be on the hot seat while watching it.
Watch or Not?: There is nothing that comes out of the Vishal Bhardwaj X Gulzar Sahab universe that you should entirely ignore. How dare you even asked that question?
Language: Hindi.
Available on: YouTube
Runtime: 30 Minutes.
User Rating:
A man in love with his former fiancé fights time to save her on the day of her engagement. He gets his hands on a device that gives him glimpses of the future and that is how he takes up the job of saving the day. Does he manages to, is the film?
Fursat Movie Review ( Photo Credit – A Still From Fursat )
Fursat Movie Review: Script Analysis
A man is fighting the time and speed of a moving train to save his love from dying. He has seen the future and it is all dooms day if he doesn't manage to stop this train. There is maximum poetry even when Vishal Bhardwaj and Gulzar Sahab decide to make a 30-minute short film that too an idea that doesn't easily make way for it. With Apple in picture, it is now proved on a bigger scale that you need a substantial idea and a phone to make a film. But does Fursat turn out to be a bulletproof product? Let's find out.
Written by Vishal, Fursat finds its core in the emotion of love as the filmmaker is known for. A lover is trying to save his beloved while they are already in a strained relationship. To add the metaphor of fighting with the time and how their lives are standing on the unsettled ground, Bhardwaj mounts this story on a moving train. You see an engagement taking place in a lavish train compartment and the musical format lets the bride tell her state of mind and then quickly switch to reality.
Gulzar Sahab adds his poetry of longing very conveniently and beautifully to this arc where the man is running to save a woman who is secretly waiting for him to arrive. There are dacoits on the loose and the said train is under attack. The lover is ready to barter the biggest magic he possesses, a magical equipment that helps him see the future, with his beloved. Everything is going nicely until the film decides to wearing the most comfortable shoes and run at full speed.
After that point, every decision looks rushed and incomplete. The dacoit gets no time to shine as such and he ends up being just another character. The train suddenly has completely functional medical equipment to save a person who has had a cardiac arrest. And when he wakes up, everything is good with no problem or what so ever as everyone breaks into dancing. A very sore climax to a rather brilliant idea.
Fursat Movie Review: Star Performance
Ishaan is an actor so confident that he has done some of the dullest projects with the same enthusiasm. So when he gets a Vishal Bhardwaj movie, he is bound to take an effort and he does. The result is very good and the actor does manage to look very organic in the setup.
Talking of which Wamiqa Gabbi gets her second outing with the filmmaker and does justice to her part. The actors are expected to not just act but also perform some complex dance routines while being in the characters. Both of them do it quite well.
Fursat Movie Review ( Photo Credit – A Still From Fursat )
Fursat Movie Review: Direction, Music
Vishal chooses to go the musical way for this short film and leaves us fascinated with his frames. An iPhone can do this and more he proves. The musical parts of it are sheer magic because he has Gulzar Sahab and Shiamak Dawar with him to create a three-dimensional magical experience. As for the scenes, the filmmaker is skilled to ace it all.
The music of Fursat barring Kal Kahin is very situational. The chances of songs other than the aforementioned track are very rare but that doesn't mean they are bad songs. More of Kiran + Nivi, please! Tere Saath from Kuttey is still running on a loop here.
Salman Yusuf Khan does a decent job at being the dacoit but he is given a very one tone part to play and that limits him to be a stereotype.
Fursat Movie Review: The Last Word
Fursat somewhere gives us in India a sneak peek into the new era of filmmaking where phones will take over the gigantic cameras and filmmakers will have a playground to experiment even more.
Fursat Trailer
Fursat releases on 03 February, 2023.
Share with us your experience of watching Fursat.
For more recommendations, read our Pathaan Movie Review here.
Must Read: Gandhi Godse – Ek Yudh Movie Review: Rajkumar Santoshi's Comeback 'What If…' Drama Fails To Find Its Core & Ends Up Wandering In Its Technical Finesse
Follow Us: Facebook | Instagram | Twitter | Youtube | Google News
The post Fursat Movie Review: Vishal Bhardwaj & Gulzar Sahab's Poetry Travels Time In This Short Film But The Ride Is A Bit Bumpy appeared first on Koimoi.