movie reviews
Pathaan Movie Review: Shah Rukh Khan Gifts Every Second Of 4 Saal, 1 Mahina Aur 4 Din Back To His Fans In The Most Entertaining Way He Could!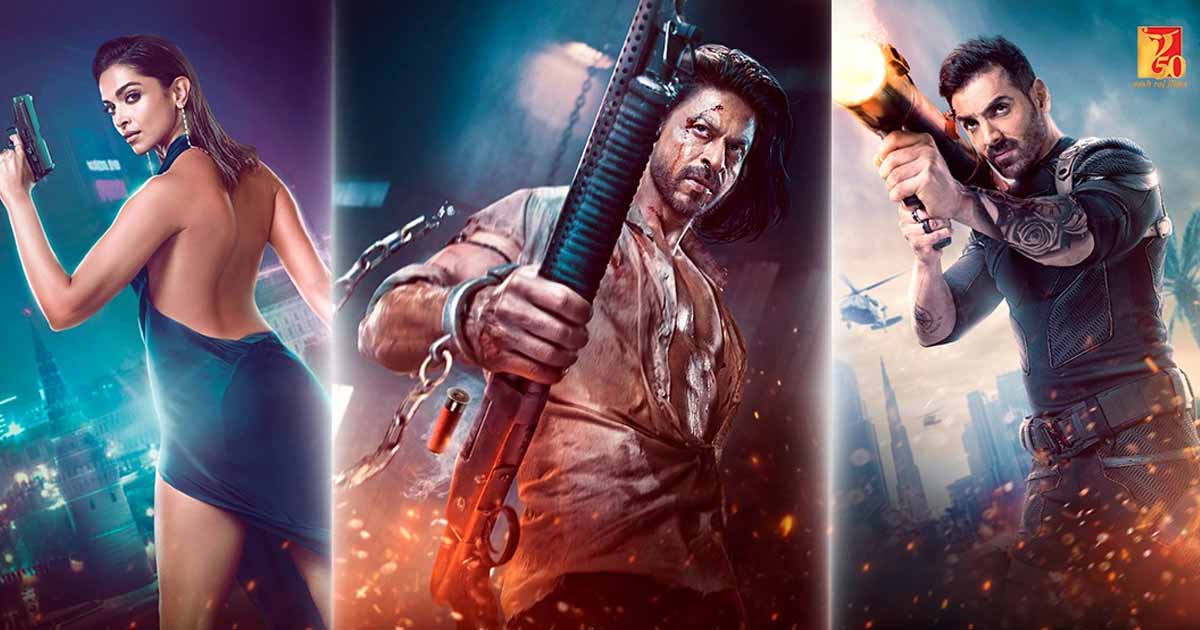 Pathaan Movie Review Rating:
Star Cast: Shah Rukh Khan, Deepika Padukone, John Abraham, Dimple Kapadia, Ashutosh Rana
Director: Siddharth Anand
Pathaan Movie Review Out! (Photo Credit –Poster From Pathaan)
What's Good: Shah Rukh Khan proving how a wounded lion is more dangerous than a hungry one, he runs after his prey not to satisfy his hunger but gratify his anger
What's Bad: The cinematography in moving action sequences goes for a toss, Satchith Paulose's (whose other notable work apart from this is Divine's track One Side) camera starts to rely heavily on below-the-par VFX hampering the watching experience
Loo Break: Nope, you might either miss a cool moment by Shah Rukh Khan or some already-heard dialogue
Watch or Not?: Watch it on the big screen, if you're. If you didn't like War, probably even this won't satisfy your quench as well
Language: Hindi
Available On: Theatrical Release
Runtime: 146 Minutes
User Rating:
Following the routine 'spy thriller' template, we have the good guy in India's best soldier/spy Pathaan (Shah Rukh Khan), we have a bad guy in Jim (John Abraham), we've "I could either seduce you to no limits to fall in love with me or kill you" kinda leading lady in Rubai (Deepika Padukone). Why Jim is the bad guy and Pathaan is the good guy is explained through some weak subplots. But the director forgets to focus on why Rubai is what she is.
Jim is creating a 'Raktbeej', a virus that could blow up an entire city and we all know in what country that would be – Bharat Maa (as referred by Jim). He calls himself the 'aashiq' of Bharat Maa which sounded kinda weird (could be just me). Pathaan is on a mission to stop him, Rubai is burning up the screen with her hotness & by using a machine gun respectively. Who, amid, all of this could jump in with a cold coffee glass in his hand to save Pathaan? Yep, right.
Pathaan Movie Review(Photo Credit –Still From Pathaan)
Pathaan Movie Review: Script Analysis
Only if looks could've killed, this film could've been a better killer. It suffers from 'War' syndrome, but not as worse. This spy thriller has some spy & some thrills but are they enough? Yes, and no. Yes, for they're enough to keep you intrigued for a while but no they're not as smart as you'd expect them to be. Siddharth Anand keeps style up & high on the priority list hence hampering the story side of the film which has usually been his weakness. Sridhar Raghavan's best work remains to be Bluffmaster, this comes with the great pressure of being 'grand' and he treats things with an overly generic treatment.
If War is the benchmark, this touches that safely but that film was just a 2.5/5 for me. What works better in Pathaan? To start with, the story isn't given the shi'twist' like Tiger Shroff's character being his duplicate in War. The twists in this will remind you of Abbas Mustan's times but that also somewhere makes it feel dated. It all starts extremely well going good till the first half, it's the latter half that reveals the brilliantly set twists in a not-so-interesting manner.
Pathaan Movie Review: Star Performance
Shah Rukh Khan brings back 'mass' to 'massala entertainment' and he's definitely one of the most charismatic 57-year-olds you'd witness on screen today. Just like Hrithik Roshan did with War, he carries the weak story of the film with his alluring aura. I wish he could've gotten better dialogues though.
Despite Deepika Padukone's Rubai is too smart to fool Pathaan & Jim single-handedly, why she has to dance in a bikini & seduce Pathaan every chance she gets is what I'd never understand about writing 'women' in Bollywood. She has looked as s*xy as a living soul in the history of mankind has ever could, but that's not should've been the takeaway.
John Abraham is as if not #HrithikRoshan he would have been Dhoom 2's Mr. A but the script restricts him to be just a failed prototype for the same. He holds the wicked bewitchery for a long time but he could've done more than what he has. Underutilised to fit in more things like… ahem… a generic cameo… ahem. Dimple Kapadia, too, falls into the trope of half-baked scriptwriting & ends up doing something that has been done by many before.
Ashutosh Rana doesn't get a whole lot of importance, he's just basic at its best. It's something he could do with his numbed brain. Salman Khan's cameo is as generic as it could've been. Many predicted what he'd be doing in the film & they were right. Though it seemed to be the only way of carrying forward the Spy Universe it's the easiest way to do that.
Pathaan Movie Review(Photo Credit –Still From Pathaan)
Pathaan Movie Review: Direction, Music
Siddharth Anand has always been the audience's director and he has done that job pretty well here as well. He has improved from War & it seems YRF is completely in the right direction with him. There are downs as well but those aren't enough to hamper the ups. From picking up the 'fingerprints through the honey-trap technique from Fast & Furious 5's Gal Gadot scene to a scene turning into a trippy Asphalt level, Sid tries to make things look as cool as possible, no matter if it's original or not.
Sanchit Balhara & Ankit Balhara's backg round score is an example of how films with this scale should be treated like. War had a similar plus point and the tradition of the brothers delivering bangers continues to thrive. All thanks to Vishal – Shekhar Besharm Rang's interlude with all the dhol is a certified banger & it adds that extra style quotient to the film. Jhoome Jo Pathaan's best thing is it doesn't interrupt your watching experience.
Pathaan Movie Review: The Last Word
All said and done, Pathaan is the perfect comeback material for Shah Rukh Khan as he gifts back his fans each & every second worth of the wait they did for, to be specific – 4 saal, 1 mahina aur 4 din.
Three stars!
Pathaan Trailer
Pathaan releases on 25th January, 2023.
Share with us your experience of watching Pathaan.
For more recommendations, read our An Action Hero Movie Review here.
Must Read: Cirkus Movie Review: Rohit Shetty, Ranveer Singh's Comedy Of Err…Errs Is A Tale Of The 60s That Should've Stayed In The 60s!
Follow Us: Facebook | Instagram | Twitter | Youtube | Google News
The post Pathaan Movie Review: Shah Rukh Khan Gifts Every Second Of 4 Saal, 1 Mahina Aur 4 Din Back To His Fans In The Most Entertaining Way He Could! appeared first on Koimoi.