movie reviews
Haddi Movie Review: It's Messy But There's Also Nawazuddin Siddiqui & A Surprising Anurag Kashyap To Cover It Up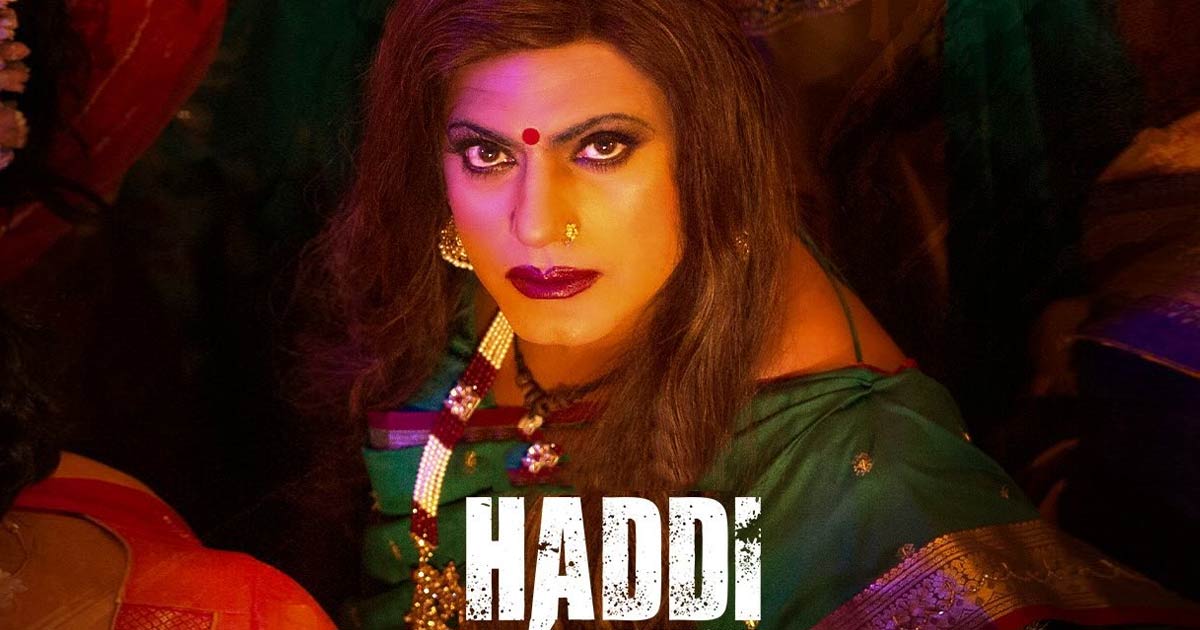 Haddi Movie Review Rating:
Star Cast: Nawazuddin Siddiqui, Anurag Kashyap, Mohd. Zeeshan Ayyub, Shriidhar Dubey, Vipin Sharma, Ila Arun, and ensemble.
Director: Akshat Ajay Sharma.
Haddi Movie Review ( Photo Credit – IMDb )
What's Good: You can see a filmmaker with an eye for intriguing, intense stuff budding. With some flaws, he is still better than many. Also, Anurag Kashyap needs to act more.
What's Bad: The structure of the movie is a tad confusing considering it shuffles to and fro a lot. The dramatics go into the soap opera zone only to be redeemed by Kashyap and his zest to create an eccentric but a dreadful villain.
Loo Break: Pause and take one, this is Nawazuddin trying his hands at something different but also good after a really long time.
Watch or Not?: Watch it because this is a filmmaker who deserves validation and motivation to get better. If you can walk through the flaws without getting bothered, you can tune in.
Language: Hindi (with subtitles).
Available On: Zee5
Runtime: 134 Minutes.
User Rating:
Haddi aka Hari aka Harika (Nawazuddin) is a trans person who is involved in everything shaddy. One fine day, he finds himself surrounded by cartels of a very dangerous syndicate and decides to work with them. But his intent is something very severe, and soon you realise all of it was pre-planned. How he takes his revenge and of what is Haddi.
Haddi Movie Review ( Photo Credit – Youtube )
Haddi Movie Review: Script Analysis
August and September have been interesting in order to see the progress in how the mainstream Hindi industry is looking at trans folks. The growing level of their representation, the stories being told without the barriers of 'them & us', the fact that they are more than being the antagonists who look dreadful and people who can be a part of your office team or your manager (Made In Heaven), they can even fight for their rights and be the speaker you listen to and imbibe (Taali). So when Akshat Ajay Sharma writes and directs a crime drama with a trans person in the centre, does he manages to surpass the stereotypes without using them? Pretty much, yes.
Akshat, for the unversed, has been a long-time student of the Anurag Kashyap School Of Cinema. Having worked on Manmarziyaan, Lust Stories, and Mukkabaaz as Assistant Director, and on Sacred Games and AK vs. AK as second unit assistant director, he has imbibed the essence of Kashyap's work and understands that most of the goriness is in the idea than visuals. But then he has also written Radhe Shyam, so that's there, too. When he joins hands with Adamya Bhalla, who writes his first feature film, together they create a very interesting narrative.
Haddi is about a person born a boy, but he realises that he has would that of a woman. A troubled and abused childhood later, he finally identifies himself as trans and also joins the community. It is the aggression throughout her existence that makes Haddi what she is. The pile-up of anger bursts one day when someone snatches everything she ever had, and she decides to avenge that. At the core of it, the plot of Haddi is very interesting. It doesn't look at its central character with a one-tone perspective, and neither does it ever look at her and the likes of her as an alien species. Instead, the treatment is so good that when Haddi romances with her husband, it is as normal to look at as a cis-gendered couple, and that is a victory.
The violence in Haddi is interesting, too. It is gory but in idea. Visually, there are a couple of scenes that do make you look away from the screen, but they are needed. The writing genuinely takes effort to build three-dimensional worlds for every primary character it introduces. A trait one expects from a person who has worked with Anurag Kashyap so closely. The empathy in Haddi is subtle and lands well even when the entire world is that of greys.
What doesn't land well is how the writers shape the flashback. The treatment gets to daily soap opera like, and the romance is also very surface-level. It all screams for representational and explanatory purposes only while it is an integral part of the entire narrative. This in turn, makes the drama peak too and works against the nuanced tone that the makers actually want to reflect.
Haddi Movie Review: Star Performance
The conversation around casting real Trans folks is very much valid here, too. While the fact that you need a star pull in the lead so you cast a cis-gendered person to play trans character is okay (still arguable, but we have come a long way, and everything doesn't change overnight), but why not cast actors from the community in the secondary spaces? Ila Arun is a prolific actor, and her screen presence elevates the movie notches higher, but the room to include a real transgender woman was open too wide there, but the makers didn't bother.
Nawazuddin Siddiqui needs to go back to the time he used to make movies that spoke to hearts rather than brains and pockets. The actor with Haddi takes a step towards that. Of course, his performance isn't bulletproof and to the mark, but it is a great attempt to create a character one couldn't have imagined you in. While Haddi is written in phases, so it gives room to Nawaz for breathing in his real skin multiple times, the actor shines in the climax.
What is stopping Anurag Kashyap from taking up more acting assignments? His approach to creating a villain is super fresh. He doesn't mimic the iconic bad men but instead takes cues from the pulpy antagonists and makes something of his own. He is eccentric but also aware of the times he is living in. He understands politics, draws plans from the scams of politicians from the history; he takes a jibe at the 'Bullywood' trolls; he is also very dreadful. You laugh at his antiques and are scared of his wrath. Such a great performance.
Everyone else take efforts in shaping their parts and did a very good job in the process.
Haddi Movie Review ( Photo Credit – Youtube )
Haddi Movie Review: Direction, Music
Akshat Ajay Sharma's directorial instincts are very strong. He knows what should be in the frame and what shouldn't. You can see he deserves a couple of more chances to bloom and bring something much more interesting to us. With DOP Piyush Puty and Jay Oza, he creates visuals that are lucrative. They use lights to the maximum to create that effect and don't even try to hide them. The frames are decent enough to keep you hooked. Especially in Ila Arun's den and a very gory scene, the camera does a great job.
But Akshat goes completely soap opera in the climax; it feels like a disjointed part of the movie and not a very organic climax. It plays up to make you feel a certain uproar, but that doesn't land well; it is Nawazuddin's performance that doesn't let it go entirely in the wrong direction. The music by Rohan Rohan is pretty interesting. It is fresh and not stereotypical. It is yet to grow on me, but there's a Rekha Bharadwaj track, and it's soulful.
Haddi Movie Review: The Last Word
Haddi is very interesting and has an intriguing perspective. Watch it for some good acting performances and a budding director.
Haddi Trailer
Haddi releases on 07 September, 2023.
Share with us your experience of watching Haddi.
For more recommendations, read our Jawan Movie Review here.
Must Read: Dream Girl 2 Movie Review: Before Hera Pheri 3, Let's See How To Ruin One Of The Best Comedies! (Dil Ka Telephone Nahi Karta Ring Ring)
Follow Us: Facebook | Instagram | Twitter | Youtube | Google News
The post Haddi Movie Review: It's Messy But There's Also Nawazuddin Siddiqui & A Surprising Anurag Kashyap To Cover It Up appeared first on Koimoi.