movie reviews
Jawan Movie Review: Shah Rukh Khan Gets From South What Bollywood Failed To Do For Years!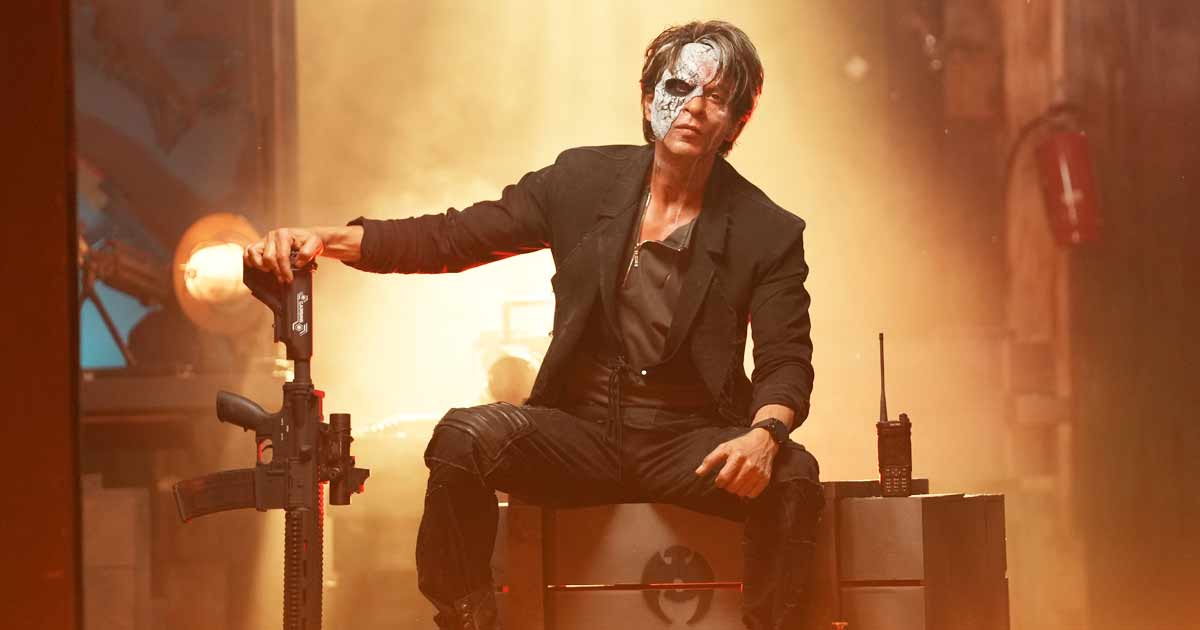 Jawan Movie Review Rating:
Star Cast: Shah Rukh Khan, Nayanthara, Vijay Sethupathi, Sanya Malhotra, Sunil Grover, Deepika Padukone
Director: Atlee
Jawan Movie Review Out ( Photo Credit – IMDb )
What's Good: Anything and everything that has Shah Rukh Khan
What's Bad: Anything and everything that doesn't have Shah Rukh Khan
Loo Break: It's almost 3 hours; you'll have to take a minimum of 2 breaks, one natural occurrence & 1 more because it's nearly 3 hours
Watch or Not?: Even if you don't enjoy the typical commercial potboilers, watch this for Shah Rukh Khan!
Available On: Theatrical Release
Runtime: A lot! 2 hours 49 minutes
User Rating:
The mummy-form SRK, who shatters every last of his enemies, is seen asking, "Main Kaun Hoon?" (Who am I?) with the expression those actors have who are brought back to the shows after being in a Coma for months because of the high-payment demand. A kid promises him, "I'll find out who you're when I grow up!" adding to the typical Atlee drama.
Thirty years later, we've Vikram Rathore SRK, a police officer turned Robinhood. He's doing everything the government should do to make things easier for the citizens. Now, is Vikram the same SRK we saw at the start? Or they're different people? If they're indeed different, who are they? That's what the storyline is all about.
Jawan Movie Review Out ( Photo Credit – YouTube )
Jawan Movie Review: Script Analysis
Upon going through Atlee's filmography, you'll realise how there's one massive commonality between all of them; it's the way he makes films for a larger section of the audience. That's one of the significant reasons Gadar 2 did so well; it was made for a section that comprised more than 70% of the theatres-going crowd in India. Atlee unabashedly has been doing the same thing since forever.
Jawan is designed so that when you start feeling it's getting dragged, a 'seeti-maar' sequence will await you. You can see Shah Rukh Khan visibly enjoying while wearing all the different hats in the film. For some reason, Shah Rukh Khan takes a little excessive effort in dubbing for the Hindi version and comes across as a bit of 'extra' regarding voice-to-body movement. Yes, it'll remind you of Aparichit, Gabbar Is Back, but this is better designed (than Gabbar…) to be a true-blue masala film.
Following Atlee's direction pattern, you'd notice how he directs Multiple films in one film. His focus on fans-worshipping heroism is the most crucial thing, probably more important than the story and the screenplay. G. K. Vishnu's cinematography excels in the action scenes, not in the slo-mo ones, but it's again the ground action, the hand-combats that get the most detailed camerawork.
Jawan Movie Review: Star Performance
Shah Rukh Khan delivers probably his best performance when it comes to his stint in commercial cinema. Raees & Pathaan are good examples; this one adds a layer of portraying multiple characters, and SRK nails it yet again. Three of his characters leave a mark, and the rest just fuel the cluttery narrative.
Character-wise, Nayanthara gets a decisive role to play against Shah, but I wish it had more depth to cause some Influence on the storyline. She looks breathtaking in each and every frame she's in. Vijay Sethupathi is a far superior actor than what he's made to do here. He deserved better writing. From the supporting cast, Sanya Malhotra & Sunil Grover fail to leave any mark. Deepika Padukone, in her special cameo, looks oomphy in her 90s avatar donning some super-sensual sarees.
Jawan Movie Review Out ( Photo Credit – YouTube )
Jawan Movie Review: Direction, Music
Atlee has studied extensively and knows precisely how to play with the nerves of the Indian audience. With Jawan, he serves precisely what would be lapped up by an Indian audience with some additional masala.
Anirudh Ravichander loses out on songs but wins big on the background score. You won't listen to the routine 'speed-breaking' songs, but you surely vibe to the orchestral magic he has created with the instruments.
Jawan Movie Review: The Last Word
All said and done, Jawan will always be remembered for Atlee's extraordinary way of giving Shah Rukh Khan a befitting tribute, proving why he's, for all reasons, 'the last of the stars'.
Three stars!
Jawan Trailer
Jawan releases on 07th September, 2023.
Share with us your experience of watching Jawan.
For more recommendations, read our Dream Girl 2 Movie Review here.
Must Read: Goldfish Movie Review: A Delicately Tender Look At The Melancholy Of Age & Living With A Person Slowly Walking Towards Darkness Ft. The Stellar Deepti Naval & Kalki Koechlin
Follow Us: Facebook | Instagram | Twitter | Youtube | Google News
The post Jawan Movie Review: Shah Rukh Khan Gets From South What Bollywood Failed To Do For Years! appeared first on Koimoi.