movie reviews
Sukhee Movie Review: Tries To Be A Modern Film About Women Oppressing Their Aspirations Only To End Up Pretentious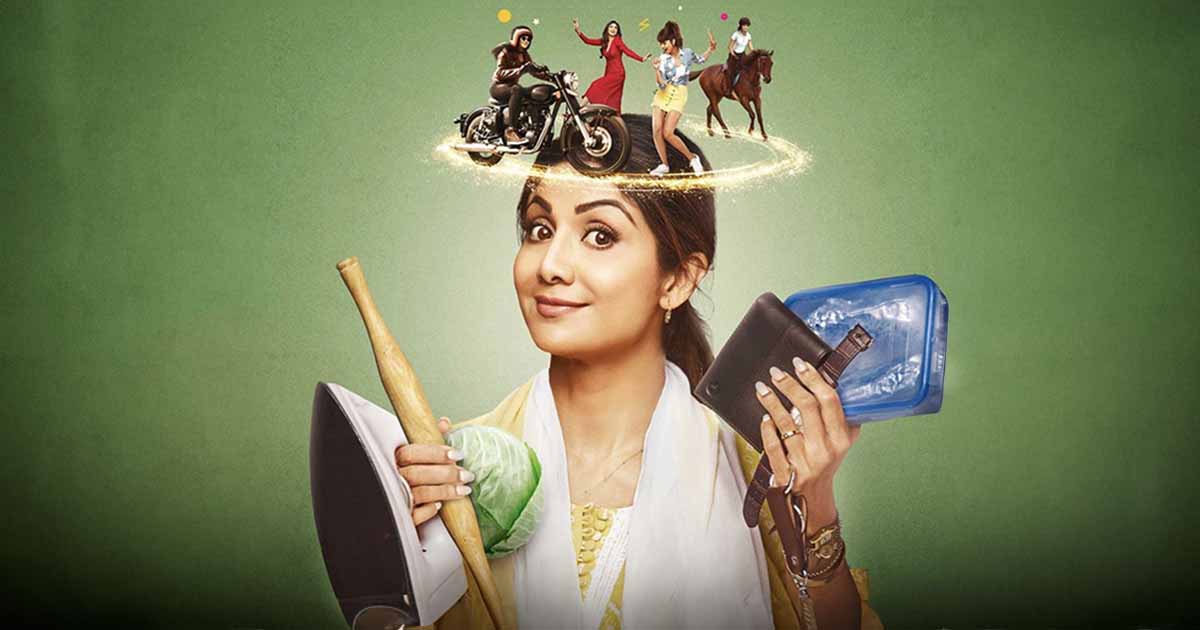 Sukhee Movie Review Rating:
Star Cast: Shilpa Shetty, Kusha Kapila, Dilnaz Irani, Pavleen Gujral, Amit Sadh, Chaitannya Choudhry, and ensemble.
Director: Sonal Joshi.
Sukhee Movie Review (Picture Credit: IMDB)
What's Good: The second half of the movie, for sometime, gets away from pretending and tries to have a conversation for real.
What's Bad: But the ghost of the first half never lets it have that conversation with the seriousness it deserves, and nor does the sarcasm lands like it should.
Loo Break: Not something you cannot connect if you miss a sequence.
Watch or Not?: Wait for an OTT release maybe. Not a movie that has too much to offer.
Language: Hindi.
Available On: In Theatres Near You.
Runtime: 141 Minutes
User Rating:
A homemaker, Sukhpreet Kalra aka Sukhee (Shilpa), is suddenly reminded of her teenage days when she was a force to reckon a girl with dreams to win the world and not being stuck with a man child all her life. A college reunion is due, and she meets her girl gang after decades only to realise she is worth very much more than she already has on her plate.
Sukhee Movie Review (Picture Credit: Youtube)
Sukhee Movie Review: Script Analysis
Exploring the feminine energy and the voice ignored in cinema is an era that needs to be celebrated and promoted. Stories now talk about the aspects of a female existence that were taboo for the longest in a society that avoided even the word s*x in daily conversations. Filmmakers now are indeed exploring these subjects, not in the most perfect manner but yes, the change is definitely much needed. In these times, when three women decide to make a film about women who have oppressed their aspiration, is it okay if she talks about it in broad strokes mostly? Not really.
Sukhee, written by Sonal Joshi, with story by Radhika Anand, and Paulomi Datta on screenplay, is an idea that does hold some water. We have seen countless such women who were once a force to reckon with, but times and marriage have chained them to their responsibilities towards their world and kill the ones they have towards themselves. It is about a homemaker who, on the face of it, is a perfect 'Adarsh Bahu' made in the Ekta Kapoor factory. But there is more to her. And the transition where Sonal with team wants to tell you this is where Sukhee loses the water it was intending to hold for almost 2.5 hours.
Yes, there are mentions of many taboos and problems women suffer, but they are mere mentions and never deep dive. How long are we going to only include tokenism and call it a movie of our times and expect the audience to be in sync? The sanitization of Sukhee is very bothering because everything is just simple. The first half majorly revolves around Sukhpreet's mundane life, which includes one redemption in her grandfather-in-law. But everything else is just written in broad strokes. The microaggression she holds, the oppressed wild and free person that peeps out of her once a while, only get mentions and never the visual translation.
Sukhee tries to be very substantial but is only borderline limited to a couple of conversatios. Best friends meeting after 20 years will have a gradual re-establishing of a bond. It is indeed rewarding to see female friendship grow and bloom with time, and a woman in the commanding chair should have known better. The subtlety goes for a supreme toss because Sukhee wants to throw everything at your face. In 4 days, it wants you to believe that the world has moved at least a month forward because that many things happen. There is so much in the movie that needed attention and screen time, but the makers instead want to overstuff it.
The second half does have something to offer when it tries to explore the nuances rather than running towards an end that could be a banger but ends up being the most convenient. The best part is when the friends finally scream their problems loudly. When a respectful man reminds Sukhee of the love he has held to for 2 decades, inturn reminding of her husband, who is now a manchild. These are the vulnerable moments that deserve to be cooked more. Even the climax has Sukhee opting for her self-respect and the lost version, but soon, she succumbs to the very idea that we are being fed for ages. What was the cause of your product, then?
Thappad didn't end on a breaking note, but on that meant they are about to repair the broken but staying afar. Take the cue.
Sukhee Movie Review: Star Performance
While Shilpa Shetty has a screen presence that is unique to her, and that is why she is relevant for these many years, her vanity makes Sukhee look unreal for most of the first half. She is a homemaker in a small town called Anandkot, but she wakes up to a face full of makeup and blush that is perfect. Her nails are manicured and the most immaculate, even after her daughter tells her to make kebabs. All of this in a small town. The actor tries too hard to make Sukhee a woman who is vulnerable and even manages to a certain extent, but it doesn't look at effortless.
Chaitannya Choudhry gets to play the most nicely written-part. A man-child who thinks he is entitled to the best thing and his wife is the reason for everything bad happening to him. We meet such men everyday; maybe I am one of them. One he feels real and not one written for the screen. The actor also plays the part with all he has got.
Kusha Kapila plays an extension of her social media avatar, and it comes naturally to her at this point. But with Dilnaz Irani, and Pavleen Gujral, they end up being just tick marks on a checklist that Sukhee needs to motivate herself. Their problems are mentioned in a couple of scenes but never looked into. Amit Sadh is suddenly the daddy Internet deserves and plays this part in an adorable way.
Sukhee Movie Review (Picture Credit: Youtube)
Sukhee Movie Review: Direction, Music
Sonal Joshi, as a director, is clever because she knows what part of this world needs to be on camera to make a difference. But again the, sanitization is a problem. A washroom at a local bus stop cannot be this clean. Also, she tries to pack Easter Eggs as she casts Kiran Kumar as Sukhee's father, and he is still mad at her for eloping (Dhadkan reference). But everything looks so not fresh, and the tokenism only makes it even more difficult.
The music is average, and this time, T-series chose to kill another of Ali Sethi's renditions by making a very mediocre version of it. Chan Kitha is rich, and just an Ayushmann Khurrana cannot save it, you guys.
Sukhee Movie Review: The Last Word
Sukhee is a story that is indeed important, but when told with a nuanced gaze and not in broad strokes.
Sukhee Trailer
Sukhee releases on 22nd September, 2023.
Share with us your experience of watching Sukhee.
For more recommendations, read our Goldfish Movie Review here.
Must Read: Love-All Movie Review: Kay Kay Menon Leads A Simple Story With A Beating Heart, But…
Follow Us: Facebook | Instagram | Twitter | Youtube | Google News
The post Sukhee Movie Review: Tries To Be A Modern Film About Women Oppressing Their Aspirations Only To End Up Pretentious appeared first on Koimoi.