movie reviews
Sirf Ek Bandaa Kaafi Hai Movie Review: There's Only One Manoj Bajpayee & He Is Busy Crossing His Own Benchmarks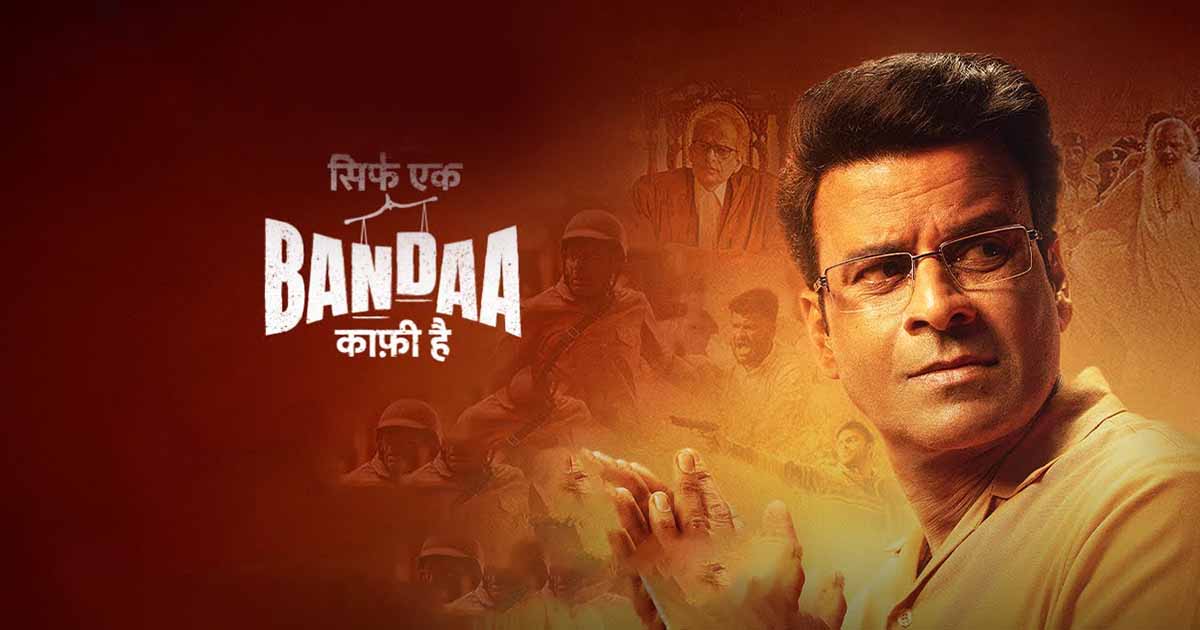 Sirf Ek Bandaa Kaafi Hai Movie Review Rating:
Star Cast: Manoj Bajpayee, Surya Mohan Kulshreshtha, Vipin Sharma, Adrija Sinha, and ensemble.
Director: Apoorv Singh Karki.
Sirf Ek Bandaa Kaafi Hai Movie Review (Picture Credit: ZEE5/Youtube)
What's Good: the impeccable artist that Manoj Bajpayee is, and his art to not let the shortcomings of the product shine.
What's Bad: While focusing on its 'Bandaa,' the film forgets to highlight many important aspects.
Loo Break: While the execution is like reading a book with a very flat storytelling method, there is a stellar Manoj Bajpayee who will stop you from taking one.
Watch or Not?: Watch it for how much more Bajpayee still has left in him, even after giving the art his all for almost three decades.
Language: Hindi (with subtitles).
Available On: Zee5.
Runtime: 132 Minutes.
User Rating:
A minor teenage girl Nu (Adrija), decides to file an FIR against the most revered God-man in the country and rubs shoulders with the most dangerous people. In no time, the world is against her, and a naive but cunning lawyer PC Solanki (Manoj) becomes her refuge. Fighting for half a decade, he makes sure Nu gets justice.
Sirf Ek Bandaa Kaafi Hai Movie Review (Picture Credit: ZEE5/Youtube)
Sirf Ek Bandaa Kaafi Hai Movie Review: Script Analysis
Cinema that brushes shoulders with reality but is shaped as a fictional story has become the flavour of many seasons now. This very month has another project following the trait, Dahaad. 9 out of 10 times, they end up becoming just half-hearted replication of real-life events like a Crime Patrol episode. But there are these rare times when actors in the writing find their moments and make the content on paper breathe regardless of its loopholes, and this one falls in that very category.
Written by Deepak Kangrani, Sirf Ek Bandaa Kaafi Hai takes cues from the infamous Asaram Bapu case. A 16-year-old girl had accused the self-styled Godman of r*ping her at his Ashram in Jodhpur. He was soon arrested, and after a five-year-long battle with multiple witnesses who were attacked or missing, Asaram was put behind bars for the rest of his life. Bandaa follows the same story but changes names, and we all get it why. It isn't an easy time to make films about certain elements.
The smartness in the writing and the makers resides in how they pitch their main man. It is a tricky path to shape a movie that involves the religious element and talks about Gods. So they shape Solanki as a man who is supremely holy, so to so that he enters the movie while he is praying. So it isn't the clash between believers and atheists, but it is a believer against the believers. Of course, for one, God doesn't back injustice, and for many, it is one 'Man' they look at as God. The clash gets interesting at this very point.
The movie gets interesting because the guy we are supposed to put all our bets on is not confident about himself at first. He is just an ordinary man who has a hidden fanboy in him when he sees some legendary advocates walking around him. It is the moment where he has to stand against the very idols in the next minute that defines the movie. The focus is always on the Bandaa, who is one who rises from the ordinary and defeats everyone who sides with the wrong. While Bajpayee is capable of holding this part, the film dips beyond him.
Yes, just like its title suggests, the movie is shaped towards just one person, and it is not the victim but her saviour. The movie doesn't give anything beyond him the weightage it deserves. While the viewing experience isn't destroyed because of that fact, but it is somewhat bothering because neither the struggles of the victim's family after going against possibly the biggest God man, nor the God man himself nor the dissection of his realm get the spotlight. Even Solanki's family isn't explored well.
Of course, it is a safe game because, somehow or the other, these characters resemble real people. But it is nonetheless an almost brave movie. But I cannot ignore the fact that Ram Jethmalani's name is mentioned in the cast credit roll but dubbed as Ram Chandwani in the movie. A censor board advice maybe? For the unaware, Jethmalani is one of the many legendary lawyers hired to fight for Asaram to bring him out of the jail.
Sirf Ek Bandaa Kaafi Hai Movie Review: Star Performance
Manoj Bajpayee is an icon and one that rises from the common man. He isn't a superstar, and that is his biggest weapon because he is relatable. As PC Solanki he is so vulnerable yet so strong. He makes decisions that will make him famous and serve his moral compass but is also in double minds about them when the risk flashes in front of him. There is so much depth in his performances as a lawyer who switches between a fanboy to an opponent in a blink of an eye. The legend only sets new thresholds for himself and then breaks them with his next project.
He is supported by some very good actors like Vipin Sharma, Surya Mohan Kulshreshtha, and more. Adrija Sinha is placed between these aced performers, and she doesn't disappoint. In whatever screen time she gets, she makes sure she proves herself even with a covered face with only eyes visible to the audience.
Sirf Ek Bandaa Kaafi Hai Movie Review (Picture Credit: ZEE5/Youtube)
Sirf Ek Bandaa Kaafi Hai Movie Review: Direction, Music
Apoorv Singh Karki, who makes his feature debut, is quite confident. The filmmaker knows how to translate emotions on screen subtly because he has projects like Aspirants and Saas Bahu Achaar Pvt. Ltd. In his kitty. You can see that translate in Bandaa too, when Bajpayee gives his monologues that looks like a war-ending note but are also subtle in nature. The outburst never feels overdramatic because they are balanced well with the flat tone otherwise. Yes, the execution does go flatter than required in parts, because when you are supposed to be afraid, you don't feel the chills like you are supposed to.
Music is average and does the required job. Camera work takes the usual path and makes the movie watchable.
Sirf Ek Bandaa Kaafi Hai Movie Review: The Last Word
It is a masterclass about how an actor can hold an entire movie on his skilled shoulders. Manoj Bajpayee doesn't blow life in this movie; he is the life of the film.
Sirf Ek Bandaa Kaafi Hai Trailer
Sirf Ek Bandaa Kaafi Hai releases on 23th May, 2023.
Share with us your experience of watching Sirf Ek Bandaa Kaafi Hai.
For more recommendations, read our The Kerala Story Movie Review here.
Must Read: Chatrapathi Movie Review: Sai Srinivas Bellamkonda Leads A Spoof Of Mass Entertainers Ft. A Scammed Nushrratt Bharuccha
Follow Us: Facebook | Instagram | Twitter | Youtube | Google News
The post Sirf Ek Bandaa Kaafi Hai Movie Review: There's Only One Manoj Bajpayee & He Is Busy Crossing His Own Benchmarks appeared first on Koimoi.