movie reviews
Zwigato Movie Review: Kapil Sharma Delivers With A Smile, But The Content Is Soggy!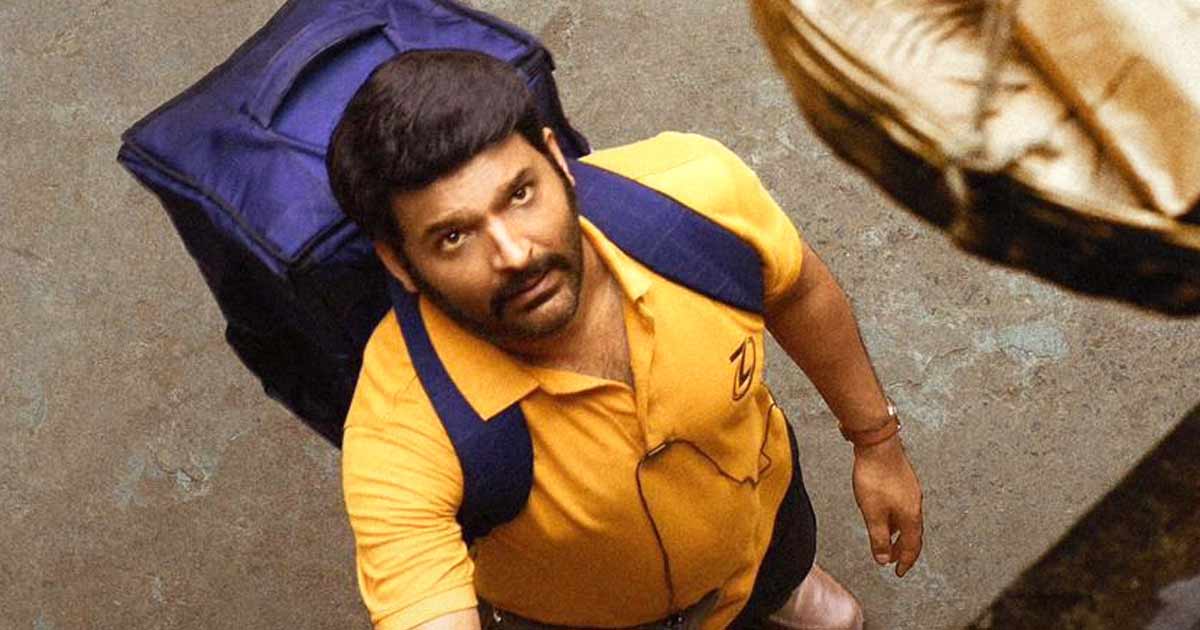 Zwigato Movie Review Rating:
Star Cast: Kapil Sharma, Shahana Goswami
Director: Nandita Das
Zwigato Movie Review Out!  ( Photo Credit – Poster from Zwigato )
What's Good: Watching Kapil Sharma outside The Kapil Sharma Show & actually liking him!
What's Bad: The central premise of the story doesn't justify its technical brilliance
Loo Break: Despite being just a little over 100 minutes, you'll check your watch for few times
Watch or Not?: Not in a theatre, for sure!
Available On: Theatrical Release
Runtime: 105 Minutes
User Rating:
Manas Singh Mahto (Kapil Sharma), a food delivery rider, wakes up to a twisted dream on a train in which he's looking for a 'Sugam Form', which he is informed is an application for anyone to get a Government job. Of course, he wakes up getting back to his gig job of trying to deliver as much food as he can for more incentives/commission.
While he struggles to bring in enough for the family, his wife Pratima (Shahana Goswami) insists on getting the sweeper's job in a shopping mall. Manas, of course, gets insecure at one point, but it's all about how he finds a ray of hope to live a life that isn't really anywhere even close to 5-star.
Zwigato Movie Review Out! ( Photo Credit – Still from Zwigato )
Zwigato Movie Review: Script Analysis
Nandita Das & Samir Patil's story of a poverty-stricken man finding his way through life is extremely beautiful in parts. Scenes featuring a Muslim delivery guy who is afraid to go to a temple to deliver food and a person getting declined from getting a Government job probably because of his cast harms more than favouring the film. I totally understand the reason behind including these scenes & I'm all up for it in any movie apart from this.
Moments like these & slower down the already monotonous treatment of the narrative. On watching the trailer, I thought it'd speak for the entire service class through Kapil's character, but that's not happening because the story bites off more than it can chew. It spreads itself too thin to achieve anything to master at. Bombay: Our City's cinematographer Ranjan Palit knows how to capture the narrow, gloomy lanes in sync with the down-and-out thoughts of the character's mind.
Zwigato Movie Review: Star Performance
Kapil Sharma lies somewhere between being a complete miscast and nailing the character out of the park. His real-life backstory helps to connect with the innocence of Manas, but his 'comedy master' tag also proves to be a hindrance at times. More than the natural acting, at places, it feels like he's pretending to act.
Shahana Goswami is Shahana Goswami & there are no two schools of thought that there could've been a better Pratima than her. But, yes, Nandita could've written a better Pratima than what she currently has.
Zwigato Movie Review Out! ( Photo Credit – Still from Zwigato )
Zwigato Movie Review: Direction, Music
Nandita Das loves to cook movies on a slow burner as much as we love to see them. But this one doesn't just drag at places; things start to get monotonous way sooner than they should. The lead jumping from one delivery to another, with the struggle, of course remaining the same, is something not many would be able to sit through without a break.
Sagar Desai's background score is as minimalistic as it can get complimenting Nandita Das' narrative at its optimum best. Hitesh Sonik delivers once again & he's probably the only guy who can give a chilling BGM in a film like Mrs Chatterjee Vs Norway & then deliver songs in a movie like Zwigato, releasing in the same week. His wife, Sunidhi Chauhan's Yeh Raat, adds the perfect melancholic touch one would expect from a film of this nature.
Zwigato Movie Review: The Last Word
All said and done, the silver lining is that stars like Kapil Sharma are willing to explore such genres of cinema, but it'll take a lot more than an actor's willingness to master such stories.
Two and a half stars!
Zwigato Trailer
Zwigato releases on 17th March, 2023.
Share with us your experience of watching Zwigato.
For more recommendations, read our Gulmohar Movie Review here.
Must Read: Shehzada Movie Review: Kartik Aaryan's Remake Nails The Worst & Screws With The Best Parts Of Allu Arjun's Ala Vaikunthapurramuloo
Follow Us: Facebook | Instagram | Twitter | Youtube | Google News
The post Zwigato Movie Review: Kapil Sharma Delivers With A Smile, But The Content Is Soggy! appeared first on Koimoi.