movie reviews
OMG 2 Movie Review: Giving This Pankaj Tripathi Film An Adult Certificate Might Be The Most Dumbest Thing Done By CBFC, Dumber Than What They Did To Oppenheimer!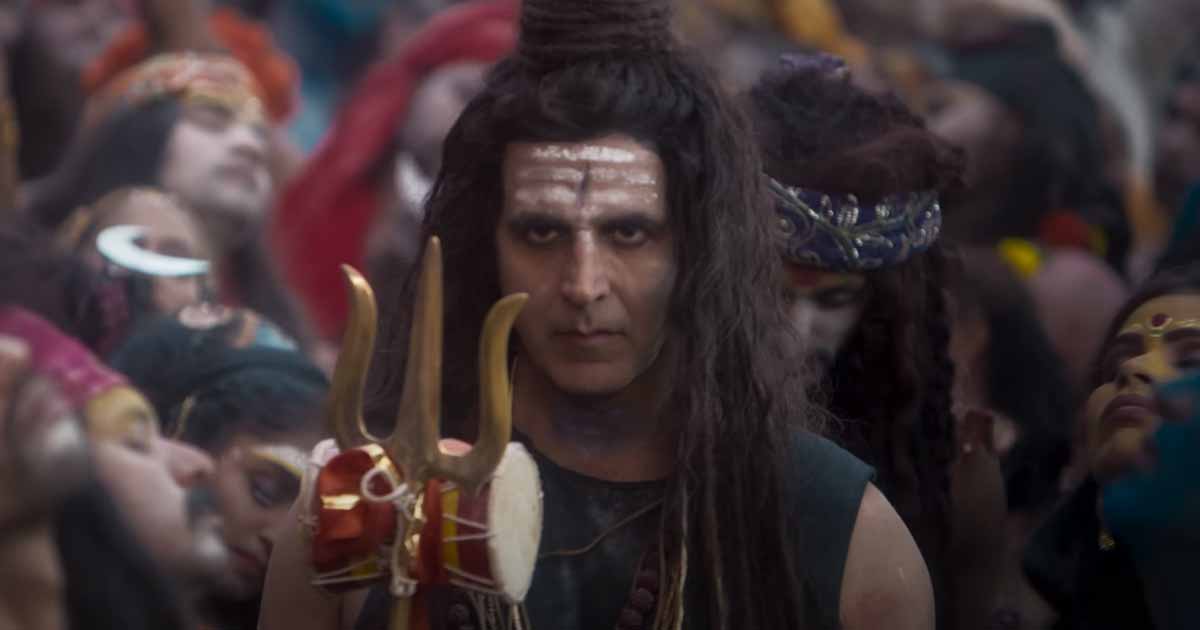 OMG 2 Movie Review Rating:
Star Cast: Pankaj Tripathi, Yami Gautam, Akshay Kumar, Govind Namdeo, Pavan Malhotra, Brijendra Kala, Arun Govil
Director: Amit Rai
OMG 2 Movie Review Out! (Picture Credit: Youtube)
What's Good: Bringing in a social cause mixed with accurate entertainment
What's Bad: Every frame tries to remind you of the first one because it falters mostly every single time
Loo Break: Yep, before & after the film or during the interval
Watch or Not?: Try to watch it not thinking about the first one much
Language: Hindi
Available On: Theatrical release
Runtime: 155 minutes
User Rating:
A wise man once said "We all know the dangers of sequels. Lightning doesn't strike twice in the same place too often, and think you've got to move beyond it, go the extra mile and have the courage not to just repeat the first one." The man was Kingsman's (the good one) Harry Hart Colin Firth and it kind of fits in well with a film that is important but somewhere suffers from the SCS (nope, not the rare congenital disorder) 'Sequel Comparison Syndrome'. Let's filter out the similarities first, Akshay Kumar is in a god-like avatar but this time he chooses to help not an atheist like Kanji Lal Mehta (Paresh Rawal) but this time it's his favourite devotee Kanti Sharan Mudgal (Pankaj Tripathi). The link that connects both the Kanjis is that they both aren't lawyers by profession but beats the best lawyers in town with the help of god.
By now, if you don't know the story of this film revolves around a teenage son getting bullied and shamed for masturbation in his school, you need to read more about Bollywood (for that stick to Koimoi.com, nope I wasn't paid extra to plug this in). So, an ardent worshipper of Lord Shiva Kanti faces an incident where he along with his son is shamed for the mentioned sub-plot; he decides to fight a legal case against the school designing an entertaining courtroom drama that would remain to be the best thing about the film also involving the defence lawyer Kamini (Yami Gautam).
OMG 2 review (Picture Credit: Youtube)
OMG 2 Movie Review: Script Analysis
The first part was released with the solid backing of Bhavesh Mandalia's Gujarati play Kanji Virudh Kanji & Billy Connolly's film The Man Who Sued God. Umesh Shukla baked this brilliant concept of an ordinary atheist trying to sue god for the 'act of god'. This time things take a turn in which the Lord Shiva's devotee (as enforced by some great minds working at the CBFC) helps his favourite devotee not just win a case but also has the pressure of reminding people that m*sturbation is a healthy act.
The conflict is more real and it hits home mostly. Mostly because it loses the balance at times and things get too convenient to be true. One such case is the way Lord Shiva's devotee's character involvement with Kanji's life is way weaker than what it was in Umesh Shukla's film. Now, that might be because it's the issue that plays the anchor here making the film strong and weak while helping and hurting it. The super interesting debates in the courtroom are laid on a weak base of building the conflict by Writer-Director Amit Rai. The defence is not that strong and comes across as preachy in the answer to Kanji's well-thought attacks.
It preaches how Sanatan Dharma has been astoundingly modern for ages & how we should do everything possible to keep things as they're intended to be also shedding light on how sex education is important for the betterment of society. How many Padmaavats more before we decide to modify how the censoring scissor works on our films?
OMG 2 Movie Review: Star Performance
Pankaj Tripathi proves how it is possible to not only fill the shoes of a flawless performer but also walk in swag while owning those kicks. Tripathi adds his magic which doesn't let you remember that there has been a Kanji before. It also is because of the well-founded character sketch that he gets to do things in his way while keeping the soul of the character alive. There's a scene in which he bows down to a sex worker and that's exactly what we should do to the actor in him.
Yami Gautam does her best but she isn't as lucky as Pankaj when it goes to having a solid backing of the script. She's at the receiving end getting dumbed down every single time without letting her build a substantial defence. She's the famous-yet-losing lawyer but flourishes in the conversational scenes with Pankaj going neck-to-neck with him. Yami is staunch, Kamini is not.
Akshay Kumar's god-like avatar isn't as involved but lends the right support to the protagonist. His connection with Kanji is one of the main reasons why I would pick the OG OMG over this on any given day. The innocence of Lord Krishna is replaced with the omniscient nature of Lord Shiva and he has played both equally well. He's so on-point that you'd want more of his sequences with Kanji Bhai.
Govind Namdeo, Arun Govil aren't as strong as the supporting cast we saw in the prequel and are just about adequate. Pavan Malhotra gets his moments to shine and he grabs each and every one of them. The actor playing Pranlal Mutho is hilarious and he deserved more screen presence.
OMG 2 review (Picture Credit: Youtube)
OMG 2 Movie Review: Direction, Music
Amit Rai take the easiest route to execute the script. Apart from the subject that's sensitive, not a single risk has been taken to make the film look and feel better than what it is. Some visual effects will take you back to the days of using Microsoft Paint.
The background score is so bland that it doesn't help a single scene. The 'damru' bgm on Akshay's character has been repeated throughout. None of the songs click.
OMG 2 Movie Review: The Last Word
All said and done, this film is brilliant in the 'must-talk-about' concept which tries to achieve things conveniently. I had all the plans to rate this a 3/5 but Akshay Kumar & team's courage to serve a sensitive topic in an entertaining way deserves a .5 more for the vision.
Three-and-a-half stars
OMG 2 Trailer
OMG 2 releases on 11 August, 2023.
Share with us your experience of watching OMG 2.
Must Read: Trial Period Movie Review: A Sweet Harmless Film Mostly Written In Broad Strokes But Whole Lot Of Heart
Follow Us: Facebook | Instagram | Twitter | Youtube | Google News
The post OMG 2 Movie Review: Giving This Pankaj Tripathi Film An Adult Certificate Might Be The Most Dumbest Thing Done By CBFC, Dumber Than What They Did To Oppenheimer! appeared first on Koimoi.