movie reviews
Rocky Aur Rani Kii Prem Kahaani Movie Review: It's Exactly What Would Transpire When Ranveer Singh's Crazy Makes Some Steamy Love With Karan Johar's Eccentric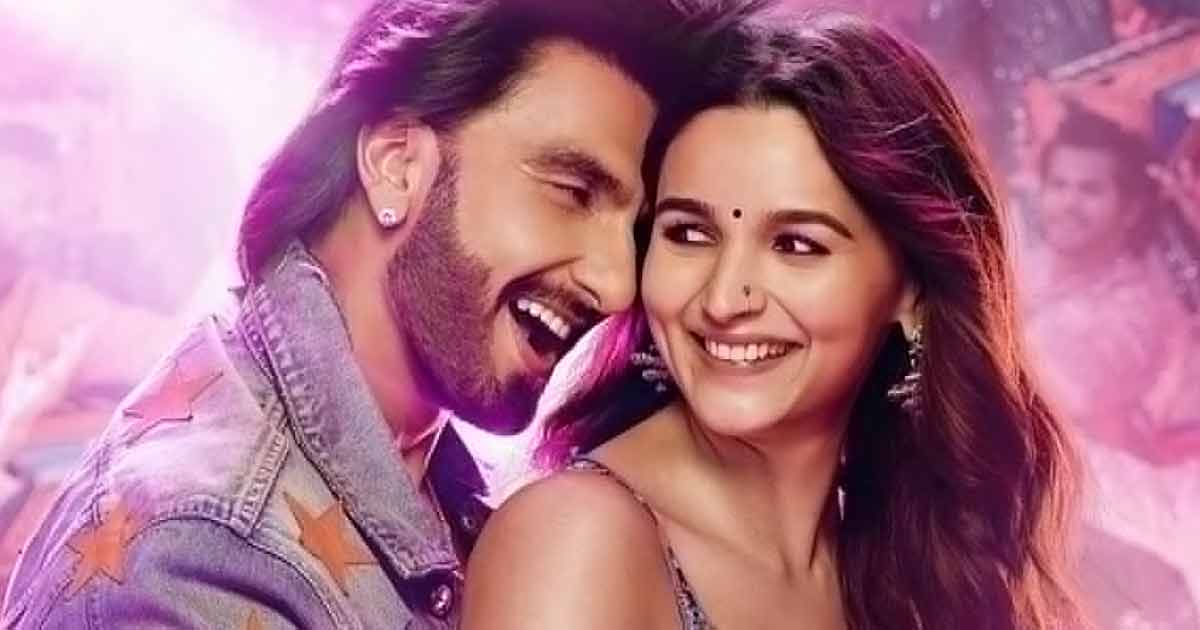 Rocky Aur Rani Kii Prem Kahaani Movie Review Rating:
Star Cast: Ranveer Singh, Alia Bhatt, Dharmendra, Jaya Bachchan, Shabana Azmi, Tota Roy Chowdhury, Kshitee Jog, Abhinav Sharma, Anjali Anand, Aamir Bashir
Director: Karan Johar
Rocky Aur Rani Kii Prem Kahaani Movie Review Out! (Picture Credit: IMDB)
What's Good: A whimsical display of emotions in the most 'KJo-marries-Ranveer' way possible
What's Bad: Every character gets an emotional backdrop adding to the overall drama
Loo Break: Yep, it's close to 3 hours and you'll find yourself gulping Colas to optimally enjoy the theatrics on-screen
Watch or Not?: Are you someone who thought Bollywood was losing its identity in order to mimic other industries? Well, here you go! Watch this asap.
Language: Hindi
Available On: Theatrical release
Runtime: 2 hours 48 minutes
User Rating:
At the core, it's all about the clash of two contrasting Desi families – the 'Crazy Rich Indians' power-packed Punjabis 'Randhawas' & the classy Bengali babus 'Chatterjees'. But, it's not Rocky (Ranveer Singh) & Rani (Alia Bhatt) who fall for each other to give birth to this emotional & entertaining carnage between two groups, it's their grandparents.
Yep, an important sub-plot made me think about Golmaal 3, but sooner than enough Karan Johar adds his twists and turns to mould this into Rocky & Rani's 'Prem Kahaani'. Following a 'switch', both decide to live with each other's family for a while to decide if they would be able to adjust after getting married. What transpires next forms the major crux of the film.
Rocky Aur Rani Kii Prem Kahaani Movie Review Out! (Picture Credit: IMDB)
Rocky Aur Rani Kii Prem Kahaani Movie Review: Script Analysis
With the screenplay & story divided amongst all three Shashank Khaitan (Humpty Sharma, Badrinath Ki Dulhania), Sumit Roy (Gehraiyaan) & Ishita Moitra (Four More Shots Please, Unpaused), the latter is also responsible for one of the most colourful one-liners we've heard in Bollywood. This feels like an event film from frame one, and the feeling remains constant throughout. The story, despite the predictable route it takes, packs in a lot for lovers of Hindi films like us.
The breezing fun in the first half gets a bit weighed down by the emo-heavy second half, but Karan doesn't restrict himself from trying everything and anything to give multiple high points. He uses the 'tribute to Hindi cinema' card with all his smartness, resulting in a few of the most epic sequences. Backed by Manush Nandan's striking camerawork, KJo manages to keep the scale to its optimum best throughout.
Karan does something he rarely has done before, starts breaking out his emotional sequences infusing a funny line or action, and it works wonders. This is something Rajkumar Hirani has nailed over the years, and it's amazing to see KJo coming up with his quirky ideas to do so. Yep, the film could've been 15-20 minutes shorter, but I relate to overstuffing things when you've so much material to pack in.
Rocky Aur Rani Kii Prem Kahaani Movie Review: Star Performance
This is the most 'Ranveer Singh' Ranveer Singh could ever be. He's everything one would expect him to be in a Karan Johar film. He would have you at 'Helllllo Bebz, this side Rocky Randhawa!' Be it a simple 'scuuuuze!' or the dramatic poignant dysfunctional family monologues, Ranveer masters each and every single thing proving there's no limit to this man's range. You just can't put a pause on what his talent could do with scripts like these.
Alia Bhatt's earnest presence blends in extremely well with all the craziness happening around her. It's a tough task to match the towering madness of Ranveer in this film, but she does it with such ease. Yep, her character falls into the trap of being a part of a bit flaky side of the narration, but it's okay because of the balance the script maintains throughout.
Dharmendra, majorly, has one dialogue throughout the film, and it comes at a juncture where you'd shed a tear or two for the crazy Randhawas & no one could've done better than Dharam ji. His track with Shabana Azmi is both emotionally satisfying & a bit stretched in parts. But, yes, you wouldn't have gotten to see these veteran stars in such a style in any other film apart from this, and I'm not complaining at all. It's Shabana who would take your heart away once again with all her charm & eternal beauty.
Many of us won't realise how smart Karan Johar is, not just as a director but as a filmmaker writing his characters. He didn't just keep in mind Jaya Bachchan's social-media presence of being the angry old aunt who'd snap out at things she won't like in front of the whole world, he used that to mould her character 'Dhanlaxmi' in a way that you feel Mrs Sr B is playing an extension of her social-media character in the film.
After a couple of failed attempts, I'm glad Bollywood could give Tota Roy Chowdhury (Rani's father) a role to be remembered for. It's not remotely as depth as his body of work in Bengali films, but it's something really touchy and would be personal for many. His character utters, "Hunar ka koi gender nahi hota!" & you'd cheer for him like you know him personally. Kshitee Jog as Rocky's mother gets a beautiful arc to finish the film with despite a shaky start. Abhinav Sharma as Rocky's friend is forgettable and a typical KJo-film friend who vanishes in a couple of scenes once the emotional drama kicks in. Anjali Anand as Rocky's sister & Aamir Bashir as Rocky's father is just about okay, both acting-wise and script-wise.
Rocky Aur Rani Kii Prem Kahaani Movie Review Out! (Picture Credit: IMDB)
Rocky Aur Rani Kii Prem Kahaani Movie Review: Direction, Music
From what I could count, Karan Johar has used a little over 20 on-the-face references to classic Bollywood films through songs, dialogues & each one of them is masterfully blended in the screenplay. A sequence in the second half received an unimaginable amount of hooting and cheering, and I'd love to see how the regular viewers would accept that. I still can't stop laughing at Ranveer's Rocky designing a beautiful place with stars & moons to propose Alia's Rani and call it 'Garden Of The Galaxy'; it just couldn't get lamer & funnier, and I didn't get a place to fit the above feedback anywhere in the review, so I'm just placing it here even though I know it doesn't fit but mah review mah rhulz.
I would've never thought Pritam would be one of the weakest links in a Karan Johar directorial. There was no scope for him to go average in this one. The songs are better when placed in the film, but the die-hard Pritam-da fanatic in me wanted tracks that would sit in my playlist forever. All the songs seem to be created only for their hook lines, and nothing apart from that works in any one of them. A better track Heartthrob (giving major Heyy Babyy's title track vibes visually), wasn't even released before the film's release. Even the signature song Tum Kya Miley doesn't reach the Pritam-Amitabh Bhattacharya-Karan Johar levels.
Rocky Aur Rani Kii Prem Kahaani Movie Review: The Last Word
All said and done, this has everything that the Bollywood family entertainers were missing; it is exactly what would transpire when Ranveer's CRAZY makes some steamy love with KJo's ECCENTRIC.
Three and a half stars!
Rocky Aur Rani Kii Prem Kahaani Trailer:
Rocky Aur Rani Kii Prem Kahaani releases on 28th July, 2023.
Share with us your experience of watching Rocky Aur Rani Kii Prem Kahaani.
Not into serious movies, check out our Barbie movie review.
Must Read: Bawaal Movie Review: Varun Dhawan, Janhvi Kapoor's Film Stay True To Its Title Making A Chaotic Mess Of Everything!
Follow Us: Facebook | Instagram | Twitter | Youtube | Google News
The post Rocky Aur Rani Kii Prem Kahaani Movie Review: It's Exactly What Would Transpire When Ranveer Singh's Crazy Makes Some Steamy Love With Karan Johar's Eccentric appeared first on Koimoi.