movie reviews
Trial Period Movie Review: A Sweet Harmless Film Mostly Written In Broad Strokes But Whole Lot Of Heart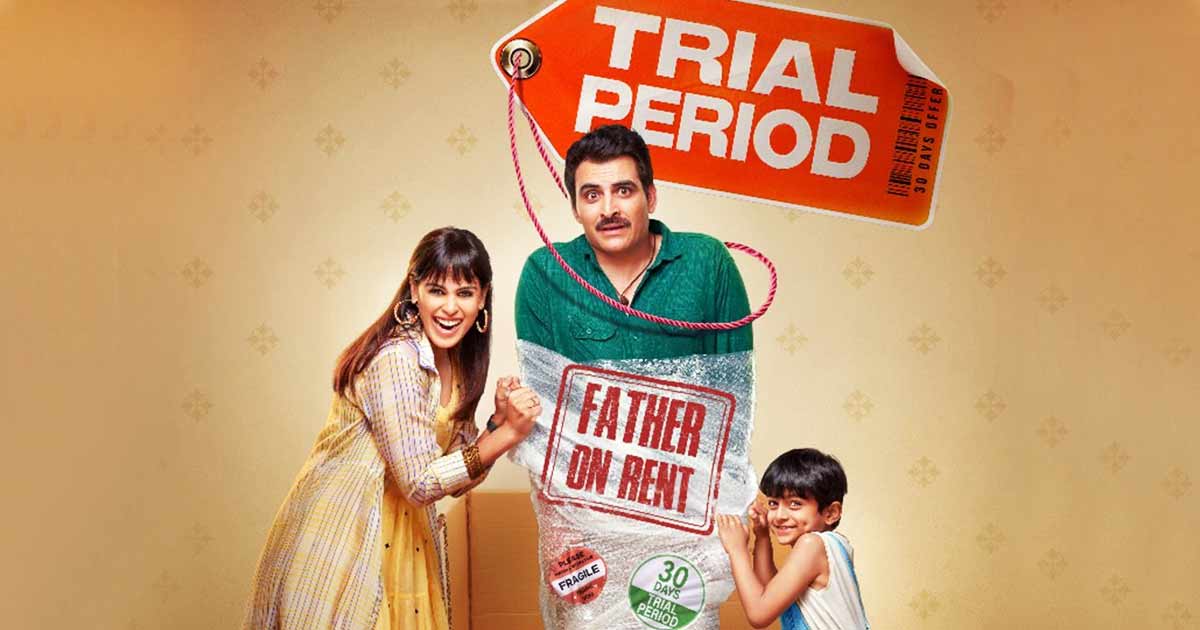 Trial Period Movie Review Rating:
Star Cast: Genelia Deshmukh, Manav Kaul, Sheeba Chaddha, Shakti Kapoor, Gajraj Rao, and ensemble.
Director: Aleya Sen
Trial Period Movie Review ( Photo Credit – Instagram )
What's Good: The good intent and a beating heart can be felt in the story that unfolds quite easily without feeling dated.
What's Bad: That most of it is written in broad strokes, and that takes away the essence.
Loo Break: It's a two-hour film that has released on OTT; you can manage as you want to.
Watch or Not?: The day you don't know what to watch and also aren't feeling like consuming too heavy content, this might be that one film.
Language: Hindi (with subtitles).
Available On: Jio Cinemas.
Runtime: 125 Minutes.
User Rating:
A single mother is busy navigating life with a child who has just started asking questions about his father. One day when he decides that he wants to order a new father online and is hell bent about it, she decides to hire a man who will behave rudely so the son doesn't think about it. What happens next in the 'trial period' is the movie.
Trial Period Movie Review ( Photo Credit – Instagram )
Trial Period Movie Review: Script Analysis
It is fascinating how everyone has a perspective towards relationships and the sometimes the randomness of them when two strangers meet out of bizarre situations and build a bond. But the real task in this situation is convincing the audience that these two people can stay together regardless of where they come from. Trial Period is that one niche movie that deserves an audience.
Broken relationships make for a very good plot devices. Written by Shiv Singh (Rocket Boys) Trial Period takes place much after a relationship is broken, and now a woman is busy navigating through a life that she is now supposed to live not just for her but the child that looks at her with hope. The premise of the movie is quite interesting and touching for a modern world where single parenting is at least not looked at with a judgemental gaze like it was a decade ago.
The heart of Trial Period lies in the very fact that it doesn't want you to give attention to the naysayers and give them the spotlight; instead, look at this mother-son duo who have now welcomed a stranger in their world without doubting his existence. The point where she looks for a father for hire, it sounds bizarre, but when the story unfolds, it fits right.
There is ample love in the frames when a stranger whom the boy now calls father starts changing his life at school. The existence of a robust figure helps the little boy overcome his fear. But the even better part of when the strength is passed on to the mother, who eventually starts being the strong person that the child always craved so he could just keep away the bullies in school.
What doesn't work in this otherwise sweet setup is the how the screenplay doesn't bother investing much in the dynamic between Genelia and Manav. They just randomly fall in love over two scenes with no hint of it before. They never share a moment where it looks like there could be something between them till he directly proposes her. The movie also fails to give Kaul's character a substantial back story and build him as a pivotal part well.
Trial Period Movie Review: Star Performance
Genelia Deshmukh's presence is so positive that she passes that on the screen quite organically. This character comes naturally to her, and being a mother to two boys maybe helps her to look even more better. But it is the emotional scene where she still looks like Aditi from Jaane Tu… Ya Janne Na, and not a woman who has seen life.
Manav Kaul can make any character look better and does that here too. While it is an underrated part, and he even randomly drops the accent and mannerism he begins with, he still makes him likable, and you will end up rooting for him.
Rest everyone cakewalks through their parts because these are actors who know their jobs pretty damn well. Sheeba Chaddha, Gajraj Rao, and Shakti Kapoor will make you like them even with the very little they have.
Trial Period Movie Review ( Photo Credit – Instagram )
Trial Period Movie Review: Direction, Music
Aleya Singh, who IMDb says is a co-producer on the Indian adaptation of The Intern starring Deepika Padukone and Amitabh Bachchan, has a very good perspective. She isn't hyping up women at the cost of ridiculing men. She wants them together and respects each other equally. The direction in Trial Period is digestible instantly, even with an unusual subject says a lot about her style.
The music is average until a very good Shreya Ghoshal song pops out closer to the climax.
Trial Period Movie Review: The Last Word
Trial Period is a movie that deserves an audience for a very simple story that doesn't want to be complex.
Trial Period Trailer
Trial Period releases on 21st July, 2023.
Share with us your experience of watching Trial Period.
For more recommendations, read our Blind Movie Review here.
Must Read: Neeyat Movie Review: Cunning Moves & Clichés Go Hand In Hand Here, But In Vidya Balan We All Must Trust
Follow Us: Facebook | Instagram | Twitter | Youtube | Google News
The post Trial Period Movie Review: A Sweet Harmless Film Mostly Written In Broad Strokes But Whole Lot Of Heart appeared first on Koimoi.